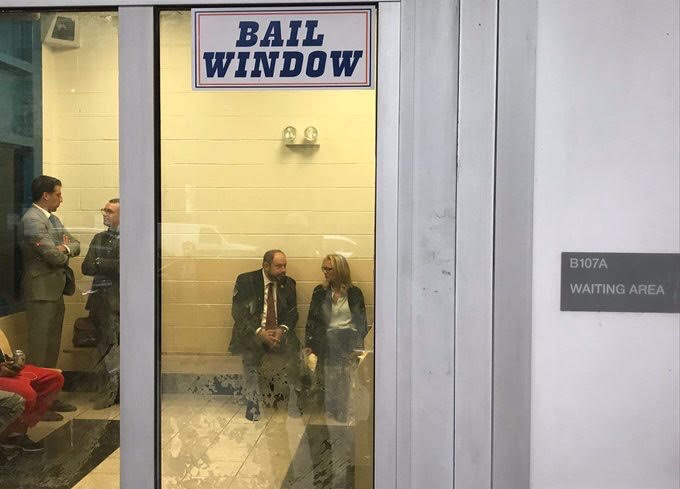 (photo via @RoryLancman)
---
The Robert F. Kennedy Human Rights Foundation's just-launched "mass bail out" -- which could release from New York City jails 500 incarcerated indigent young and women defendants charged with misdemeanors and violent felonies -- is a good plan if it is implemented responsibly.
The plan dramatically highlights the bail system's glaring inequities, as thousands sit in jail for months, unable to pay bail.
Not surprisingly, the plan has caused an immediate and strong reaction, particularly from the NYPD.
NYPD Commissioner James O'Neill warned of an oncoming crime wave if the Foundation's bailed defendants are released, claiming it will make New York City "less safe." He also decried, "What about the victims? What about witness intimidation? What about retaliation?" New York City's district attorneys have sided with O'Neill; though oddly, they remain some of the biggest supporters of bail reform.
The fear is that newly bailed defendants will start a crime wave even though no crime wave was ever started by those with the financial resources to make bail. In fact, most defendants on bail return for their court date.
This unfounded fear only underscores the economic disparity in our court system and is inconsistent with justice and with New York state law.
Bail is set at arraignment: the prosecutor and defense attorney are heard, then a judge applies the statutory criteria for setting bail, including considering the main standard: will a defendant return to court for his or her case.
Perhaps defensively, the Foundation's president mistakenly stated, "If a judge feels this person is a danger to society, they will not make them bail eligible." New York does not have a pre-trial detention bail criteria. However, federal law specifically permits pre-trial detention if "such person poses a danger to any other person or the community."
It also demonstrates just how tricky ending bail inequity is.
But, before the Foundation and its partners can implement their program they must have a dialogue with the city's district attorneys regarding their bail policies and concerns.
Before posting bail the advocates must consider why bail was set by a judge and ensure a potentially released defendant meets any conditions, such as not contacting a victim or witness and attending future court appearances. After all, this plan places the Foundation in the place of a family member who would normally put up bail and suffers a financial hardship if a defendant skips court. This means the Foundation will also have to supervise the defendant while on bail.
The Foundation and partners must also comply with existing bail laws, which restrict depositing bail for multiple defendants. Among other things, New York State's Superintendent of Insurance must authorize a certificate for the Foundation to become a "charitable bail organization."
Other opportunities for bail reform dialogue also exist.
For instance, a reform must include fast tracking incarcerated young defendants' cases to disposition.
Encouraging the NYPD to issue Desk Appearance Tickets (DATs) for all misdemeanor arrests and seeking statutory authority to issue DATs for nonviolent low-level felony arrests. A DAT releases an accused with a future court date at the station house without waiting 18-24 hours in custody for arraignment.
There must be greater use of existing non-cash bail alternatives permitted under New York law, eliminating costly bail bonds.
The Foundation's program – if successful – is a significant step forward for criminal justice and bail reform. After more than 20 years of stop-and-frisk excesses, broken windows arrests, and inequitable bail practices, economic disparity must end for the many who are incarcerated in our city's jails waiting inordinately for their day in court.

***
Arnold N. Kriss is an attorney in private practice in Manhattan, and a former NYPD Deputy Commissioner for Trials and Brooklyn Assistant District Attorney. On Twitter @ArnieKriss.
***
Have an op-ed idea or submission for Gotham Gazette? Email This email address is being protected from spambots. You need JavaScript enabled to view it.