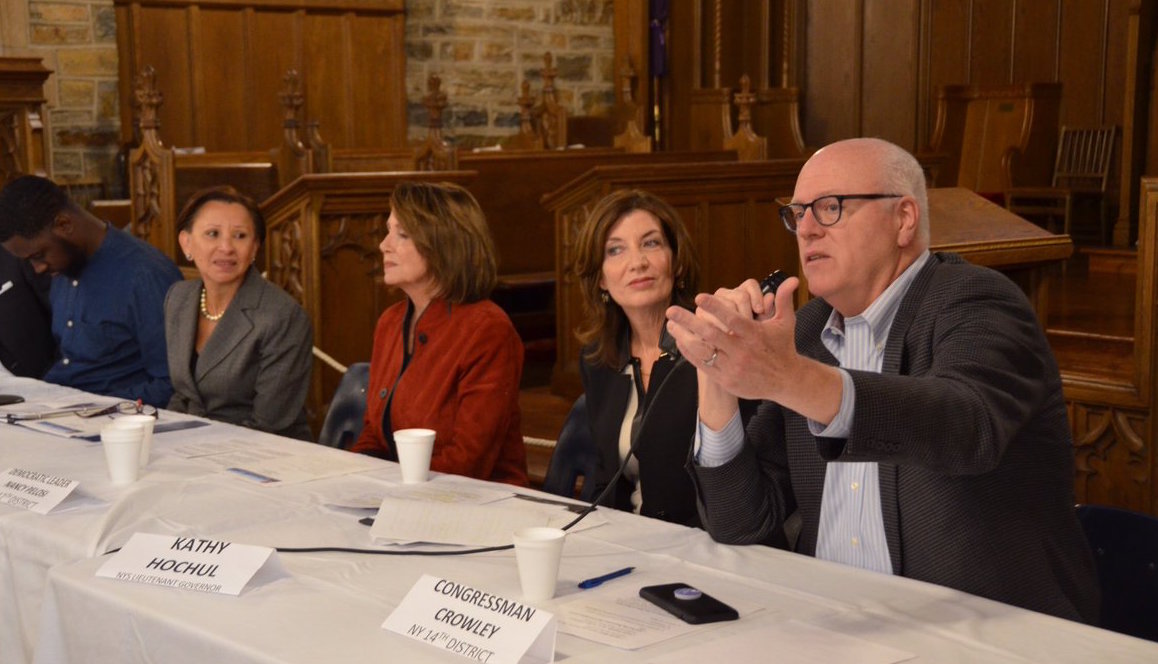 Queens County Democratic leader Joe Crowley (photo: @repjoecrowley)
---
This summer, the New York Times reported that candidates to become Democratic committee members in Queens were unaware that they were running for office and would be on the September 13 ballot. Queens Democratic Party bosses were nominating candidates without their consent for County Committee membership. You read that right.
Those party bosses, long-term incumbent elected officials also known as establishment Democrats, tried to prevent new, more progressive Democratic candidates from entering these local races. Their preference is, of course, to to maintain the status quo.
As a young Democrat passionate about public service, hearing about this corrupt electoral process happening in my backyard left me feeling discouraged. To live in an equitable society, establishment Democrats need to know not to partake in antiquated, exclusionary practices. In order to have a united Democratic Party there has to be a process where everyone can participate; wherein elections are open, transparent, and inclusive. By nominating candidates without their consent, establishment Democrats not only lose credibility, but they jeopardize the very foundations of our democratic process, the bedrock of our nation. They keep my home borough of Queens from progressing and marginalize people that actually want to get involved.
Many Democratic voters are beginning to support progressive candidates that distance themselves from the current establishment. I think back to the congressional primary win of Alexandria Ocasio-Cortez in June as well as the recent primary wins of progressives at the state level and feel encouraged that new candidates challenging incumbents approach their campaigns through a more just lens. New progressive Democrats are taking a stance that fights for economic, social, and racial justice for all and reject corporate PAC and corporate lobbyist money. This is a message to Democratic Party bosses that Democratic constituents will not wait for establishment incumbents to change unjust systems and practices.
Democrats who are too content with the status quo and sitting down on progressive issues will run the risk of not being reelected. While many establishment Democrats point at Republicans as the ones to blame for failing systems, mismanagement of funds, and the reason for many of the faults in our society, it's easy to see that establishment Democrats are not much better. It's time to look inward first. In order for current establishment Democrats to avoid strong primary challengers and continue winning elections against Republicans, they have to make sure that members of their party are engaged, included, and not being shunned by dishonest electoral processes. We need Democrats who ensure elections are just and not being controlled by the party bosses at the top.
Although some establishment Democrats can tout years of experience and successes, if they have not done anything to change the electoral system, or have been too complacent, then many of their efforts are in vain. Winning campaigns through systemic malpractices does not make you an exemplary candidate. As we can see from the recent loss of seven Democratic incumbents in state Senate primaries, establishment Democrats have to be true to their Democratic electorates, take more action to change electoral systems, be more inclusive, and give a voice to more people in their communities. If they fail to do so, constituents from their districts will make sure to elect new progressive Democrats to take their seats.
As an aspiring professional in the field of public service, a Democrat, and a young person wanting to see change, machine politics do not interest me. Though discouraged by the practices of establishment Democrats, I am motivated to get more involved and work to change the unjust systems that currently exist, calling them out, and taking action. I urge my fellow Queens constituents and those around the city to elect the Democratic leaders that are transparent, honest, and committed to electoral integrity, from the local County Committee all the way up.
***
Giovanni Barcenes is an MPA Candidate at the NYU Robert F. Wagner Graduate School of Public Service and lifelong New Yorker born and raised in Queens. On Twitter @GioBarcenes.
***
Have an op-ed idea or submission for Gotham Gazette? Email This email address is being protected from spambots. You need JavaScript enabled to view it.