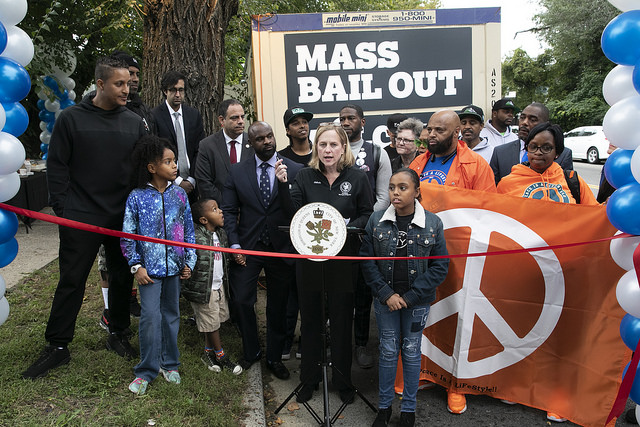 (photo: Office of Queens Borough President Melinda Katz [CJ])
---
The Mass Bail Out action is currently underway, attempting to post bail for women and youth on Rikers Island and in city jails throughout New York. At last count, there were about 243 women held in jail because they cannot afford bail -- not because they've been proven guilty of their charges. We think this is an incredible and necessary effort rooted in the quest for justice.
The only legal reason to hold a person on bail is to ensure they return to court, but research proves time and again that most people return to court on their own, especially women. This includes people bailed out by charitable bail funds. In fact, the Bronx and Brooklyn bail funds have been operating for over a decade and the people they serve return for their court dates 95 percent of the time.
Further, women in jail are more likely than men to be the primary caretakers of their children, to have survived histories of violence and abuse, to be battling drug addiction and mental illness, and to live in poverty; circumstances only exacerbated when isolated on Rikers Island (or in any jail or prison). To theorize that women are less a danger to themselves or others in jail is to erase their agency and to ignore the many needs we neglect to meet as a community.
New Yorkers have a responsibility to reimagine the criminal justice system and to set an example for the rest of the country. At the Women's Prison Association (WPA), we envision a community where our reliance on incarceration as the default response to crime has been replaced by constructive, community-driven responses. Women come to WPA from Rikers every day. Partnering with the Mass Bail Out simply means providing the same services to more women at once.
There has been a plan set in place for every woman thus far, including transportation to safe housing, connection to health care, legal support, and provision of emergency needs like food and clothing. WPA's social workers are meeting these women at Rikers with tailored service plans and nonjudgmental support. Every day our staff work hard to meet the immediate and long-term needs of our clients, and I am proud of the tireless effort extended throughout this movement. These are supports every New Yorker should have available to them.
WPA is 173 years old. We are familiar with the misconceptions around our work and similar efforts toward social progress like the Mass Bail Out. Critical to our vision of a world with fewer jails and prisons is the belief that all human beings have the capacity for change and that every individual can be accountable for her actions and the results. We support the freedom of these women and teens, so that they can imagine and realize law-abiding, self-directed, and satisfying lives in the community, possible with our support and that of the city at large.
***
Georgia Lerner is Executive Director at the Women's Prison Association, which works with women at all stages of criminal justice involvement. On Twitter @Georgia_Lerner & @WPA_NYC.
***
Have an op-ed idea or submission for Gotham Gazette? Email This email address is being protected from spambots. You need JavaScript enabled to view it.