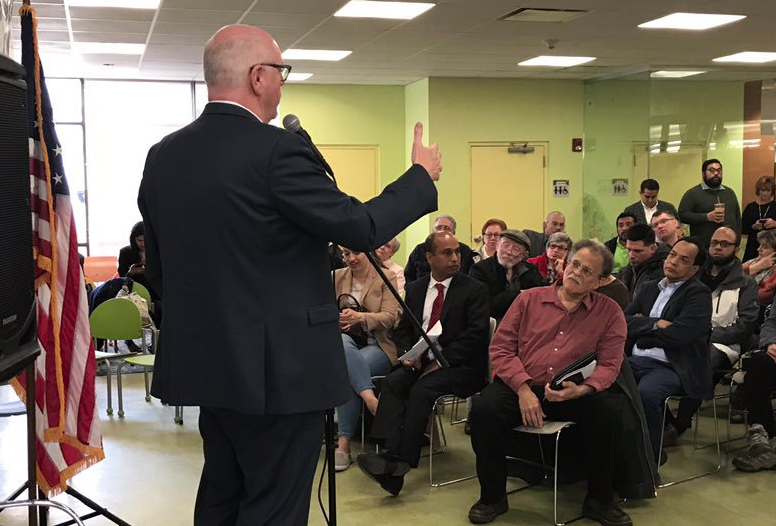 Queens Democratic Chair Joe Crowley (photo: @repjoecrowley)
---
I canvassed in my neighborhood for the first time this past summer by approaching people on the street asking if they were registered Democrats. One elderly gentleman took a minute to understand what I was saying, but when he heard the word "Democrat" he smiled and said, "I became a citizen of this country. I am proud to be a Democrat," and excitedly signed my petition. Voters like this man are truly what make our country and party great.
Our party must reflect the community we live in, and the values we share, otherwise there is no reason to be involved in politics. While I live in a welcoming community, like many in Queens and around the city, our politics can be far from inviting.
I first moved to New York City to attend law school at Fordham after spending seven years in Washington, D.C. I was nervous at first about being in a larger city that sometimes felt very impersonal and overwhelming when I had visited in the past, and worried about feeling like an outsider in my new neighborhood. Luckily, my fears were completely unfounded as I became close with several new friends and neighbors in Astoria, Queens. Before long this neighborhood began to truly feel like home.
I've always been interested in politics, and this past January decided to join my local Democratic club to meet more like-minded people and volunteer for progressive candidates. After my first few meetings, however, I soon noticed how opaque the processes of the Queens County Democratic Party could be. We are frequently told at these meetings which candidate the Queens Party endorsed for each office, and are recruited to volunteer for that person even if we've never heard of them.
Despite a lot of hard work, many of us are in the dark as to how the endorsement and nomination processes work. As a result I began working with another group of local Democratic activists, the New Queens Democrats, which recruited its members to run for the party's county committee in our neighborhoods, to open up this process.
The county committee, the utmost local form of party representation, ordinarily has thousands of vacant seats, the perfect opening to build change from the ground up in Queens. The platform of New Queens Democrats is straightforward – we call for more transparency and community participation in the party's decision-making so that the party leaders are more accountable to the people they purport to represent.
After collecting signatures throughout our election districts, the New Queens Democrats gathered our petitions and turned them in to the Board of Elections. Surprisingly, our petitions were deemed defective due to minor technical errors, and we went to court. We figured that the Board of Elections, seeing how dedicated we were, would decide to help us correct our petitions so that we could get to work representing our communities on the party committee.
That's not what happened.
The Board of Elections is made up of ten commissioners who are chosen by the same party officials we were trying to convince to open their doors to us. The Board fought tooth and nail to keep members of the New Queens Democrats off the ballot, using taxpayer money to successfully appeal a court order that had gone in our favor.
Next, an article in the New York Times informed us that the Queens Democratic Party had nominated its own people for positions on county committee, often without the candidates' consent. These "candidates" included a homebound woman in her eighties and a former Queens resident who moved to Florida two years ago – both of whom had no idea they were on the ballot or what the county committee even is.
The final slap in the face came on Election Day. I woke up at 6 a.m. to go to my polling place, where I discovered that I was, in fact, on the ballot (although my name was horrendously misspelled). The momentary excitement of being able to represent this community ended when our attorney reported to us later that day that even though we were technically on the ballot, the Board of Elections would not be counting any of our votes. The Board used the Appellate Division's order allowing them to keep us off the ballot as justification for not counting the votes, preventing us from joining the committee.
Change is desperately needed, even in one of the most supposedly progressive cities in the United States. Despite all this, I'm very optimistic about the future of our local party. The primary victories of Alexandria Ocasio-Cortez, Jessica Ramos, Catalina Cruz, and John Liu earlier this year have shown that Queens voters will no longer stand for politics dictated by secret handshakes and backroom deals.
Our party must open its doors to all members of our community, with political leadership worthy of the everyday voters who make our neighborhoods strong. The next county committee elections will be in 2020, and we will be ready.
***
Ryan A. Partelow is a member of the New Queens Democrats and a student at Fordham Law School. He lives in Astoria, Queens. On Twitter @RyanPartelow.
***
Have an op-ed idea or submission for Gotham Gazette? Email This email address is being protected from spambots. You need JavaScript enabled to view it.