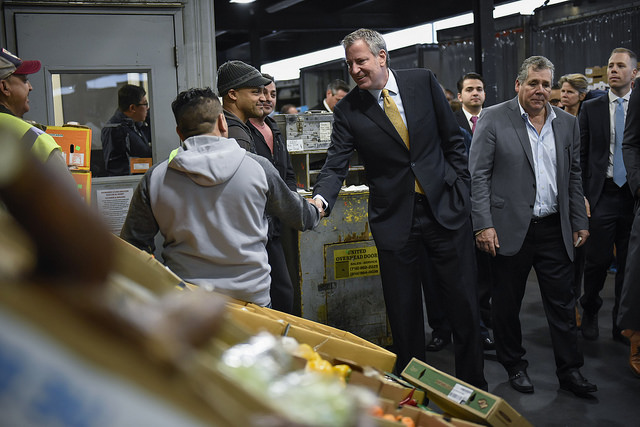 (photo: Ed Reed/Mayor's Office)
---
They may not know, but the million-plus people who crowd into Times Square on New Year's Eve have reason to cheer the dropping of the ball because it will also signal rising wages. Beginning December 31, 2018, New Yorkers working minimum wage jobs in the city for companies with 11-plus employees will see their hourly compensation rise to $15.

But like all events in New York City, coordination and planning are needed to make this a celebration and not a disaster. Serious questions and profound possibilities surround this policy shift. The nearly 1.5 million people making a minimum wage in New York City will see their lives change markedly for the better. Workers already making slightly over $15, meanwhile, will have the opportunity to pressure their employers to better their own interests, yielding opportunity but also potentially conflict.

These changes mean big adjustments for all players in the New York economy. However, there are some relatively simple ways that government, both municipal and state, can help the New York City workforce and its servicers stay secure and effective through the transition.
One: help businesses adapt. Businesses have little in the way of resources, tools, FAQs, and how-to sheets for adapting to the minimum wage increase, and job-seekers lack access to public materials on searching for work in the changing market, with new expectations and barriers as well as earning opportunities. There also isn't anyone outside of Albany, and specifically not in New York City Hall, charged with monitoring how businesses and workers fare during this transition: who is struggling and in what ways, and which decisions businesses and workers are making in the short- and long-term. But, administrative changes and public synthesizing of information can go a long way towards ensuring that the $15 minimum wage is as much of a victory as it should be — for everyone.
Two: secure the funds. City and state government bureaus must provide enough funding in their contracts with social service agencies to ensure agencies can afford to pay workforce professionals a living wage. The average human service professional in New York City made only $29,600 annually (in 2015 dollars), and advocates have pushed the city and state governments for contracts that meet cost of living needs to mixed success. To make this wage raise work, the people servicing employment relationships on the ground must be able to keep up.

Three: shine more light. New York City can do better compiling and sharing information, which would make this transition feel less like a shot in the dark. Workforce agencies don't currently have data that can shed light on who is being served, in what ways, by whom, to what effect and at what cost. Moving forward with the city's common metrics initiative could illuminate who is going through workforce programs and successfully attaching to certain jobs, better equipping professionals to match job opportunities with candidates in a new market.

Finally, this wage increase is promising but poses new questions for New Yorkers. Will the availability of internship opportunities, now more expensive, decline? Will higher compensation levels create a bigger barrier to entry for those who've been unemployed and want to get back to work? Will firms invest more in automation?

In order to make the most of this incredible sea change for working families, it's on us as a city to deal with these questions and broaden the horizon of these possibilities to the best of our abilities. By taking the right steps, New York City can show the world once more what it can do.
***
Stacy Woodruff is the director of The Workforce Field Building Hub.
***
Have an op-ed idea or submission for Gotham Gazette? Email This email address is being protected from spambots. You need JavaScript enabled to view it.