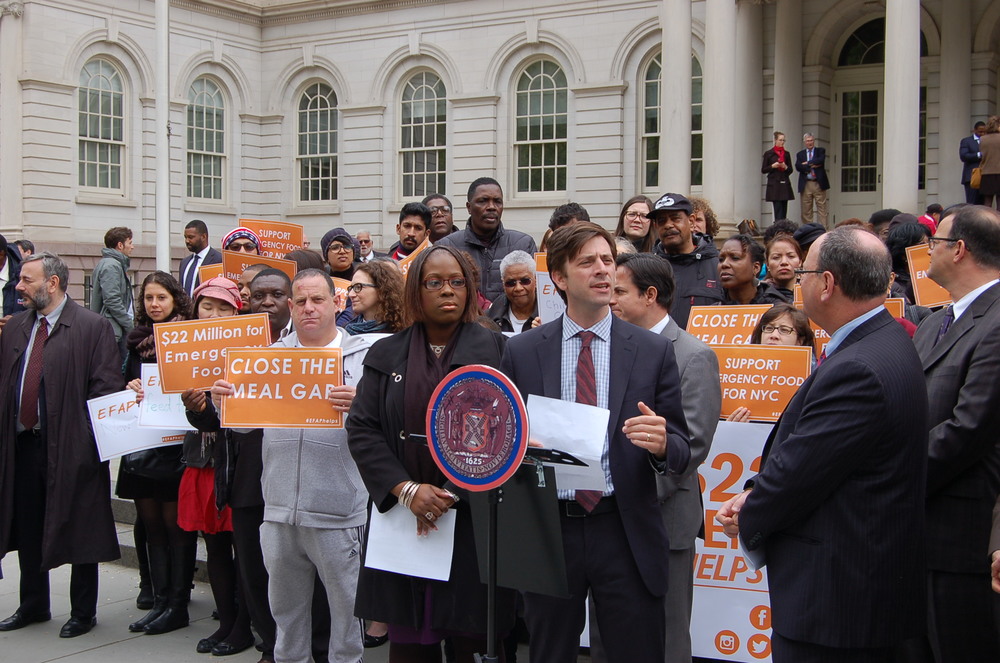 City Council Member Stephen Levin, the author
---
We have now reached the longest government shutdown in history with no plans for reaching a deal anytime soon. Hundreds of thousands of federal workers' jobs have been impacted and the shutdown has delayed mortgage applications, caused significant Transportation Safety Administration (TSA) staffing callouts, impacted basic healthcare access for Native Americans, and created waste pile-ups at national parks. Federal employees have even started looking for new jobs after being denied their paychecks last week with no sign of progress.
Worse still to come, the shutdown could put the nation's safety net in peril. Forty-two million Americans rely on food assistance through the Supplemental Nutrition Assistance Program (SNAP, or food stamps); if the shutdown continues into February, we will see an increase in hunger nationwide as people lose benefits and are forced to turn to emergency assistance at food pantries. Following pressure, the United States Department of Agriculture (USDA) committed to funding February SNAP benefits, however, if the shutdown continues, the Center of Budget and Policy Priorities estimates families could see their benefits cut by 40%. In New York City alone, almost 1.7 million residents depend on food stamps, and would be forced to worry if they'll be able to provide enough food for their loved ones simply because of President Trump's political game of chicken.
This government shutdown is callous and irresponsible; and we've already begun to see the impacts on nutrition benefits. According to Rewire News, over 2,500 grocery stores have stopped accepting SNAP because of paperwork filing issues caused by the federal government. States are also required to apply to issue February benefits by January 20, disrupting recipients' normal monthly food aid schedule. One SNAP recipient in Brooklyn, Brenda Riley, with the Safety Net Activists said it best: "The president and other politicians who have created this shutdown should sacrifice their own salaries instead of hurting families who are already on soup lines."
Unfortunately, the president's disregard for SNAP recipients is just the latest attack in a long line of attempts to dissolve the country's safety net and harm low-income communities. Perhaps most concerning is the proposed executive order published late last month calling for new work restrictions on the SNAP program to cut off basic food assistance for hundreds of thousands of Americans. Under the current policy, single adults 18-through-49 are only granted SNAP benefits for three months out of every three years if they are not working more than 20 hours per week. However, longstanding bipartisan rules have allowed waivers to this restrictive policy, recognizing high rates of unemployment in communities and lack of job training access that make work requirements extremely burdensome. Trump's proposed rule would significantly reduce allowances for job waivers, effectively cutting off the lowest income recipients who are unable to work more than 20 hours a week or who have a difficult time finding a job. This proposal undermines the very notion of a safety net, and unrealistically expects recipients to suddenly afford groceries, maintain stable housing and cover high health costs.
SNAP has been an incredibly successful program and made the difference for millions of families who don't have to sacrifice groceries to be able to afford their monthly rent. In 2015, food assistance lifted 4.6 million Americans out of poverty, including 2 million children and 366,000 seniors. Adding burdensome work requirements would only make it harder for already struggling New Yorkers to cover basic expenses, and would further contribute to the city's income divide.
It's also bad economic policy. In 2017 alone, SNAP helped generate over $5 billion in economic impact in New York City, as every dollar spent through SNAP adds $1.79 to its local economy. The fact is, the vast majority of Americans who receive SNAP already work, and for those who don't, it is largely due to a disability or circumstance that prevents them from working. These new restrictions reinforce harmful stereotypes in order to discourage participation and public investment in the program more broadly.
The onslaught of attacks on the SNAP program require that we fight back. New York City has long committed to investing in food assistance programs -- such as through passing legislation to increase awareness and enrollment among eligible residents and by making healthy, local food accessible to all SNAP recipients through the City's GrowNYC's Healthy Exchange Project. As a result of the Greenmarket partnership, over $1 million in SNAP benefits were redeemed at city farmers markets in 2016 alone. But federal restrictions are rolling back public assistance at a time when the need is increasing. Rent continues to rise and New Yorkers are facing stagnant wages and supermarket closures, making it difficult to afford nutritious food.
The government shutdown and recent cuts to SNAP are also impacting our city's emergency food assistance program — providers have shared they are seeing increased traffic as people are supplementing their SNAP benefits with food pantries and soup kitchens. With recipients' monthly SNAP benefits running out sooner, many are turning to food pantries to make ends meet, where monthly resources are depleted quicker and providers are struggling to keep up with the demand. If the shutdown continues much longer, New York City will need an emergency assistance contingency plan.
The president's ongoing attack on food assistance is nothing short of draconian. I encourage New Yorkers to call on the administration and Republican leadership to join House Democrats' efforts to reopen the government and protect New Yorkers' access to food aid. And when the Food and Drug Administration's public comment period on work requirements opens, I will be submitting comments in opposition to the proposed rule. Congress has long maintained bipartisan support of the food stamps program and should not let up now — the 42 million Americans who receive SNAP benefits are counting on us.
***
Stephen Levin is a City Council Member from Brooklyn and chair of the Council's General Welfare Committee. On Twitter @StephenLevin33.
***
Have an op-ed idea or submission for Gotham Gazette? Email This email address is being protected from spambots. You need JavaScript enabled to view it.