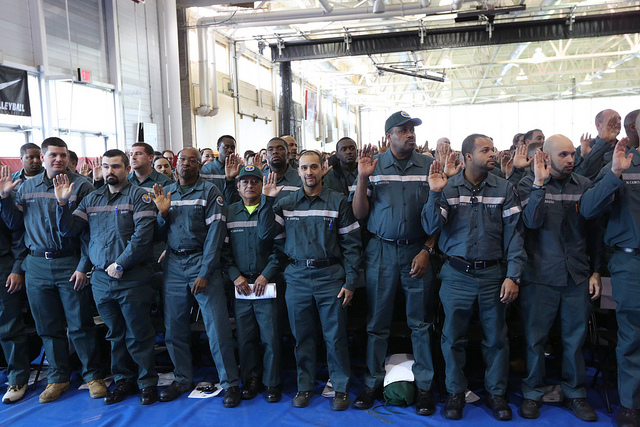 (photo: Spencer T Tucker)
---
Each January, we have the opportunity to take a day and celebrate the life and legacy of Dr. Martin Luther King, Jr. Every passing commemoration to the life and legacy of Dr. King is a reminder to rededicate ourselves to advancing social and economic justice in New York and across the country. This year, as New York's commercial waste industry is facing potential overhaul, it is particularly fitting to reflect on Dr. King's often overlooked work helping sanitation workers in their fight for fair wages and higher safety standards.
If implemented, the New York City Department of Sanitation's waste zones plan could leave a significant number of sanitation workers – the vast majority of whom are people of color – jobless. The livelihood of workers should not be used as collateral to score political points, which is why the NAACP New York State Conference supports reform to the city's private waste industry that would vastly increase oversight and efficiency, without costing anyone their job.
Commercial waste is one of the few industries in our city that gives formerly incarcerated men and women a second chance to hold down a steady job with good wages, provide for their families and, most importantly, regain their sense of dignity. In a sense, the private waste industry has been able to service the formerly incarcerated as the second chance worker program New York doesn't really have. However, DSNY's waste zone plan stands to overhaul the industry while possibly causing significant job loss, which we know would disproportionately harm formerly incarcerated workers of color.
That is why we continue to stand firmly opposed to DSNY's proposal to create commercial waste zones, and it is why we strongly support new legislation by City Council Member Robert Cornegy, Jr., known as Intro. 996, which would bring much-needed reform to the commercial waste industry without implementing a zone-based system. Job loss, especially among our most vulnerable populations, should not be taken lightly.
Intro. 996 will increase worker safety and hold bad actors accountable, without causing hundreds of workers to lose their jobs. On the other hand, DSNY's proposal permits only a small number of companies to operate in each zone. Many private waste companies – particularly the smaller mom-and-pop ones – will be forced to consolidate or go out of business, leaving hundreds of workers without a job.
Council Member Cornegy's legislation would give the city's Business Integrity Commission the authority to establish safety standards for industry employees and private waste carters. Under Intro. 996, BIC would have far more power to guarantee companies are properly training their employees and hold bad actors to account.
Additionally, the legislation would, for the first time, require industry-wide reporting on demographics data for workers across the commercial waste industry. This will allow the city to have a better sense of who is working in the industry—including second-chance workers of color—to ensure that their progress is tracked and they are effectively protected under any new rules and regulations.
The vast majority of the private waste industry's formerly incarcerated workers were already failed once by misguided policy – and we can't let them down again with the administration's waste zones plan.
The NAACP New York State Conference hopes other members of the City Council join us in supporting Council Member Cornegy's fair and equitable proposal to reform the private waste industry.
***
Dr. Hazel N. Dukes is president of the NAACP New York State Conference.
***
Have an op-ed idea or submission for Gotham Gazette? Email This email address is being protected from spambots. You need JavaScript enabled to view it.
Note: this column has been updated to clarify language about potential job losses as a result of the city's plan; it is unclear what job impact the plan will have.