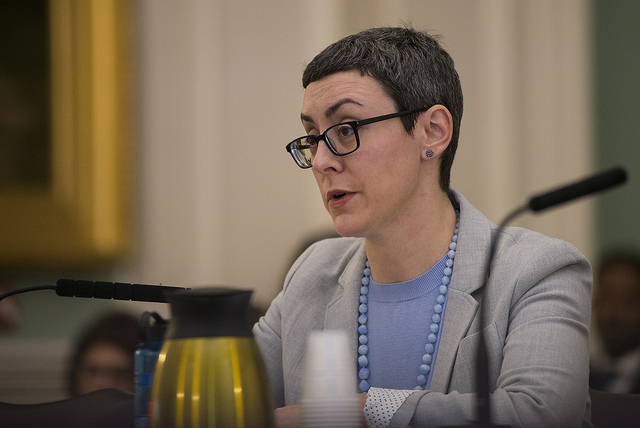 (photo: Jeff Reed/City Council)
---
The New York City Council on Thursday voted unanimously (47-0) to approve a local law to amend the city's administrative code allowing for the redaction of physicians' names from birth certificates when their medical license has been surrendered or revoked by the state's Office of Professional Medical Conduct. To some, this may seem like administrative minutia. To me, this is the culmination of years of work and an acknowledgement of the trauma from being sexually assaulted by my OB/GYN. Now, my daughters won't have to keep the name of the serial sexual criminal who delivered them and also abused me on the document that marks their entrance into this world.
As our culture strives to become more supportive of survivors of sexual assault, we need to identify more ways to offer tangible relief. We encourage victims to speak up but when they do, they are often met with a justice system that doesn't offer much relief (or justice). In addition to mustering the courage to come forward, we must overcome mountains of disbelief, inertia, and prosecutorial discretion.
This New York City bill is a tangible example of a legislator listening directly to victims' needs and using government power to support survivors. I am enormously grateful to Council Member Mark Levine, who, in his capacity as chair of the Council's Committee on Health, intervened on behalf of me and countless other women abused by this one physician to offer relief with an equitable solution not requiring a court order (as the city's Department of Health and Mental Hygiene initially requested). His support is an acknowledgement of our trauma and pain, something the city has so far failed to do.
Robert Hadden continued seeing patients at Columbia University and New York-Presbyterian Hospital facilities even after the police and the Manhattan District Attorney were notified of the allegations against him in June 2012. There are dozens of known victims who've come forward, and probably hundreds or even thousands of others. Hadden's own defense attorney said during the criminal trial that he'd had over 30,000 patient visits. Almost all of the victims I'm aware of were pregnant when we were assaulted.
For 10 of us, Hadden delivered our children. That's 13 babies who carry his name on their birth certificates. I sit up at night thinking about how many more children he delivered during his career. He used that privilege to gain access to women's bodies for his own sexual gratification.
For me, the worst part of all of this is that Hadden was the first person in the entire world to touch my children. His hands physically took them out of me during my c-section. Those are the same hands that abused me and it's something I can never change. What I did set out to change was the official documentation of Hadden's involvement with that birth. Now, with the City Council having passed this legislation, I and others expect Mayor Bill de Blasio to sign it into law.
Sexual assault leaves both a physical and emotional residue. Survivors of assault by medical professionals will now be able to remove some of the physical remainder from their lives. My experience is a reminder for other advocates that a bureaucracy's inability to adapt is only limited by those within it. Council Member Levine, Speaker Corey Johnson and their colleagues stepped forward to support survivors with this reasonable solution. Their vote reveals an ability to overcome a subservience to the way things are typically done. I hope that other survivors won't stop asking for what they need from our electeds. I know I won't.
***
Marissa Hoechstetter is an activist. On Twitter @MHoechstetter.
***
Have an op-ed idea or submission for Gotham Gazette? Email This email address is being protected from spambots. You need JavaScript enabled to view it.