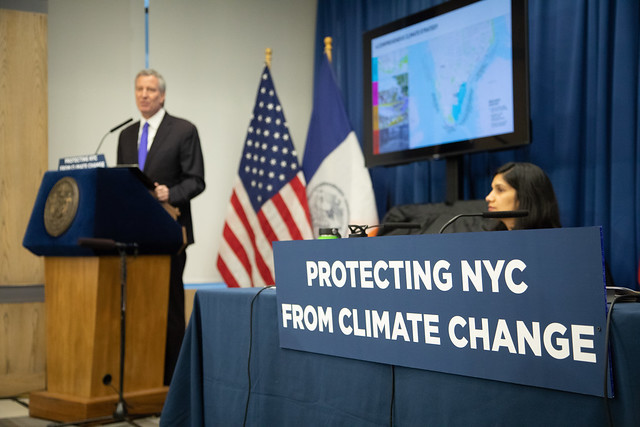 (photo: Paige Polk/Mayoral Photography Office)
---
As we march toward a new climate reality, are we leaving the public behind? The New York City Panel on Climate Change's (NPCC) 2019 report, released on March 15, offers a sobering new lens known as the Rapid Ice Melt scenario: the metropolitan region could experience 9.5 feet of sea level rise by the end of the century. That's six inches short of the height of a regulation basketball hoop.
The real 'March madness' spilling into April and beyond is that we have barely any plan or resources to adapt our broader metropolitan region and, most important, effectively educate and engage the public about the financial, environmental, and social tradeoffs that will become increasingly necessary as waters rise. These are hard conversations. But they are also an opportunity to engage in a dialogue about how we will shape our cities for generations to come.
In this discussion, process and communication matter. Mayor de Blasio's surprise roll-out on March 14 of the Lower Manhattan Coastal Resiliency project, which features a precedent-setting plan to infill up to 500 feet of the East River to protect the Financial District, echoes cautionary tales of two other disputed plans that have fallen short of the kind of public engagement necessary to succeed.
A substantially updated and fast-tracked proposal for the resiliency of Manhattan's Lower East Side and the aborted Long Island City Amazon campus reveal an unwelcome common thread: big ideas that carry great importance for the economy, environment, and resilience of our city require understanding, buy-in, and a sense of how they fit into a plan for the larger whole, before they are presented to the public.
Questions remain about the details of alternatives for the Lower Manhattan Coastal Resiliency project, not to mention what follows. Does our city of water become a city of levees? What about equity? And are we setting a damaging standard for environmental impacts?
It is hard not to consider the ghosts of past land use decisions that we have made, that have led to our present predicament: Water Street, Canal Street, Pike Slip, areas long since filled in to support our growth. Without a full understanding of (and say in) the trade-offs, it will be hard for the public to feel comfortable with a presumed conclusion.
Adapting to climate change is increasingly not just a choice about strategy, but about what fundamental changes to our coastal cities we are open to. All options should be on the table, but the public needs to see the iterations that got us to this point. These are first steps that will ricochet across land use decisions throughout New York City and beyond.
These are also decisions that require long-term plans, funding, and supporting governance frameworks that span beyond electoral cycles. Even if a Rapid Ice Melt scenario is not realized, the more modest sea level rise projections will mean that the Financial District, Coney Island, Rockaway Beach, Red Hook, the Historic Navy Yard, the Port of Newark, and the New Jersey Meadowlands, to mention a few, will all be under water daily by the end of the century if no action is taken. The questions expand: what is the future that we want, who will pay for this change, and how equitably will resiliency measures be distributed? We're in this together.
New York is not alone of course. Miami, Norfolk, New Orleans, and scores of other coastal cities nationally and globally face these realities. But few rival New York City's indomitable force of economy, innovation, and diversity. If we can't do it here, this begs the question: can we do it anywhere?
While there was virtual radio silence greeting the release of the NPCC report, more than 1 million students across the nation and around the world walked out of class to express a serious statement about a need for real action to address our future. Those whose lives will be most affected by climate change get it.
We must address a true national emergency, together, and come to conclusions, together. As we consider bold steps forward, we must be informed by science, and organize robust and real public discussion to address the urgency. Can we talk?
***
Roland Lewis, President and CEO, and Kate Boicourt, Director of Resilience, are leaders of the Waterfront Alliance. On Twitter @OurWaterfront.
***
Have an op-ed idea or submission for Gotham Gazette? Email This email address is being protected from spambots. You need JavaScript enabled to view it.