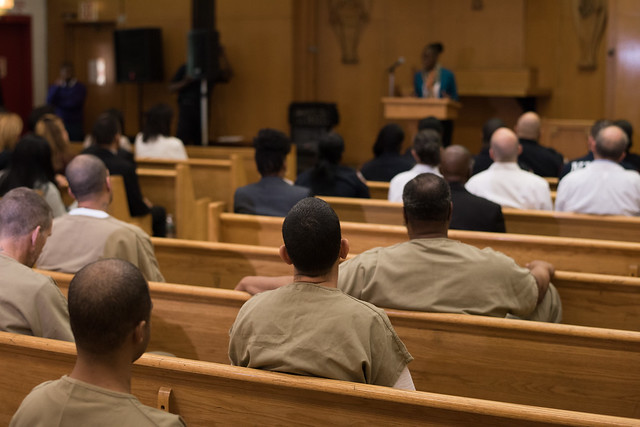 (photo: Michael Appleton/Mayoral Photography Office)
---
Change swept through Albany as lawmakers passed a suite of reforms aimed at reducing the harms inflicted by the criminal justice system. These changes, which include significant limitations on the use of bail and incarceration, will go a long way towards making our justice system less biased and more responsive to the needs of low-income New Yorkers and, in particular, people of color.
The next challenge that confronts us is how to move beyond simply avoiding harms and toward the creation of a positive vision of what justice should look like. If confinement can have lasting traumatic effects, and criminal records can create lifelong direct and collateral consequences, how should our law enforcement and justice system respond when people break the law? When someone commits a crime, what is the fair result? What makes a just outcome?
The answer to these questions depends upon the crime, of course. But we know that the standard response doesn't work for victims, communities, or, most certainly, defendants. That's why it is important to build new responses to the full range of offenses, from minor misbehavior to serious wrongdoing. And that's exactly what New York City is doing. Three examples:
With the lowest-level crimes, we should try to divert as many people as possible out of the criminal justice system, minimizing the damage that a criminal record or jail can wreak on individuals, their families, and entire communities. But divert them to what?
Prosecutors in Manhattan, the Bronx, and Brooklyn, and the NYPD have an answer with Project Reset. People charged with low-level misdemeanors, such as shoplifting, can participate in a restorative justice group, arts-based workshop, or counseling session. If the participant completes the obligation -- and 98% do -- the district attorney declines to prosecute the case, the case is sealed, and the person never even has to show up to court.
Participants, who overwhelmingly describe the outcomes as fair, are less likely to reoffend when compared with a control group. The net effect is to create a proportionate, meaningful response to minor offending. By increasing the use of tickets instead of holding people in custody after arrest, the new state law opens the door even wider to Project Reset's measured response to minor offending.
Supervised release -- an alternative to cash bail -- is another way that the justice system has calibrated its response to offending while minimizing negative effects. People held on bail make up a large portion of the Rikers Island population. They also are more likely to accept a conviction as part of a guilty plea than someone released to the public. Supervised release has enabled judges to safely release thousands of defendants to supervision monitored by non-profits, instead of holding them on bail.
Again, the system is finding a way to address a criminal event constructively, without defaulting to confinement, and in the process reducing the likelihood of a criminal record and the lifelong stigma that can follow. Now that New York's new criminal justice laws will reduce reliance on money bail, supervised release may become an even more important bridge for closing the gap between release and detention when it comes to higher-risk individuals.
Finally, 18- to 24-year-olds make up roughly 25% of the criminal justice population. As we now know from brain science, the prefrontal cortex -- the part of the brain that governs executive function and impulse control -- may not be fully formed until a person's mid-twenties, meaning that some adolescents and young adults are physiologically more likely to commit crime. While many of these individuals will literally age out of offending as their brains mature, if the system responds with confinement and conviction, their youthful crimes may make it harder for them to complete education, find jobs, and secure housing. So, how should the system respond?
The Brooklyn DA's office has worked with the court system and defense advocates to provide 18- to 24-year-olds with community-based social services like mental health counseling and job training, instead of traditional punitive responses. Brooklyn's young adult court, one of the city's busiest courtrooms, has significantly reduced jail sentences and criminal convictions. And surveyed participants have overwhelmingly described the results as fair. Again, the system is responding with meaningful and constructive outcomes.
Project Reset, supervised release, and Brooklyn's young adult court are just three of many new efforts to reduce the justice system's dependence on confinement and redress historic inequities based on race and socioeconomic status, while ensuring public safety. In essence, New York City has begun to eliminate the unacceptable and, at the same time, lay the foundation for a justice system that responds to criminal behavior proportionately, meaningfully, and appropriately, with just outcomes. Albany's new legislative reforms should enable the city to build on its current progress and further advance a new vision of criminal justice for New York.
***
Adam Mansky is Director, Criminal Justice, at the Center for Court Innovation. On Twitter @urbansdad & @courtinnovation.
***
Have an op-ed idea or submission for Gotham Gazette? Email This email address is being protected from spambots. You need JavaScript enabled to view it.