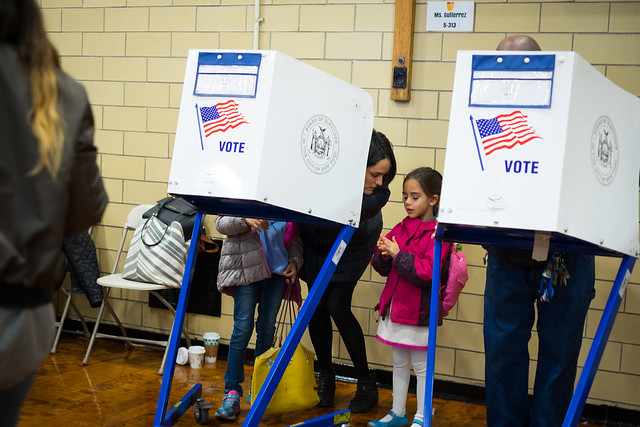 (photo: Edwin J. Torres/Mayoral Photo Office)
---
Election officials in Queens are counting ballots in the District Attorney Democratic primary recount exactly as the law prescribes -- and it is an injustice for Queens and an affront to democracy.
After a stunning reversal of fortune that saw Melinda Katz erase a 1,090-vote gap after absentee and other ballots were counted, Tiffany Cabán is challenging the rejection of a small number of provisional ballots that she thinks will turn the tide back in her favor. While there are many reasons a ballot could be rejected, the main cause at play here is that voters were not properly registered with the Democratic Party in time to vote in the June 25 primary.
Some are enrolled in a different party or no party at all, while others just didn't enroll at their current address within the six-month window required by our state before this vote. Whatever the reason, many Queens residents came to the polls to vote in an important election and were told that their voice was not welcome.
New York, unlike most other big cities in the country, uses a closed primary system to determine who will be on the general election ballot. This means that only voters who are properly enrolled in a political party may vote in a taxpayer-funded partisan primary. The winner of each partisan primary, or the party nominee if there is only one candidate, then advances to a general election open to all registered voters.
In a city where Democrats represent nearly 70% of the electorate, this means that the relatively few people who show up and are allowed to vote in a Democratic primary essentially choose the winner of the general election.
The Republican nominee for Queens District Attorney has all but acknowledged the fruitlessness of trying to win, openly admitting he had not decided whether he would even bother to campaign for the office. The most likely outcome no matter if Katz or Cabán prevails in the primary recount, is that a county of nearly 2.4 million people will be represented by a District Attorney who received the support of barely 4% of registered Queens Democrats.
In a democracy, residents are supposed to choose their elected officials. In New York, politicians from both the Republican and Democratic parties have worked hard to turn that idea on its head and pick their constituents. New York's ballot access rules are among the most restrictive in the nation and the results speak for themselves -- apathetic voters who can't be bothered to engage in a system that makes it hard to participate and where they do not feel that their vote really matters.
Open primaries allow all registered voters to vote in a primary where all candidates for office are grouped together regardless of party affiliation. If no candidate receives 50% of the vote, the top two then face off in a general election, even if they are from the same party. It's a system based on encouraging democracy.
Open primaries also allow new candidates from nontraditional backgrounds to break into the system. In the current structure, voters often avoid casting a ballot for candidates outside of the traditional parties for fear of spoiling the election in favor of someone they truly dislike. Traditional parties have intentionally perpetuated this dilemma to keep new players out and keep a broken system and the privileges that come with it in place.
Opening up primaries to all voters, regardless of party affiliation, gives candidates a reason to appeal to a broad range of the electorate, while head-to-head general elections take the spoiler-effect out of the equation and free voters to vote for the candidate they like best.
The editorial boards have opined that there is no conspiracy at play by machine Democrats to steal the primary, and that the rules are being scrupulously followed. However, the proceedings in Queens show once again that the rules are the conspiracy. It is time to replace New York's outdated, unjust system with something as open and inclusive as our residents deserve.
***
Michael Volpe is the Chair of the SAM Party of New York and former candidate for Lieutenant Governor on the SAM line. He is the former Mayor of the Village of Pelham. On Twitter @SAMforNY.
***
Have an op-ed idea or submission for Gotham Gazette? Email This email address is being protected from spambots. You need JavaScript enabled to view it.