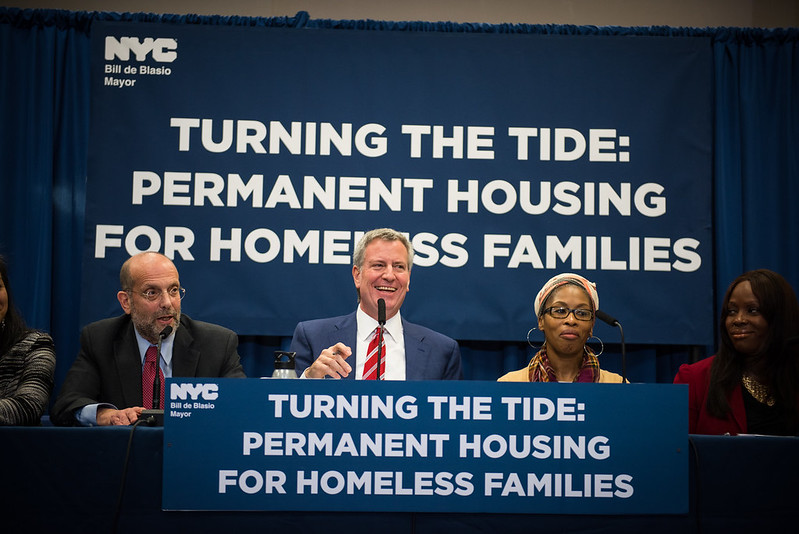 (photo: Edwin J. Torres/Mayoral Photo Office)
---
It's well-known that homelessness in New York City continues at crisis levels. Roughly 60,000 men, women, and children -- near record-highs, down just slightly from recent years -- are sleeping in the city's homeless shelter system every night. Another estimated 3,500 poor souls are living on the streets and subways mostly because they fear the crime that occurs in the city shelters.
It has gotten so bad in the subway system, which according to the MTA has seen a 23% increase in homeless people present, that Governor Cuomo has declared the MTA must do something about it, insisting on additional MTA police officers and sending the State Police underground.
However, the MTA is a transportation organization and not a social service organization like the city's Department of Homeless Services, which runs the shelters and where I was at one time a deputy commissioner, and the city's Human Resources Administration, which runs efforts to keep people out of shelter or move them from shelter to housing.
The plan Mayor de Blasio unveiled two years ago was designed poorly and has been a failure; even the very low goal of reducing the population by only 1% a year has not been reached. The plan also promised reduced dependence on costly hotel rooms, however it has been reported that hotel use is actually up by 36% in the past two years. The number of single adults in shelter is up by 60% over the last five years and many of them are being housed in hotels.
In addition, the budget to fight homelessness has skyrocketed to $3 billion a year, according to Comptroller Scott Stringer, and is going higher as a recent contract for two family homeless shelters in Park Slope has revealed that the city is going to pay $10,000 a month per unit for 253 units for a total cost of $30 million a year.
The city's efforts to stem the tide of incoming families by providing free legal counsel and one-shot payments for rent-arrears is not working well enough. For example, on July 30, 161 families arrived at the city's intake centers for families, on August 1 it was 164 families, and 146 families on September 6.
It is apparent that the system is broken and in need of a true makeover. That is why I am suggesting the creation of a Homelessness Review Board to oversee the system.
This board would be made up of 11 members, with five appointed by the Borough Presidents (one each), one by the City Council Speaker, one by the Public Advocate, one by the Comptroller, and three by the Mayor. This board would have oversight of the Department of Homeless Services budget, power to appoint the DHS Commissioner, and approve contracts of over $1 million.
It would be required to hold at least four public hearings a year and issue two reports a year on the status of the homeless system.
This new structure would provide the accountability that is now missing over homelessness policy.
***
Robert Mascali is a former Deputy Commissioner at Homeless Services and former VP for Supportive Housing at Win.
***
Have an op-ed idea or submission for Gotham Gazette? Email This email address is being protected from spambots. You need JavaScript enabled to view it.