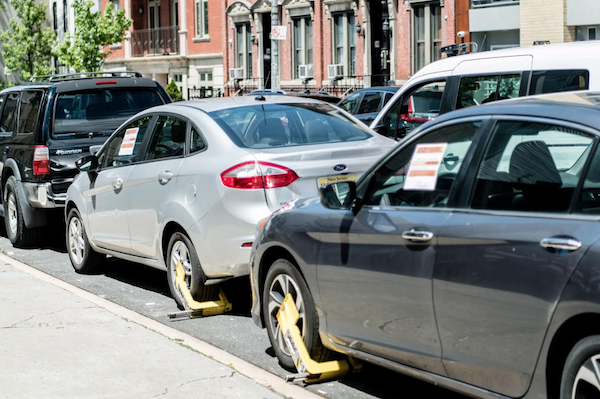 (photo via PayLock)
---
The only thing worse than getting a parking ticket is having your car towed for unpaid fines. For decades, it was the ultimate New York hassle: spend hours looking for your car only to find out you've been ticketed, towed, charged a storage fee, and forced to rescue your vehicle from a distant decrepit parking lot.
Driving has its place in New York City, which is why there are two million registered cars in the city. With those cars comes tens of millions of dollars in unpaid tickets and fines. That's why the city embarked on a pilot program in 2012 designed to address motorist inconvenience while increasing the ease and efficiency of collecting overdue fines that help the city pay for schools, parks, and other priorities New Yorkers care about. The idea was to introduce a simple technology designed to end this municipal headache.
Seven years ago, PayLock, where I serve as CEO, presented the city with an innovative solution to the draconian policy of impounding a person's vehicle for unpaid infractions. Rather than towing, PayLock places a patented immobilizing self-release car boot on a vehicle when they have fines over $350. Once in place, the boot can only be removed after the driver pays their fines.
Through a mobile-friendly website or call center, the driver receives a code to unlock their boot and has 48 hours to return it. As a result, the city gets its money, and motorists get their car back hassle-free within minutes. In fact, PayLock's focus on making a tough situation better recouped over $50 million in unpaid tickets for the city in 2018 alone.
Sadly, New York City will transition to a new program on Friday, November 1, and New Yorkers should ask why.
Last Spring, the city announced a public request for proposals (RFP) to select a company that would run the program for the next five years. The city called for companies with at least three years of experience to apply. We were happy to put our expertise and technology up against any other company. Our seven year track record in New York would speak for itself. We are the only company in the United States successfully operating in over 20 municipalities, including Los Angeles, Seattle, and Baltimore.
To our amazement, the bid was awarded to a newly formed company called RIS NYC, which was incorporated three months after submitting its proposal to the city and brought together one of the city's tow truck and parking lot operators.
RIS NYC has never implemented a self-release booting program for any major city. It also appears that the city went so far as to extend the proposal deadline to respond to the RFP several times just to give RIS NYC time to apply. Then it was awarded the contract even though it lacked the one thing the RFP said was most important: experience.
How is it possible that an untested company was selected to run the largest self-release booting program in the country?
This is why PayLock formally submitted protest letters and later filed an Article 78 legal petition to fight an unfair and nontransparent process. We submitted a proposal backed by data and experience. We brought to the table a total of 14 years of experience collaborating with local governments to run self-release booting programs across the country.
In good faith, we continued to improve and add services at no additional cost to New York taxpayers over the course of the past seven years. We have a great working relationship with the city and the many outstanding Department of Finance employees that we work alongside everyday to help make this program a success. These city employees and our own New York City-based team have shown great care for what is best for New Yorkers.
Instead of providing answers, the city has unfortunately moved the goal posts and built an opaque procurement process that leaves New Yorkers scratching their heads. We pioneered this program and remain a committed partner to the city with a proven record of solving a citywide problem, generating revenue, and reducing administrative costs.
The people of New York deserve better. Companies like PayLock, which deliver innovative solutions to large- and small-scale problems, deserve better. New York City and the Department of Finance have a lot of work to do to ensure companies competing for work in the greatest city in the world have the greatest procurement process in the world.
***
Justin Kennedy is the Chief Executive Officer of PayLock.
***
Have an op-ed idea or submission for Gotham Gazette? Email This email address is being protected from spambots. You need JavaScript enabled to view it.