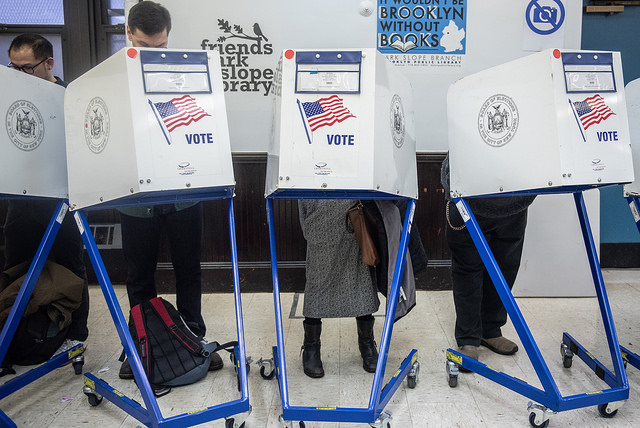 (photo: Michael Appleton/Mayor's Office)
---
Looking at the plan from the state campaign finance commission, anyone who's had even a passing interest in New York politics is left either scratching their head or gritting their teeth (maybe both). It's no surprise that the aspects of the commission's just-completed work that have provoked the most vociferous opposition and passionate debate have nothing whatsoever to do with public campaign financing. On the left and on the right, activists, lawmakers, and good government groups are decrying the elements of the plan that would eventually kill off every minor party in the state and keep other potential new ones from sprouting up.
These recommendations include raising the number of votes necessary to retain ballot access, going from 50,000 to a minimum of 130,000 and making it a biennial rather than quadrennial test. Given recent voting trends, the move would kill off every minor party in the state except one - the Conservative Party. Trust me, as a leader in a political party (the Reform Party) that just lost ballot access under the existing thresholds, I can tell you that getting 50,000 votes is no walk in the park.
Potentially even more alarming, though, is the dramatic increase in the number of signatures necessary to qualify for the ballot statewide, going from 15,000 to 45,000. This increase would reserve ballot access for only the super wealthy or the hand-picked candidates of the political establishment or certain deep-pocketed special interests, very likely keeping new parties from sprouting up (as two did last year to make the ballot: SAM and Libertarian).
If the Legislature allows these new rules to be implemented, it would likely bring an end to New York's longtime history of having robust and influential minor parties. It's a tradition that goes back well over a century in our state. So, why do this? Is the public really clamoring for a less crowded ballot with fewer choices? Of course not!
Aside from a scorned governor seeking vengeance on a political rival (Andrew Cuomo and The Working Families Party), there is actually ample reason to think that our current system, where minor party bosses are treated like major power-brokers, doesn't work well.
We've seen time and again over the last half-century example after example of parties with paltry memberships and even smaller vote totals be showered in patronage jobs, direct donations, policy-making roles, and more in exchange for their ballot lines. In some cases fusion voting in this state has produced minor party leaders (baby bosses) who seem like their sole reason for maintaining a party is acquiring of money and patronage, with little regard for anything resembling a coherent legislative agenda.
But to minimize these baby bosses, is it really wise to eliminate the voter options of the Green Party and the Libertarian Party, who rarely cross-endorse major party candidates and provide an important voice for voters that would otherwise be ideologically disenfranchised? No!
Thankfully there is a way to kill off the illegitimate minor parties and their baby bosses without killing of all minor parties and the valuable options they provide to voter: non-partisan elections.
The state Legislature should immediately pursue a shift towards non-partisan elections in order to provide New Yorkers with real choice and competitive, more thoughtful elections. It would work similar to how special elections are run in New York City, and elections in cities like Chicago, Los Angeles, and Houston, and even cities here in New York like Watertown and Sherrill.
Here's the novel concept. Anyone who wants to run for office can run. They'd all run on the same ballot under the same rules -- whether running for Governor, State Assembly, County Executive, etc. There would be no Republican or Democratic line on the ballot, and much to the pleasure of Governor Cuomo, no Working Families Party line (and so on). This would mean that the baby bosses wouldn't be able to demand a job for their incompetent relatives or demand that candidates buy pricey tables at party fundraisers.
So how does all of this help minor parties and allow voters more choice?
Under a system of nonpartisan elections, without the stigma of running as "third party" or "spoiler" candidates, the candidates of minor parties could actually get broad considered and be elected. If you look at places around the country that have nonpartisan elections, we've seen many examples of candidates without the endorsement of either major political party getting elected and in some cases launching high-profile and successful political careers.
These include Jesse Ventura in Brooklyn Park, MN; Dennis Kucinich in Cleveland; Oscar and Carolyn Goodman in Las Vegas and even the current Mayor of San Antonio, Ron Nirenberg. Lest anyone think, though, that nonpartisan elections would suddenly allow the fringes of the political spectrum to have unwarranted access to the levers of statewide policy-making, one should keep in mind that cities like Chicago and Boston have consistently elected establishment politicians, whose major party bonafides are without question.
In discussing a switch to a nonpartisan system of elections, there will be some who protest by saying that seeing a partisan label on the ballot offers voters a clue as to a candidate's ideological belief system. For those folks, I'd ask: what does seeing both Charles Barron and Dov Hikind running as Democrats from Brooklyn really tell you about their ideology? How about seeing judicial candidates nominated by every party on the ballot?
The bottom line is this: if you want voters to have more choices and minor parties to continue to function, but not corrupt the system, the only real choice is nonpartisan elections for every office across the state.
***
Frank Morano is an activist and radio host. On Twitter @frankmorano.
***
Have an op-ed idea or submission for Gotham Gazette? Email This email address is being protected from spambots. You need JavaScript enabled to view it.