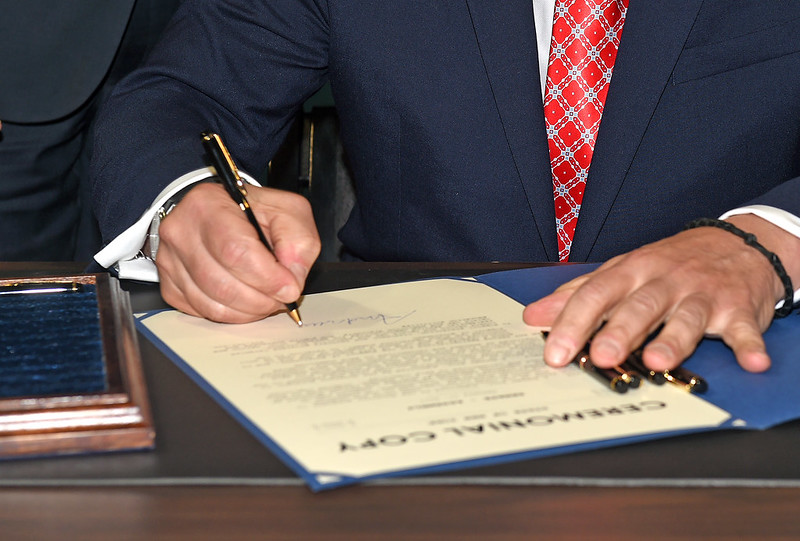 (photo: Kevin P. Coughlin/Governor's Office)
---
A year ago, almost to the day, Governor Cuomo gave me a second chance at life.
That is not an exaggeration. On October 26, 1988, I along with several co-defendants, was convicted of murder for my role in a robbery that went terribly wrong. The judge, known to be particularly harsh, sentenced me to 80 years to life. That meant that I would not be eligible for parole until I was 98 years old. I was 18 years old and facing the reality that I would die in prison.
I spent the next three decades fighting for my life. I quickly realized that I needed to come to grips with what I had done, and with what led me down that path. The process of introspection began with required programs, and I eventually was able to acknowledge and accept responsibility for my actions and the damage I had caused.
I steered clear of any disciplinary infractions. I participated in and completed all mandated programs; I even enrolled in programs I did not have to take. Thereafter, I decided to help others change their lives in a positive way. I facilitated, developed, and implemented new programs and embraced a role as a mentor to younger men in prison. Most significantly, I found my way through post-secondary higher education, obtaining two master's degrees and completing a doctorate degree. I was dubbed the first inmate to complete a doctorate degree "during" incarceration. I was also the first prisoner in New York State history to create, manage, teach, and coordinate a college program run by an incarcerated person.
I was no longer the impulsive immature young person who gave little thought to the consequences of his actions, and I carried the victims of my crime in my heart as an inspiration to change the lives of people forever. I also carried the reality of dying behind prison walls.
With the help of my wife and carried along by devotion to my faith, I began to pursue the only path to freedom that was available to me: clemency. I submitted my application for clemency to the Executive Clemency Bureau and with the assistance of CUNY School of Law I was able to supplement the application with additional material, including evidence revealing the trial judge's reputation for biased, harsh sentencing.
On December 31, 2018, I was called to the front of the prison by the First Deputy Superintendent. I was the only person that was called, leading me to believe that I may have been the only one about to receive news about my clemency decision. I felt it in my soul that I was about to be granted a new lease on life. The feeling was so strong!
The deputy superintendent summoned me to an isolated area and read the governor's decision to me. I jumped up and yelled "Yes, yes, yes!" over and over again. Officers passed by observing the spectacle; shocked, they stood still to listen. I practically glided back to my cell.
Upon entry to my cell I immediately went into prayer and gratitude to God. A voice whispered in my ear to turn on the radio. When I turned it on, a scripture was quoted for the day from the Bible: "I am doing a new thing, can you feel it? I am moving like a stream in the desert. All things of old will stay in the past, and now all things are new." I felt a chill run down my back. The message felt specific to me, a modern-day miracle.
My emotions are impossible to put into words. The past year has been a dream. I had my doctorate degree delivered to my home and not to a prison cell, which was how I received mail for over 30 years. I have made over 60 appearances across New York State; speaking to many about the governor's mercy and how to change one's life through faith and love. I have even been a featured speaker about criminal justice reform at Yale University and CUNY School of Law. I have been on podcasts, interviewed at radio stations, met with artists, was mentioned in a rap song, and spoke at numerous churches, community groups, and even events hosted by government officials in- and out-side of New York.
Yet, as grateful as I am to Governor Cuomo for giving me my freedom, my heart remains heavy. I know that there are countless others in New York state prisons who have been redeemed. There are incarcerated men and women who work tirelessly within their wearisome and oppressive environments to transform themselves through introspection and action. I know this to be true. I have lived with many of these people in prison and know firsthand the people they have become. I also know of their genuine contrition and effort to repair the damage they caused.
Incarcerated men like Paul Clark, Delroy Thorpe, Benjamin Smalls, Ulysses Boyd, Lance Sessoms, Craig Jackson, and Richard Chalk mentor young and old men alike. They and so many others in prison have so much to offer society.
To be clear, I am eternally grateful to Governor Cuomo for granting my clemency application. I am well aware how rarely clemency is granted anywhere in this country. The joy of celebrating my first Christmas in 31 years at home still lingers. And yet, I carry profound sadness for men like Paul, Delroy, Benjamin, Ulysses, Lance, Craig, and Richard who remain destined to perish in prison. What, or whose, purpose does that serve?
I know well how people behind the walls die a little with each day closer to the end of December or in early January with no news about clemency. I know, too, the impact on their loved ones. Yet while 2019 has come and gone, and the governor commuted the sentences of two people on Friday, Three Kings Day, also called the Feast of the Epiphany, is yet to come. As free people celebrate a new year, I pray that the governor, in the spirit of forgiveness and mercy that marks the holidays, has his own personal epiphany and finds it in his heart to give to many others the gift of clemency that he gave to me.
***
by Roy Bolus
***
Have an op-ed idea or submission for Gotham Gazette? Email This email address is being protected from spambots. You need JavaScript enabled to view it.