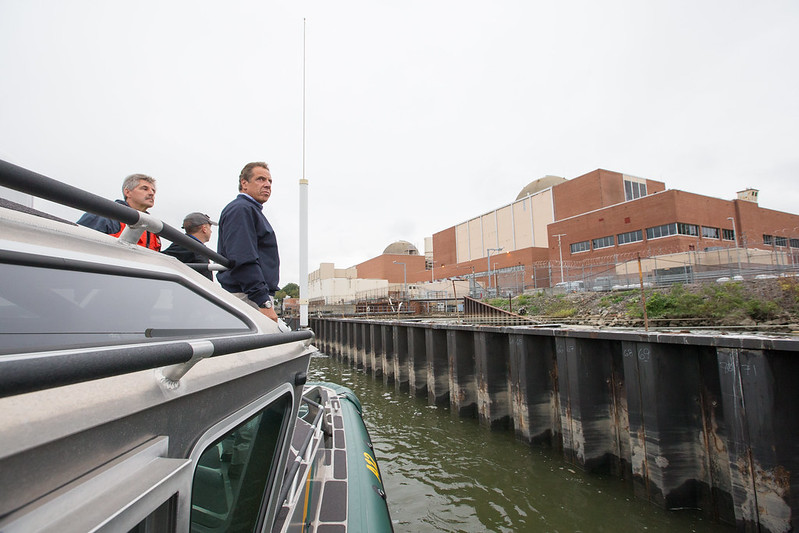 Gov. Cuomo outside Indian Point power plant (photo: Governor's Office)
---
Richard Webster, attorney for Riverkeeper, a principal advocate for closure of Indian Point power plant, has written a deeply misleading response to an opinion piece in which Herschel Specter and I urged that the Indian Point nuclear plant, the largest source of carbon-free energy in the downstate region, be kept open.
Mr. Webster, probably speaking for the Cuomo Administration as well, has attempted to refute our assertion that the closure of the Indian Point nuclear plant will lead to the burning of huge amounts of natural gas, vastly increase the emission of greenhouse gases, and raise the levels of air pollution in low-income neighborhoods and communities of color in New York City and elsewhere.
In the very first paragraph, he claims that NYISO, our grid operator, says that once Indian Point closes, electric demand can be met with "combinations of clean energy sources, transmission improvements, and energy efficiency." In fact, the source he cites says they will be relying on three natural gas-fired plants to supply the electricity we need. In fact, the words "clean" or "renewable" do not even appear in the NYISO report.
He goes on to assert that "clean energy and efficiency" can "replace" one of Indian Point's two reactors. The Indian Point plant runs 24/7 providing "baseload" power to the region. Weather-dependent solar and wind sources provide energy when the sun shines and the wind blows, not the full scope of when we need it. Nor are they even available downstate in the quantity needed to power this dense, high-utilization region.
Mr. Webster believes – and we know this belief is shared by many others – that Indian Point poses great risks to our region. My colleague Herschel Specter has shown in two guides – here and here – that scientific studies and worldwide experience demonstrate that these fears are unfounded. Reactors have been operating safely in the United States for more than 50 years, and they continue to do so. Residents of the Metro area can relax; any problems at Indian Point will be localized and easily dealt with.
Websters treats the generally laudable goals of New York's 2019 landmark climate legislation as if they are on the way to being achieved. In fact, the prestigious Citizens Budget Commission has shown that the early goals in this legislation are "likely infeasible." Mr. Specter and I have demonstrated elsewhere that attempting to meet the new law's 2030 goal with only renewable sources would cost more than $100 billion and is completely impractical. In both the short and long term, nuclear power must be a part of New York's energy future if we are to end the use of fossil fuels. Closing Indian Point will be a giant step backwards, setting us back a decade and probably more.
One further point: The 2017 Indian Point Closure Agreement may actually be illegal. The State's Environmental Quality Review Act (SEQR) requires that all discretionary decisions of an agency like the Department of Environmental Conservation that may affect the environment are subject to an environmental assessment under SEQR. In fact, on p. 137, in an Environmental Impact Statement regarding water use permits, DEC recognizes the deleterious effects that even a temporary closure would have. Certainly, the permanent closure of Indian Point will have substantial environmental impacts, and no such review of this closure has ever been performed.
***
Leonard Rodberg is a physicist who taught climate change and public policy at Queens College/CUNY until his retirement in 2017.
***
Have an op-ed idea or submission for Gotham Gazette? Email This email address is being protected from spambots. You need JavaScript enabled to view it.