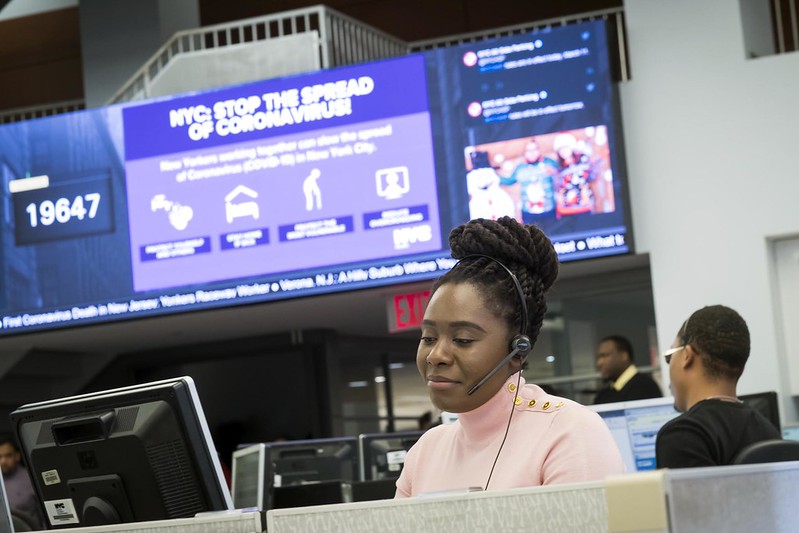 Taking coronavirus calls at 311 (photo: Ed Reed/Mayoral Photography Office)
---
Your personal information is just that: personal. Even during a pandemic, it's important that we make sure that New Yorkers' privacy is protected to the maximum extent possible, both during the emergency and in anticipation of the aftermath once the pandemic resolves.
As New York City's Chief Privacy Officer (CPO), I am dedicated to protecting New Yorkers' privacy. I lead a team of dedicated lawyers who staff the Mayor's Office of Information Privacy and work year-round to safeguard individuals' personal information. We support the work of city agencies and offices by providing information and guidance on privacy policies and best practices, and we are hard at work continuing to provide that guidance during the coronavirus crisis.
Keeping the personal information of New Yorkers private remains a priority of my office, even while the city is mobilized in a battle to protect New Yorkers against the coronavirus. Privacy protections can help aid effective emergency response.
During the COVID-19 crisis, we can ill afford to have our neighbors, coworkers, and friends unable or unwilling to come forward to get urgently needed help due to very real fears. As a privacy lawyer and a former social worker, I am particularly aware of the fears of traditionally underserved populations about privacy and unwanted government intervention. In the past, too many New Yorkers have felt excluded from or afraid of getting help from city government agencies, including individuals with criminal records, substance users, undocumented immigrants, sex workers, or individuals living with HIV, among others.
As the city responds to this crisis, we want New Yorkers to trust that, because their city government is committed to safeguarding their personal information, they can seek and receive the care and services they need, both now and in the future.
In the course of government response to the coronavirus outbreak, there may be emergency situations that require sharing of certain information in order to best protect the public's health and safety. For example, the city must share information with the state's Health Department and the CDC in order to track and prevent the spread of disease. And one city agency may collaborate with other city agencies to share information with the public about available social services, food, and other resources. In these circumstances, it is important for New Yorkers to understand that our office remains in close contact with city agencies and officials to provide guidance and legal advice in order to ensure that privacy remains a priority and is protected to the greatest extent possible.
We are working hard every day to ensure New Yorkers' information is kept appropriately protected when they interact with city government. In these efforts, city agencies have taken a careful approach and shown a strong desire to work with our office during citywide emergency response. We need this kind of focus on privacy to ensure that our most vulnerable residents will feel safe getting health care and food, and receiving essential services – both for their benefit and to protect the public's health.
For our noncitizen residents, I want to emphasize that nothing about the coronavirus response changes our laws that protect your privacy in your interactions with city government. City agencies do not and will not share medical or social services information about coronavirus patients for immigration enforcement purposes. Immigrants should feel comfortable and confident seeking help in New York City. NYC Health + Hospitals treats all who need care, regardless of immigration status or ability to pay, and does not record immigration status.
My office remains as committed as ever to protecting New Yorkers' privacy, to ensure everyone can get the services they need and deserve.
***
Laura Negrón has served as the General Counsel of the Mayor's Office of Operations since 2015 and Chief Privacy Officer of the City of New York since 2018.
***
Have an op-ed idea or submission for Gotham Gazette? Email This email address is being protected from spambots. You need JavaScript enabled to view it.