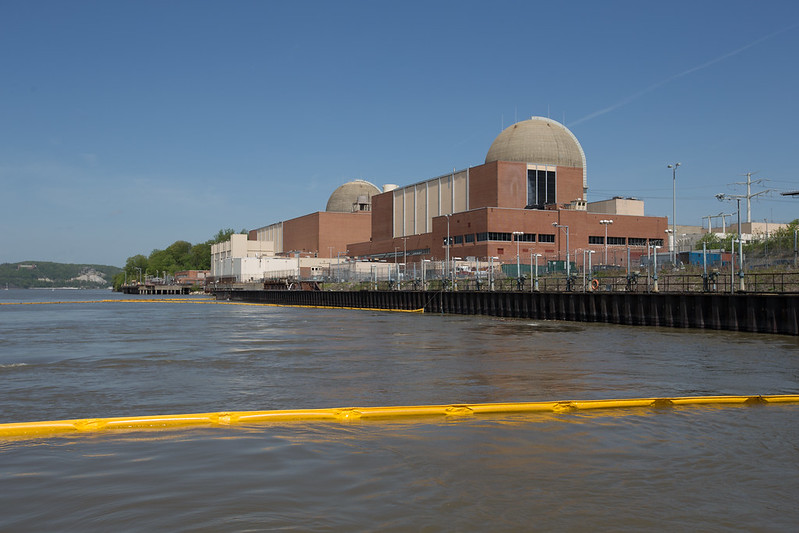 Indian Point nuclear power plant (photo: governor's office)
---
In an opinion piece published April 7, several pro-nuclear energy advocates opportunistically attempt to link the imminent closure of Indian Point 2 with the region's response to COVID-19, warning of potential blackouts if it closes. This cynical fear-mongering is wholly devoid of any factual support, impractical, runs contrary to law, and is the opposite of what we need right now, which is solutions-oriented forward thinking.
First, far from threatening blackouts, the current crisis has actually driven power demand in New York City down by 12%. In addition, study after study shows there is plenty of power without Indian Point and the grid will be as reliable as ever. The latest study by PSE Healthy Energy confirms that even without any new gas plants reliability would not be an issue. The same study shows that since the closure was announced in 2017, the state has added enough renewable energy and energy efficiency to replace Indian Point 2. In short, we have a public health crisis, but we do not have an energy crisis.
Second, in practice, Indian Point 2 is already shutting down, as its fuel rods run out of juice —- power is down by 18% and you'd need 18 months' lead time to refuel it. In addition, Entergy has requested approval of state and federal regulators to transfer the plant to a different owner for decommissioning. Even if we were experiencing an energy crisis, which we are not, Indian Point would not be the solution.
Finally, the closure agreement only allows the state to extend the operation of the plant if there is an emergency "by reason of war, terrorism, a sudden increase in the demand for electric energy, or a sudden shortage of electric energy or of facilities for the generation or transmission of electric energy." Since none of these conditions exist, the closure agreement requires the plant to cease operations.
Indian Point is a safety risk due to aging, potential for earthquakes, and the impossibility of evacuation in case of an accident. Its outdated once-through cooling system also kills billions of aquatic organisms every year damaging the ecology of the Hudson River. Indian Point's closure will create a safer metro area poised for new, more sustainable sources of energy and conservation that will put thousands to work. It will also lead to recovery of the Hudson's ecosystem once its destructive cooling system ceases operation. Right now, we should all be focused on protecting the health and safety of our fellow New Yorkers, not getting sidetracked by those seeking to use the current crisis as a pretext to call into question sensible forward thinking decisions made years ago.
Sincerely,
Richard Webster
Legal Program Director, Riverkeeper
@EnviroWeb, @Riverkeeper
***
Have an op-ed idea or submission for Gotham Gazette? Email This email address is being protected from spambots. You need JavaScript enabled to view it.