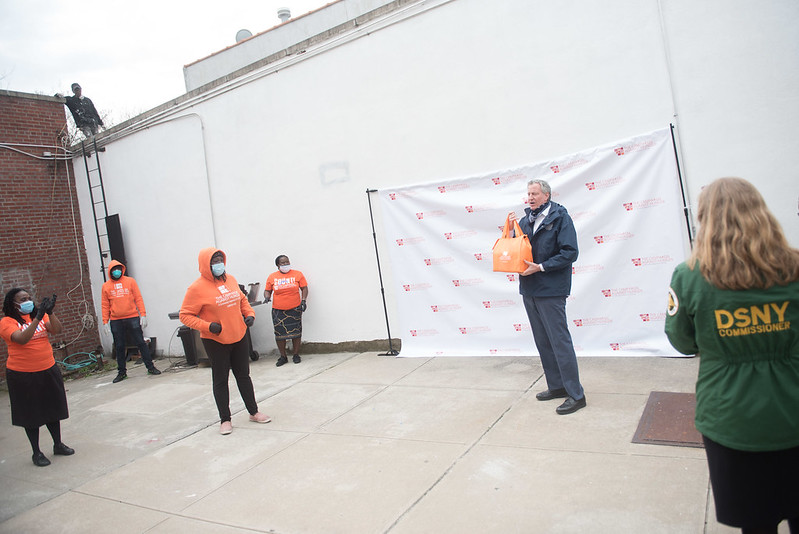 Mayor de Blasio holding a food package (photo: Michael Appleton/Mayor's Office)
---
New York City officials' recently-released plan for how the city will keep New Yorkers fed during the COVID-19 public health and economic crisis does exactly that: tells us how New Yorkers will be fed. But where it missed the mark altogether is that it lacks any direction as to how it will keep New Yorkers well-fed.
The lack of consistent access to healthy food, which has been a looming issue in New York City, has been exacerbated by the COVID-19 pandemic. The de Blasio administration's "Feeding New York" report outlines a plan to meet immediate needs and build long-term resilience in our food system. I stand by the administration when it comes to combating food insecurity and ensuring that New Yorkers do not go hungry in the midst of stay-at-home orders, job loss, and financial struggles.
However, the report, and more specifically the city's food policy, neglects to adequately address nutrition and health when making food readily available to New Yorkers. Inattention to the nutritional content of food is concerning at a time when the public is at war with the health threats posed by COVID-19.
Those with serious underlying medical conditions, including multiple diet-related diseases, are at higher risk for illness from this novel coronavirus. Fortunately, wholesome, plant-based eating has the power to mitigate and sometimes even reverse ailments, such as Type 2 diabetes, heart disease, and obesity. Less meat, dairy, and eggs. More fruits and vegetables. These diet changes would result in less fat and cholesterol and more fiber and essential phytonutrients. New Yorkers with diet-related conditions could significantly boost their immune function and bring their bodies into a state of greater overall health, which would thereby reduce the risk of complications.
Furthermore, the glaring racial disparities of COVID-19 can be at least partially traced to food injustices. As Mayor Bill de Blasio acknowledged: In New York City, the virus has disproportionately affected people of color. What does it mean when we see that while those who are Latino account for 29 percent of the population, they also account for 34 percent of total COVID-related fatalities? And how can it be that those who are categorized as black account for 22 percent of the population, but 28 percent of total fatalities?
These numbers tell a grim story. Grim, but unsurprising, as communities of color, populated by those who are identify as African-American, Caribbean-American, Latino, Asian, and American Indian/Alaska natives face the results of diet-related health disparities — unsurprising, given their poor nutrition profiles, which are high in fat and sodium, and low in fruits, vegetables, and whole grains.
That the New York City Department of Education (DOE) spent $16.9 million on milk and yogurt, compared to a mere $6.3 million on fresh fruits and vegetables in 2019 is emblematic of the city's inadequate procurement of healthy foods. New York City prides itself on being a city that advances public health and sustainability. It's unconscionable that the same city is spending almost three times what it is spending on fruits and vegetables on the unhealthy dairy products shown to be detrimental to people of color.
Agencies, food banks, and other institutions must shift their procurement practices to be increasingly plant-forward. Broader city expenditures on meat, dairy, and eggs versus fruits, vegetables, and grains should also be made transparent.
It is imperative that we prioritize feeding our communities foods that can boost their immune systems and reduce their risks for susceptibility to chronic disease. In addition to social distancing and the use of Personal Protective Equipment (PPE), a nutritious diet can play a significant role in preventing more deaths. Feeding our communities cannot only be a logistical, tunnel-visioned conversation of quantity; it must also be one of quality.
***
Eric Adams is the Brooklyn Borough President. On Twitter @BPEricAdams.
***
Have an op-ed idea or submission for Gotham Gazette? Email This email address is being protected from spambots. You need JavaScript enabled to view it.