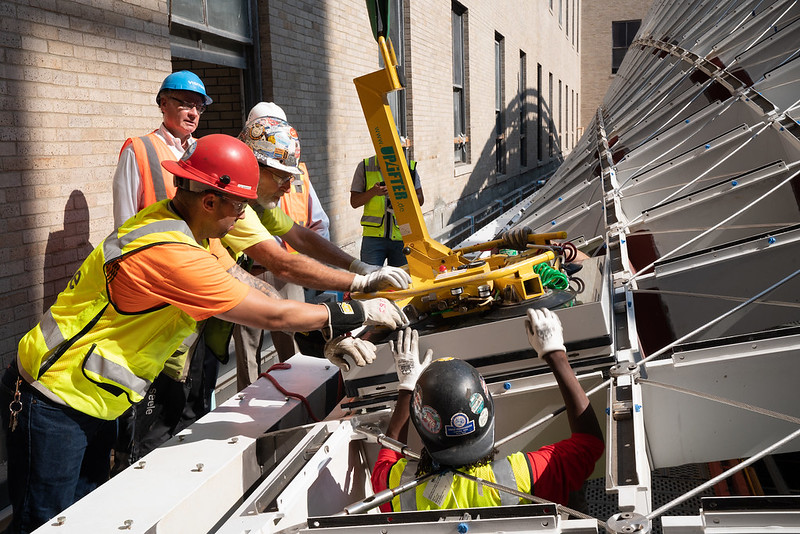 Construction workers will be among the first back to work (photo: governor's office)
---
In the blink of an eye, COVID-19 brought most of New York City's construction industry to a halt, leaving thousands of hardworking individuals jobless and struggling to make ends meet. Fortunately, Governor Cuomo recently announced a phased plan to reopen the construction industry, which will create an increased demand for workers.
But we can't forget that as a requirement for employment in New York City's industry, many construction workers and job applicants will need to complete additional safety training requirements.
Local Law 196, which required construction workers to have 30 hours of Occupational Safety and Health Administration (OSHA) safety training by December 2019, also requires workers to get an additional 10 hours of training – a total of 40 hours – by this September. That's just a few months away – and thousands of current or prospective workers still need to meet the deadline.
Prior to the first deadline, Building Skills New York partnered with a wide array of local non-profits and other institutions, such as Hostos Community College and Public Housing Communities, to host OSHA-30 training sessions that helped provide free training to more than 300 workers. And of course, we were far from the only ones stepping up. That kind of work all across the city had a real impact on ensuring that more men and women entering the industry had the training and credentials needed to secure good jobs.
But now, with social-distancing mandates in place for the foreseeable future, it is not currently possible to receive OSHA training in a traditional classroom setting. That's why it is critical for public and private sector partners to take two steps on this issue over the coming weeks.
First, more funding should be made available to connect current and prospective construction workers with virtual OSHA training opportunities. Workforce development groups like Building Skills are already doing this by shifting our digital operations and using remote technology capabilities to hold online OSHA sessions. Amid current virus concerns, this virtual training model is a no-brainer – it protects workers' health while also giving individuals full access to construction employment opportunities.
Second, public officials should consider taking careful, data-driven steps to planning out a process for reopening in-person site safety training facilities. While OSHA sessions can be held online, other courses – such as the Department of Buildings' series of 4-hour, 16-hour, and 32-hour scaffold trainings and the Fire Department's F-60, G-60, S-92, S-93, and S-94 – must be completed in person. Just as state leaders have developed reopening plans for construction and other industries based on guidance from health experts, the same approach could be applied to spaces that previously housed safety training sessions.
Regardless of how we get there, it is incredibly important that nonprofits and other organizations are able to fund any necessary training sessions over the coming weeks and months. As we look to rebuild New York City's economy, we must take into account individuals who live in underserved communities with an existing history of unemployment and underemployment. Current and prospective workers from across the five boroughs deserve the chance to access the city's construction sector as new jobs become available.
Despite the city's current site shutdowns, the construction industry will soon continue to provide real career opportunities for New Yorkers of all backgrounds. And just as public officials have taken a logical, systematic approach to reopening worksites, they must also look to make safety training more accessible to the men and women who will help build the future of our city in the wake of the COVID-19 pandemic. New funding for virtual courses is a great way to help us do that.
Building Skills looks forward to effectively confronting this new challenge alongside our incredible network of industry and non-profit partners – and we know that these efforts will help ensure that challenge is addressed for workers who need our support.
***
David Meade is Executive Director of Building Skills New York. On Twitter @BuildSkillsNY.
***
Have an op-ed idea or submission for Gotham Gazette? Email This email address is being protected from spambots. You need JavaScript enabled to view it.