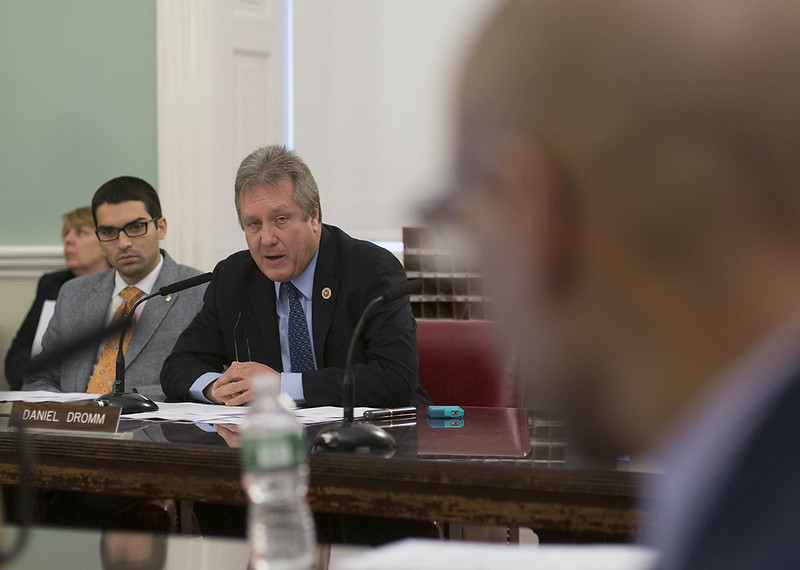 Council Member Dromm, the author (photo: William Alatriste/New York City Council)
---
As we confront the COVID-19 pandemic in New York, millions of residents face serious financial insecurity, and are worried about how they are going to pay their bills. They are worried about themselves and their loved ones getting sick or not being able to work due to the social distancing regulations in place.
For workers at Municipal Credit Union, the largest credit union in New York, the crisis has only made recent negotiations between management and the union representing them worse.
Over 500,000 city workers depend on MCU for their banking needs, including mortgages, car loans, and checking and savings accounts. Nearly 400 union MCU workers are working hard to ensure that New Yorkers have access to their finances at this crucial and challenging time, but they are also facing the risk of exposure. They need to be assured protection and treatment should they get sick. Many MCU employees have reported that they are not being supplied with enough masks, forcing them to reuse the ones they do get and putting them at higher risk of contraction.
While all of this goes on, I understand from the workers that MCU management is now attempting to take away sick days, increase health-care premiums, and raise deductibles. These decisions will cost MCU families thousands of dollars more each year to ensure they have access to health care. It is another attempt in a long line of recent actions by MCU management to weaken employee rights. Recent layoffs without union agreement have also meant that there is even less staff to handle the important work that must be done at this moment.
Last year when the New York State Department of Financial Services took possession of MCU following massive embezzlement by the CEO, things were supposed to turn around. However, they have only gotten worse for hardworking employees. Following the Department's appointment of the National Credit Union Association as conservator and its appointment of the Consultant Management Team to help operate the credit union through conservatorship, Jackson Lewis, a law firm known for their union-busting tactics, was hired.
Over the last few months, the union has repeatedly requested the ability to bargain over multiple days, and so far there has been refusal to bargain more than one day a week. There have also been questions about Jackson Lewis' authority to bargain, and when union representatives asked about this authority, the attorney's response was that the union should file an unfair labor practice charge. These kinds of tactics are hurting workers everyday, making it more difficult for them to provide the essential services needed.
While MCU employees make sure that New Yorkers can walk into a branch and take out money to pay their bills, high-priced attorneys are making thousands of dollars with the goal of permanently damaging workers' rights. It is just not right.
We face extraordinarily difficult times, and the hardworking OPEIU members who make up MCU should not have to worry about sick time during this COVID-19 pandemic, or their health-care and jobs. It is time for the NCUA, CMT, and MCU management to do the right thing and put an end to these attempts to slash sick time and increase health-care premiums at a time when these essential workers are needed more than ever.
***
City Council Member Daniel Dromm represents parts of Queens and is the Council's finance chair. On Twitter @Dromm25.
***
Have an op-ed idea or submission for Gotham Gazette? Email This email address is being protected from spambots. You need JavaScript enabled to view it.