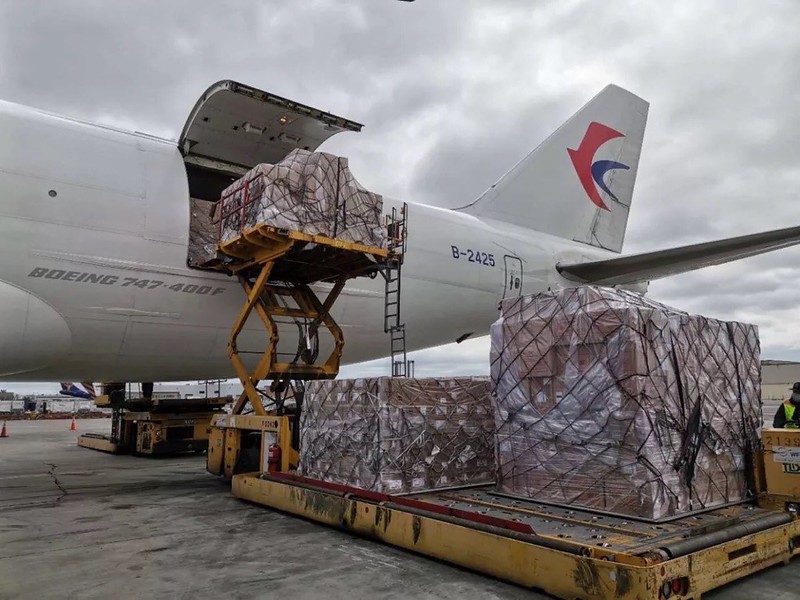 Ventilators arriving in New York from China (photo: governor's office)
---
It's been incredibly horrifying to watch scenes unfolding at New York City's public hospitals as medical staff struggle to keep pace with the coronavirus pandemic. Although doctors and nurses—from Kings County Hospital in Brooklyn to Jacobi in the Bronx—have shown remarkable courage under fire, they are under siege from an invisible enemy that shows no mercy to those in its path.
The situation has been tough for my mother to bear. She's a home health aide working on the frontlines to protect some of New York's most vulnerable residents—the developmentally disabled. But she's also a refugee who fled a civil war in Uganda more than three decades ago and gave birth to my younger sister and me at one of the city's hardest hit public hospitals, Elmhurst.
As we grapple with our country's coronavirus reckoning there are elements that are reminiscent of the war-torn Uganda she escaped. The uncertainty of when life will return to some sense of normalcy. The shadow of death that seems to lurk all around us. The mental anguish that has gripped America's consciousness.
Yet, there is one element of this crisis that is deeply vexing: why were we so unprepared, why didn't we have enough ventilators or personal protective equipment? When New York and other states turned to the federal government, President Trump's response was effectively: you're on your own. Besides the ineptitude of the president, the answers don't only lie in Washington, but also in corporate boardrooms across America.
Over the past four decades, our country's manufacturers have been blazing a trail across the world seeking places—mostly emerging economies—to produce their goods for much cheaper than they would in the United States. This intense focus on cheaper cost of goods and maximizing profits is a result of a shift in America's corporate culture that sought to place the maximization of shareholder value above all other stakeholders—employees, customers, suppliers, communities, etc. As the labor arbitrage took place, corporate profits began to soar and much of the country's manufacturing capacity began to disappear. It's a correlation that's difficult to ignore.
The end results weren't only cheaper goods and lower costs, but a long list of supply chains that no longer existed in the United States—including personal protective equipment and ventilators, just to name a few. This dynamic has led to an erosion of well-paying middle-class jobs and threatens our national security. In 1940, 60% of New York City's workforce was employed in manufacturing. Today, that number is 16%. We are now relying mostly on China to supply us with critical equipment to save American lives.
This pandemic should not only serve as a call to action for policymakers in Washington to enhance the nation's public health infrastructure, but to also demand American corporations shift away from this myopic view of shareholder supremacy. This should begin with repatriating supply chains deemed critical to America's national security.
Americans should make the equipment that will save their lives. This includes manufacturing PPE, pharmaceuticals, tests, and medical devices on our shores so that we are prepared for future disease outbreaks and crises that disrupt the world. The government must take the lead to invest in medical manufacturing to bolster our national supply to prevent future shortages on equipment. And as we move out past this crisis, we must look for ways to modernize our manufacturing industry to meet our country's needs while moving us forward. Specifically, we need to focus on greening manufacturing—retrofitting former manufacturing plants to become more environmentally friendly, producing renewable energy infrastructure, and better training American workers would create jobs and address environmental hazards.
Our government must do more to hold accountable American corporations that ship jobs overseas. American multinationals that will not repatriate should be taxed at significantly higher rates for shipping jobs outside our country. This revenue is sorely needed as we face this economic crisis. Also, corporations that seek bailout funds related to the pandemic must demonstrate that the majority of their workforce is American; otherwise they should be deemed ineligible. And as we move forward, EPA regulations must be strengthened to ensure manufacturing plants are not environmentally harming the surrounding communities.
We have a long way toward recovery, but recovery has to start with a reflection on why our country was so woefully unprepared for this crisis. We must ensure that all Americans, and most importantly corporate America, contribute to the rebuilding of our nation.
***
Adem Bunkeddeko is a candidate for Congress in New York's 9th District, covering parts of Brooklyn. On Twitter @adembunkeddeko.
***
Have an op-ed idea or submission for Gotham Gazette? Email This email address is being protected from spambots. You need JavaScript enabled to view it.