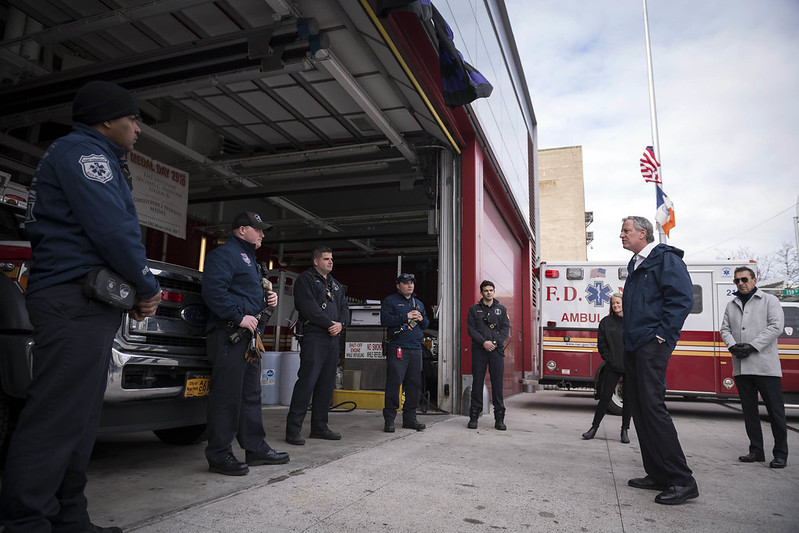 Mayor de Blasio visits with EMS (photo: Ed Reed/Mayor's Office)
---
The coronavirus pandemic has compelled us to take stock of the racial and socioeconomic inequities that have burdened our city's more than 5 million New Yorkers of color for generations. These obstacles to their upward mobility exist not only in health care, education, and housing but within our own municipal workforce.

The most glaring among them happens to also be one of particularly cruel irony given COVID-19's onslaught on the city's 9-1-1 system and related services: the unequal pay received by emergency medical technicians and paramedics at FDNY EMS.

These more than 4,000 EMTs and paramedics are predominantly people of color, often hailing from the same communities being ravaged by the coronavirus, and their ranks boast a higher percentage of women than any of the city's uniformed services. They too are employees of the Fire Department, but, compared to their overwhelmingly white, male firefighting counterparts, FDNY EMS members are paid about $12,000 less on average, annually, and more than double that amount after five years; despite routinely facing threats to their safety as they provide life-saving medical care to well over 8 million New Yorkers, as well as commuters, tourists, and other visitors who need it.

FDNY EMS responded to over 1.5 million medical emergencies in each of the last two years. Over that same time, assaults against its members increased by 27% in 2018, and 36% through last fall.

Demoralized and undervalued, some 900 skilled and well-trained EMTs and paramedics left their jobs during that period to earn tens of thousands of dollars more as firefighters through an exclusive testing and hiring process within FDNY.
This pipeline, created on the heels of legal rulings affirming that FDNY engaged in hiring discrimination against minority and women applicants, has served to help the Department compensate for the abysmal racial and gender diversity outside of its EMS workforce.
Less known is the number of FDNY EMS members that walked away to join other city agencies, or left the city altogether, thus jeopardizing the health and well-being of our fellow New Yorkers. This is crucial work, and yet the compensation and parity issues have made it a difficult path to pursue for so many talented New Yorkers – and this was before COVID-19.
At the peak of the outbreak, as many as 7,000 emergency calls were placed in a single day, a level not seen since September 11, 2001; including the highest three-day call volume in FDNY history.
Despite the indignity of having only 12 sick days available to them, one out of every four FDNY EMS members called out during those agonizing weeks due to exposure to the coronavirus.

Four EMTs ultimately lost their lives to the virus, and a rookie EMT, John Mondello, tragically killed himself after just three months on the job serving in one of the busiest EMS stations in the city, having succumbed to the mental anguish of watching patient after patient die from the disease.

To this day, the most progressive city in America is denying these first responders their due. Mayor de Blasio himself previously described the work of EMTs and paramedics as "different" from firefighters, but has since given them numerous platitudes.

If the dedication, bravery, and sacrifice of FDNY EMS wasn't apparent to him before COVID-19, it surely is now.

There can be no further argument against fairly compensating these beleaguered but endlessly brave first responders.

The time is now to show our gratitude for their service, commitment to excellence, and the value they add daily to our city by giving them the equal pay and benefits they rightly deserve.

***
Corey Johnson represents parts of Manhattan and is the Speaker of the New York City Council. I. Daneek Miller represents parts of Queens and is the Chair of the City Council Committee on Civil Service and Labor. On Twitter @NYCSpeakerCoJo & @IDaneekMiller.
***
Have an op-ed idea or submission for Gotham Gazette? Email This email address is being protected from spambots. You need JavaScript enabled to view it.