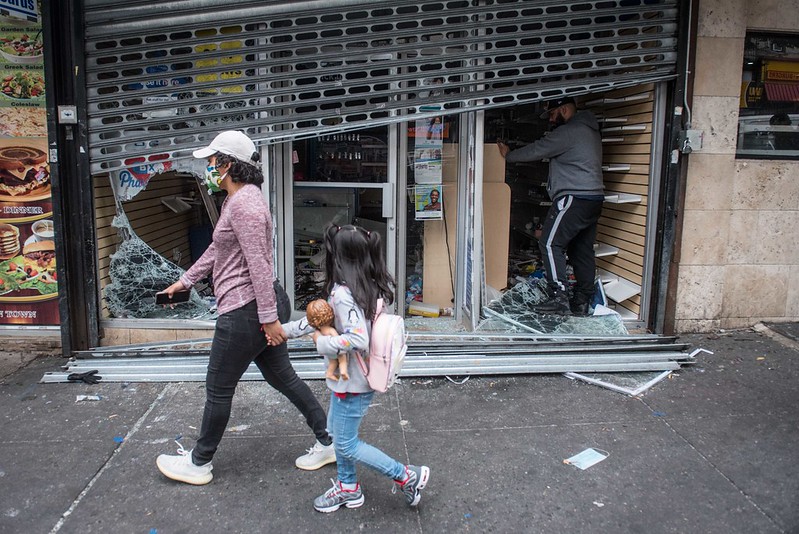 Aftermath of looting in the Bronx (photo: Michael Appleton/Mayor's Office)
---
Growing up near New York City in the 1970s and '80s, the city seemed a terrifying place, full of gangs, muggers, and tabloid-worthy murders.
By the time I moved to the city for work in the mid-'90s, however, it was in the midst of a transformation. The first two neighborhoods I lived in, in Manhattan, were Murray Hill and the East Village, and both initially had terrible reputations. Murray Hill featured street prostitutes and notorious single resident occupancy hotels, and the East Village was infamous for its "needle park" in Tompkins Square.
But the SROs became boutique hotels and the prostitutes became European tourists asking for directions. Tompkins Square Park evolved into a place for concerts and young families (mixed in with some needle users). The changes were emblematic of neighborhoods all over the five boroughs.
Why? It started with order and safety. Crime famously plummeted in New York through the 1990s and people living a more ordered life centered around work and the city's cultural and nightlife followed. And the rebirth of New York as the nation's economic and cultural capital has continued into the new century and over the last two decades.
But that incredible transformation is threatened today. Not just because of COVID-19, but also because of an overdue reform movement that is protesting publicly for a new paradigm in the relationship between public safety and order and the rights of people of color.
It is a movement full of the passion and talent found so often in New York's young people. But those strengths are also a risk, of going too far and destroying the very place that helps bring that passion and talent to life.
It's time for the protesting to stop and the harder work of building the city back to begin.
I'm not some "law and order" ideologue who wants to see "rioters" put in their place. I've spent much of my professional career working in New York City during its transformation, for Democratic elected officials and candidates, and progressive policy issues.
But for New York to come back after COVID-19, white collar workers from the suburbs will have to return, residents will need to keep pushing the limits of livable neighborhoods, families will have to want to stay, and tourists will need confidence New York City remains vibrant and available.
None of this can happen without a city that feels safe and orderly. That doesn't just mean keeping crime low. It means not having graffiti-covered buildings and subways, protesters destroying property in very public ways, or nightly violent confrontations with police. And it means incorporating the movement's reforms and leaders into the healthy civic infrastructure that exists in New York.
New York City has always been a place driven by young energy. The constant influx of bright, ambitious, and creative young people is the burning heart of "the city that never sleeps." Ultimately the success or failure of New York City's future will come down to them.
This generation of young New Yorkers will have to decide what they want. Do they put their incredible drive behind a city that continues to thrive and grow, while it also confronts the need for public safety and public policy reform?
If so, this generation of young New Yorkers needs to work with elected officials, and the civic, business, and labor groups that have stayed committed to New York through thick and thin. And yes, they even have to partner with the police department itself to figure out how it can do the job of ensuring a safe city without unfair and unlawful targeting of people of color.
If not, it means expending that amazing energy on protesting alone. And that would be quite a waste.
***
Stephen Sigmund was Communications and Policy Director for the New York City Council and Chief of Public and Government Affairs for the Port Authority of NY/NJ. He is currently a public affairs consultant working on the Gateway rail program. On Twitter @ssiggy1.
***
Have an op-ed idea or submission for Gotham Gazette? Email This email address is being protected from spambots. You need JavaScript enabled to view it.