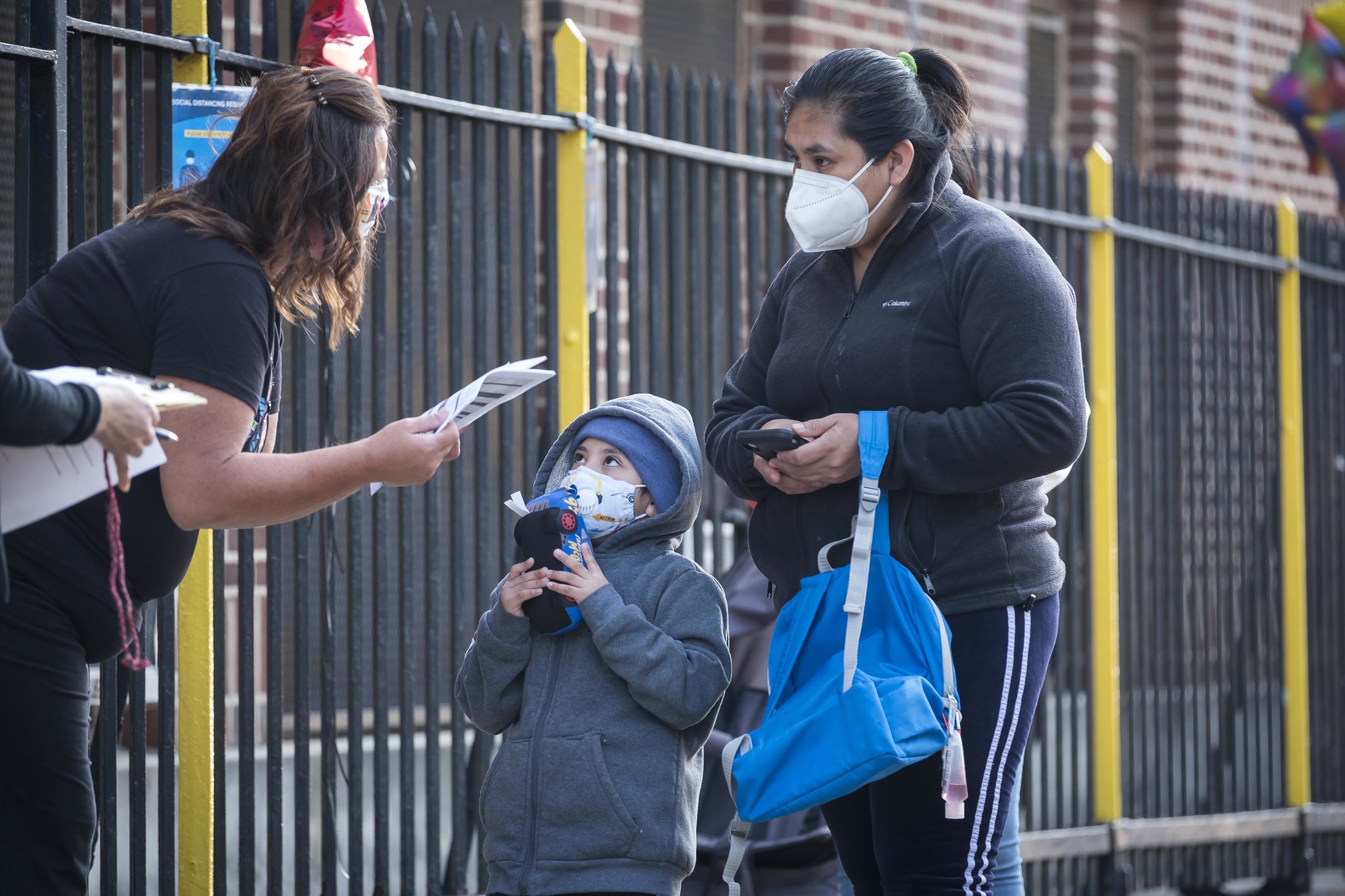 A student reporting to school (photo: Ed Reed/Mayoral Photography Office)
---
From English-only robo calls and critical emails to online-only surveys and a dearth of information in community media outlets, immigrant families have been left out of remote learning in New York, and they are confused and deeply concerned.
COVID-19 forced schools across the nation and in New York State to close in mid-March, quickly exacerbating pre-existing inequities in New York's education system through the transition to remote learning. For New York's immigrant students and their families in our public schools, the lack of clear and timely communication in families' home languages prevented many from making informed decisions during a historic crisis and also shut many immigrant youth out of an education for months.
Approximately 38% of New York's school-age children have at least one foreign-born parent, and youth learning to speak, read, and write in English (English Language Learners, or ELLs) account for nearly a quarter-million of the state's students. When we fail to meet ELLs' needs, we fail their families and their communities, and we fail all New Yorkers.
It is especially important for schools to communicate effectively with immigrant families and actively support their engagement because survival is consuming a large portion of their bandwidth.
Immigrants tend to work in the industries hardest hit by the COVID-19 pandemic, live in the areas hardest hit by outbreaks, and make up a disproportionate number of those killed by the virus. In New York, nearly a quarter of residents are immigrants and they make up a third of the state's front line workers, while numerous others have lost their employment due to the pandemic. These at-home crises impede ELLs' academic success and create social and emotional trauma.
As school buildings closed and transitioned into remote learning, educators, advocates, and community leaders quickly rang the alarm that ELLs and children of Limited English Proficiency (LEP) parents were harder to reach and would require additional outreach and support to get integrated into virtual classrooms. Myriad obstacles for low-income immigrant families, such as lack of access to technology, housing, child care, and food, were exacerbated by the inconsistent and inappropriate means of communication employed by districts and schools across the state.
For years, the absence of timely, in-language communication has left many of New York's ELLs behind. Under COVID-19 remote learning, these barriers have only intensified. Immigrant families fear that these problems will remain throughout the academic year that has just begun.
With Interim Commissioner Betty Rosa now at the helm, the New York State Education Department (NYSED) has a real opportunity to address the deficiencies of these past months and launch proactive strategies to reach and meaningfully engage our ELL and LEP families.
NYSED should require school districts to track and improve school engagement with immigrant students and families, and therein combat inequities in instruction and learning. This data will help policymakers and advocates identify what areas are in most need of improvement to best serve our immigrant students and families.
NYSED should also require that disaggregated, district-wide and school-by-school engagement and attendance data be made publicly available in all districts with large immigrant populations. Disaggregated data will help reveal which districts have communicated most effectively with immigrant families, and those that need support. Only with real transparency will school districts be accountable to use the limited resources they have in targeted and equitable ways and stop excluding our most vulnerable students from being integrated into new fully remote and hybrid school systems.
***
Daisy Muñoz is a graduate student at New York University who worked closely over the summer with the New York Immigration Coalition and with the NY-AFFIRMs Coalition, which advocates for full and fair resources for New York's English Language Learners.
***
Have an op-ed idea or submission for Gotham Gazette? Email This email address is being protected from spambots. You need JavaScript enabled to view it.