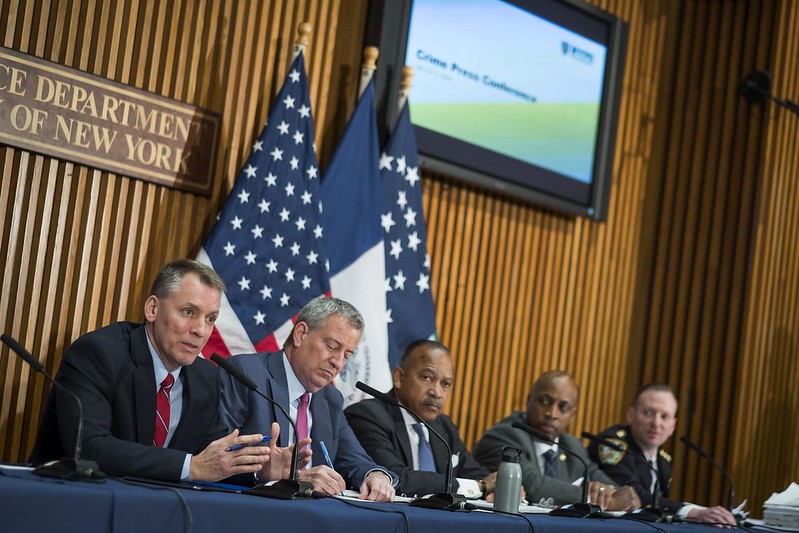 NYPD Commissioner Shea, Mayor de Blasio, other police officials (photo: Ed Reed/Mayor's Office)
---
As an international non-governmental organization, Human Rights Watch (HRW) reports on human rights abuses in every part of the world. Recently, its work brought it to New York City and more specifically, the Bronx. In a newly released report, HRW documented rampant police violence during a summer protest against police brutality, revealing that the NYPD's actions violated international human rights law.

On June 4, after the city's misguided and short-lived curfew went into effect, the New York City Police Department executed a planned assault on peaceful protestors. Using a tactic known as 'kettling,' officers trapped, rounded up, and arrested hundreds – with no warning. Among them: bystanders, medics, and legal observers.

The NYPD's conduct that night – which included firing pepper spray and beating protestors with and without batons – resulted in the injuries of at least 61 people and violated international human rights law.

Equally as troubling was the NYPD's targeting of legal observers, who are neutral, third-party spectators and do not partake in protest. First established in 1968, National Lawyers Guild Legal Observers have monitored New York City protests for decades with an important job: ensuring people are able to exercise their first amendment rights without interference from law enforcement.

While their presence at public demonstrations, rallies, and marches often serves as a deterrent to police violence, when that fails, legal observers record notes, photos, and videos to document police misconduct and potential civil rights violations. At times, these reports lay the groundwork for legal action.

The NYPD's own Patrol Guide lays out protections for the work of legal observers: "individuals have a right to lawfully observe and/or record police activity including, but not limited to detentions, searches, arrests, or uses of force."

The manual further states: "All members of the service will extend every courtesy and cooperation to observers. Observers shall be permitted to remain in any area, or observe any police activity, subject only to restrictions necessitated by personal safety factors, as determined by the incident commander."

As essential workers, legal observers were exempt from the city's curfew. My office reached out to Mayor de Blasio's staff to confirm essential status for people providing jail, legal, and medical services to protestors. The mayor's staff confirmed this on two separate occasions.

In addition to donning neon green hats clearly labeled "National Lawyers Guild Legal Observer," LOs also carried documentation of exemption that night. They described an entirely peaceful protest until the NYPD got involved.

Yet, none of those things stopped the NYPD from crying "illegal counter-surveillance," seizing privileged notes, using excessive force, and detaining at least 12 legal observers during the Mott Haven protest.

Not only did many officers fail to wear face masks, many also covered their badge numbers to prevent identification. Legal observers described being marshalled together and prevented from doing their job.

It is clear that the NYPD acted to prevent legal observers from bearing witness to police actions that night. This is in line with the attacks on legal observers happening across the country. During Black Lives Matter protests in Buffalo, Portland, Detroit, Cleveland, Sacramento, and Atlanta legal observers have reported being beaten, detained, and shot with rubber bullets.

Like a free press, legal observers are critical in ensuring our police department and government answer to the people. It should worry us immensely that the NYPD acted to undermine the watchdog role of legal observers. Open season on legal observers and journalists erodes our ability to hold the NYPD and other police departments accountable.

Despite the NYPD's efforts to cover its tracks, as many as 100 lawsuits in an aggregate amount of hundreds of millions of dollars could be filed against the city. Forcing the burden onto the taxpayers, during a time of financial crisis no less, does not resemble anything close to accountability.

The very act of detaining legal observers demonstrates the brazen actions of a police department gone rogue. Unafraid of consequences and growing emboldened by the day, the NYPD does not expect to be disciplined.

This should come as little surprise considering the culture of impunity Mayor de Blasio and Police Commissioner Shea have enabled. While the appetite for police reform and calls to defund the police grow, the NYPD is working to strip New Yorkers of yet another tool for accountability.

Under the leadership of Mayor de Blasio, who has been deferential to Police Commissioner Shea, the NYPD has descended into lawlessness. Instead of having meaningful conversations about demilitarizing and divesting from the police department and investing in communities, we are once again at odds with a police department that routinely tramples on the rights of New Yorkers.

The Human Rights Watch report highlighted systemic and indisputable police abuse in the Bronx. Fortunately, it didn't leave us empty-handed, suggesting various structural reforms like disciplinary action against the Police Commissioner, an NYPD hiring freeze, and budget transparency. Mr. Mayor, it's not enough to condemn the NYPD's attack on our constitutional rights that night – what are you going to do about it?

New Yorkers demand accountability.
***
Dan Quart represents parts of Manhattan's East Side in the New York State Assembly. He is a candidate for Manhattan District Attorney. On Twitter @AMDanQuart.
***
Have an op-ed idea or submission for Gotham Gazette? Email This email address is being protected from spambots. You need JavaScript enabled to view it.
This column has been corrected to note that up to 100 lawsuits could be filed, not have been filed as originally stated.