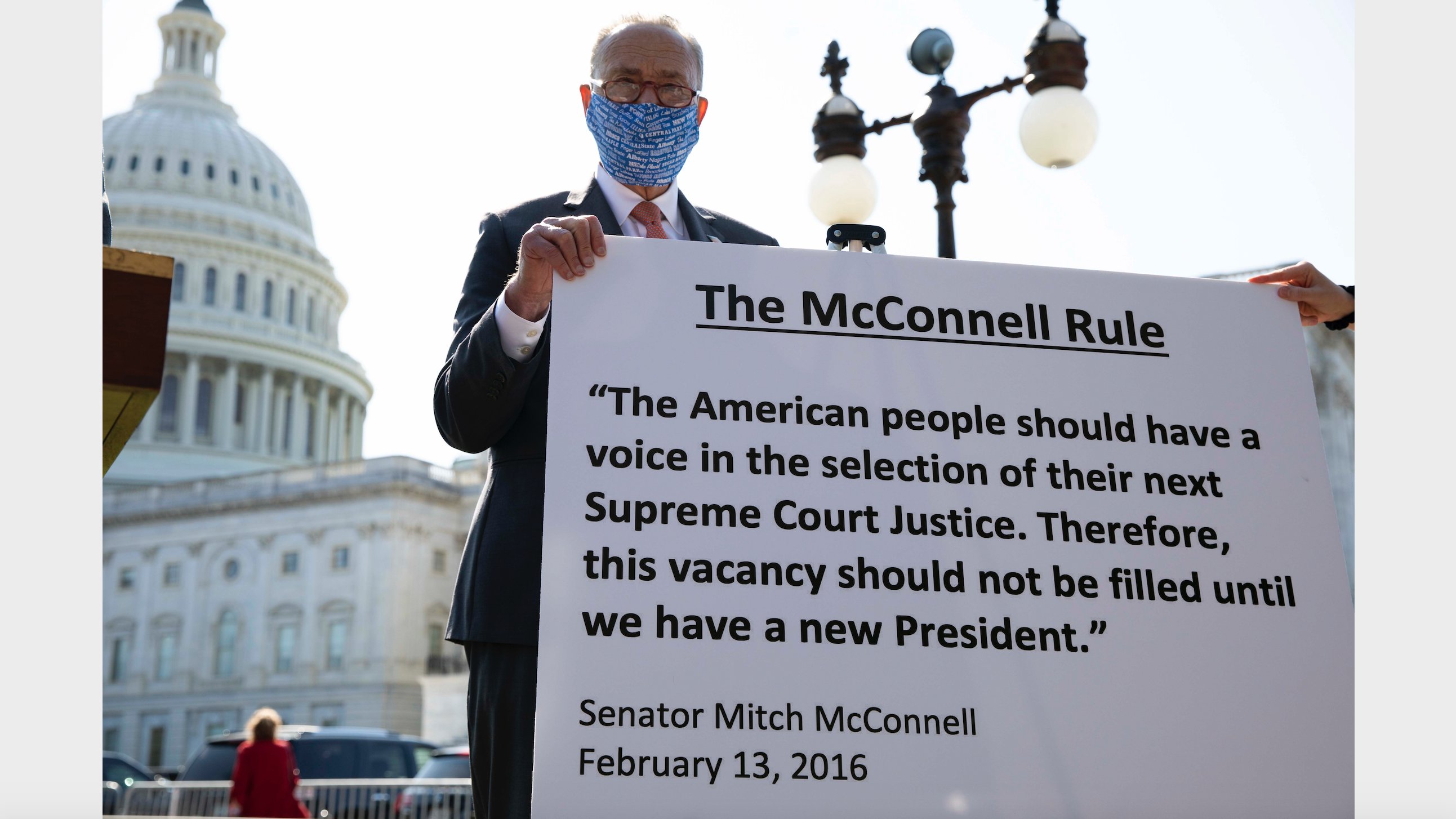 Senator Schumer calling out Senator McConnell (photo: @SenSchumer)
---
As New York-based activists, we've worked consistently to push Chuck Schumer to take a bolder stance against Trumpism, both as our senator and as the Senate minority leader. We've talked to him in person, we've protested at his house and his office, and we've flooded his phone lines. But we have never been so mystified by his lack of leadership as we have been during the Senate Judiciary Committee hearings for Supreme Court nominee Amy Coney Barrett.
Everything about Judge Barrett's record and writings makes clear her radical right-wing ideology is a danger to all Americans. If confirmed, she will rule to strip health care away from millions of Americans during a pandemic, roll back Roe v. Wade, threaten the implementation of climate policy, and put corporations over workers and communities.
More importantly, the nomination process for Barrett is itself profoundly undemocratic and dangerous.
Voting in the 2020 elections is already happening and Senate Republicans are hypocritically pushing ahead after refusing President Obama's 2016 nomination of Merrick Garland. With confirmed cases of COVID-19 in the Senate Judiciary committee, holding these hearings in person put lives at risk, including Senate staffers and building staff. Not to mention that Senate Republicans continue to obstruct covid relief.
With early voting underway in numerous states across the country and all polls pointing to majority support for Joe Biden, these hearings demonstrate Senate Republicans' utter contempt for the will of the people -- just four years after Mitch McConnell obstructed the Garland nomination, made well ahead of the election.
And as the hearings unfolded, it was clear that the nominee herself has little regard for the law and instead intends to carry out a totalitarian agenda through the court. She refused to comment whether she supports a peaceful transfer of power; she refused to acknowledge that voter intimidation is a crime; and she refused to recuse herself from a case involving the Trump campaign if and when he challenges the results of the election.
This is a make or break moment for our democracy, and for all people.
So why does it seem like Schumer and Senate Democrats don't understand that?
Democratic Senators including Dianne Feinstein, Patrick Leahy, Dick Durbin, Sheldon Whitehouse, Amy Klobuchar, and Chris Coons have met with Barrett, when they could have refused to do so. Senator Feinstein opened her questioning by asking irrelevant questions about Barrett's children. Later, Feinstein inexplicably declared she was "impressed" with Barrett, handing Republicans a useful soundbite. And many Democratic Judiciary members participated in person in a hearing in which Republican Senator Mike Lee, who was recently diagnosed with COVID-19, refused to consistently wear a mask.
The whole process is wrong. The Senate should not be holding hearings three weeks before an election during a deadly pandemic. Senate Democrats should not be cooperating with Lindsey Graham or asking Barrett polite questions about her family, and they certainly shouldn't be feeding the narrative that Barrett's confirmation is inevitable.
As activists and organizers, we know that we don't only fight for outcomes that are easy or guaranteed. It's the hard battles, the ones that seem impossible, that need our ferocity even more.
Senator Schumer is the Democratic Senate Leader, it is his job to lead a caucus-wide messaging and procedural strategy to disrupt, delay, and discredit the hearings.
That's not happening.
Instead, it has fallen to activists like us to write the memos detailing the tools available to him to delay the process, including denying a quorum and coordinating with House Democrats to introduce 'must-pass' legislation. It has also fallen to us to highlight the dangers of holding an in-person hearing; while Schumer tweeted about the danger of multiple confirmed and suspected cases covid among GOP senators on the Judiciary Committee, we were the ones who showed up in hazmat suits outside the Senate on Monday morning to emphasize the danger of COVID-19.
When Amy Coney Barrett refused to forcefully endorse a peaceful transfer of power, every Democrat could have stood up and walked out of the hearing. But they didn't.
Polls show a majority of Americans don't think the hearings should continue and say the seat should be filled by the next President.
On Wednesday, Judiciary Democrats muscled up and denied a quorum. That's a start. But they need to go even farther. Senator Schumer and his colleagues should be bold and courageous in this fight and boycott the committee vote on Thursday -- as courageous as the activists who are protesting daily outside the Supreme Court and as bold as the majority of people who want the Senate to focus on covid relief instead of these sham hearings.
Senator Schumer should do his job. Or the people of New York will find someone who will.
***
Jaron Benjamin is an activist. Liat Olenick is a leader of Indivisible Nation BK. On Twitter @Jaronimoh & @Liat_RO.
***
Have an op-ed idea or submission for Gotham Gazette? Email This email address is being protected from spambots. You need JavaScript enabled to view it.