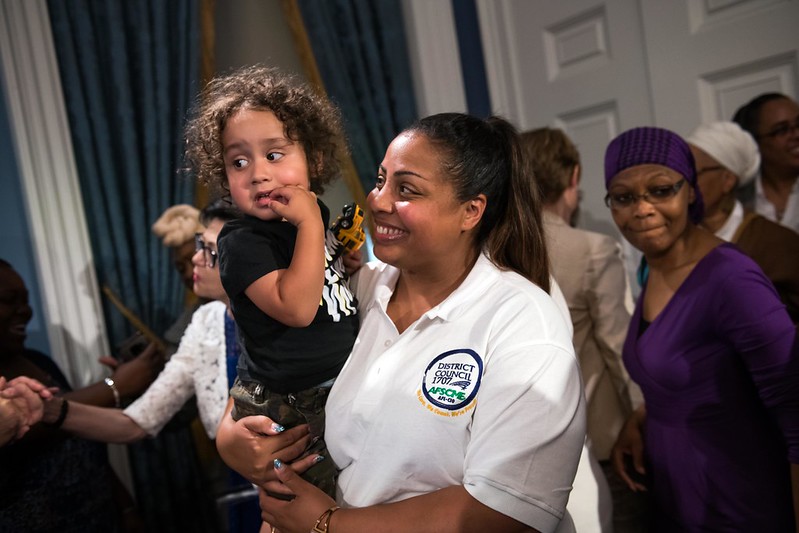 Child care is a key focus (photo: Ed Reed/Mayoral Photography Office)
---
It's 2:30 a.m. and I'm staring at our couch. It's looking shabbier each day, especially since our one-year-old, Teddy, has taken to holding onto it with sticky hands. There's a pile of tattered business cards on the floor – a little distraction for Teddy that usually buys me five minutes to answer emails. The dining table is still covered in scrambled eggs from Teddy's dinner. My husband is hunched over responding to emails that needed answers hours ago.
He's tired. I'm tired. We'll both be up for another hour catching up on work.
Any parent with young children knows why: we don't have childcare. Since the pandemic, consistent, affordable child care has gone the way of regular meals, date nights, and respectable bedtimes. And as Mayor de Blasio and the New York City Department of Education continue to give unclear, last-minute instructions about the status of schools and resources for those who need child care are slim, we're just one of the countless families struggling in an unsustainable situation.
Like so many others, at the start of the pandemic we hunkered down and prepared for what we thought would be one or two months of intense family time in our one-bedroom apartment. Two months came and went. My husband received a pay cut, and with no end to the covid crisis in sight, we said goodbye to our day-care in Harlem because we simply couldn't afford it. After exhausting our options — nannies, family friends, a college student looking for extra money — our hearts leapt when a center a few blocks away called about a last-minute dropout. The catch? My son could now have steady, reliable child care for $33,000 per year. That's low for neighborhoods like mine, where child care can often cost $30,000 to $50,000 a year, but it's an unobtainable luxury for the majority of New York City families, including my own.
New York City's haphazard approach to reopening schools and poor communication with parents has made it nearly impossible to keep up. Giving parents less than 24 hours to scramble and prepare for school closures is just unacceptable. For parents like me, the only thing we can really count on is that there won't be enough affordable, quality child care. As we stare down at the precipice of another wave that will once again close our schools and financially strain our small businesses, moms are bearing the brunt of the pandemic. Families are suffering, and the road to recovery seems too long and too costly for many to survive.
Prior to the pandemic, child-care centers and family day-care providers only served 22% of children under two in the city. Child-care centers alone only had capacity for 6% of children under two, and experts estimate that by the end of the pandemic, 4.5 million child-care slots could be permanently lost nationwide.
Thus far, the city's attempts to offer lifelines have been far too few to make an impact. The Learning Bridges program, created to provide child care during remote learning, only has 60 seats in my district, and nothing for children under the age of five. There are no 3-K seats in my district.
And as others have pointed out, the absence of real child care solutions will ultimately hurt moms the most, resulting in the departure of millions of women from the workforce completely. Prior to the pandemic, women had constituted over half of the workforce for the first time since the Great Recession. Now, we are at historic lows, and reports estimate that it will take years to recover.
In New York City, with an unemployment rate of nearly 16%, compared to 8.4% nationwide, we are in an economic crisis that is threatening the city's very future. Economists have noted that one major factor has been the loss industries like hotel and food services, administrative roles, and retail. These are also the same industries that are more likely to employ women, and especially women of color.
The answer is clear: there is no economic recovery without women, and we cannot fully employ women without child care.
We need universal child care in New York City. For something this essential, we can surely figure out design and implementation.
Most proposals for a universal child-care model endorse a sliding-scale approach to overall cost, with a percentage cap of how much a family could ultimately have to pay for child care. With this model, families would never have to be in the position of paying more for child care than they do in rent. Other proposals include increasing wages for child-care workers and creating opportunities to expand existing child-care centers. This is critical to ensure that we offer quality care to all families. In addition to increasing the range, affordability, and quality of child care options, we should also be making it easier for families to identify additional resources they are eligible for, including programs for expectant families like lactation services, family planning, and wellness, as well as opportunities for families with school-age children like after-school activities, summer programming, health clinics, and youth employment programs.
Ultimately, this comes down to how our city is going to take care of our families. We need to invest in workers and make it possible for them to actually work. We need to elect mothers of young children and parents who know firsthand the struggles of New York City families. Why do we only have one mother with school-age children in the City Council? Why has our government not identified a child care solution nine months into this pandemic? Why are we forcing families to choose between taking care of their babies and earning an income?
It's 3:30 a.m. I look at my husband and I realize how lucky we are compared to so many others who are struggling. I know we're going to get through this, but it's not enough. We need more. Parents need more. Our future depends on it.
***
Tricia Shimamura is a candidate for City Council in Manhattan's District 5. On Twitter @Tricia4NYC.
***
Have an op-ed idea or submission for Gotham Gazette? Email This email address is being protected from spambots. You need JavaScript enabled to view it.