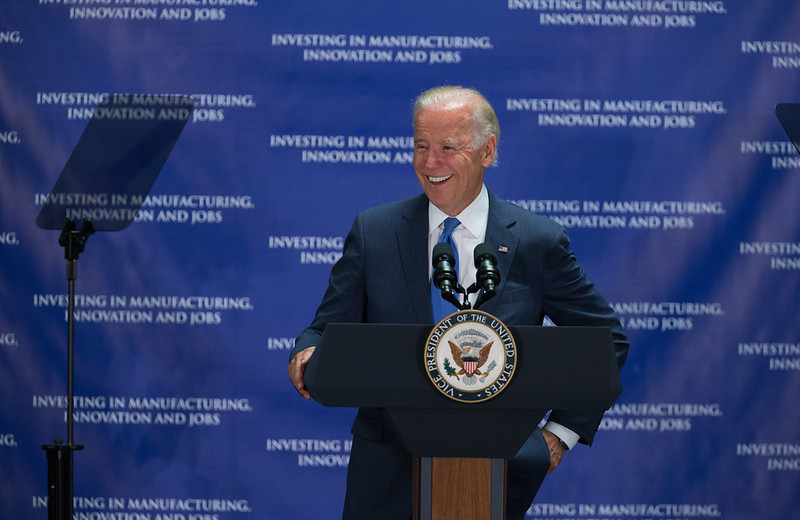 Then-Vice President Joe Biden (photo: governor's office)
---
Over the last four years, our city and nation have watched as the Trump administration targeted immigrant communities with punitive policies and lashed out at local leadership who disagreed with his politics. With unprecedented climate events and a pandemic that has upended our lives, cities like ours have been left to fend for themselves. Indeed, this abdication of responsibility on the national and global stage has been a recurring theme.
That is about to change.
The incoming Biden-Harris administration has already given us reason to be hopeful. In the days following the historic election, they have let us know how they will help address the challenges that cities have been managing alone for far too long.
Let's start with our communities: President-Elect Joe Biden named a 16-member COVID-19 task force committed to following the science and promoting policies that New York City knows works. This is in sharp contrast to the sitting president, who downplayed the severity of the pandemic from day one and continues to promote conspiracy theories and politicize common sense measures like wearing a mask as our nation surges past the grim milestone of a quarter million deaths.
For a majority of New Yorkers, it is a relief to see that the Biden-Harris administration has already pledged to undo the travel bans against some Muslim-majority countries, take action to protect the Deferred Action for Childhood Arrivals (DACA) program, and advocate for a $15 minimum wage. Our administration, which just announced even more ambitious Green New Deal goals, is relieved to see climate action among the president-elect's top priorities. The United States on January 20 will move quickly to recommit to the Paris Climate Agreement that seeks to limit global warming to 1.5 degrees Celsius.
Climate action may be one of the few existential issues that is truly bipartisan. While New York City was one of the first U.S. cities to commit directly to the Paris Agreement after Trump pulled out, there are over 250 cities around the country, from San Francisco, CA to Kansas City, MO to Little Rock, AK that have said "we're in." New York City has been a leader these last four years because our memories are fresh. It's hard to forget the devastation of Superstorm Sandy, which hit on Oct. 29, 2012, killed 44 of our fellow New Yorkers, displaced thousands, and left $19 billion worth of damages in its wake.
New York City is host to the largest diplomatic corps in the world. We have used this incredible platform and access to global leaders to reaffirm that U.S. local governments are showing the American leadership missing from Washington D.C. on issues like climate, migration, and now, Covid-19.
It has been critical to do this with our communities throughout the five boroughs, especially with our youth. Launched in 2015 to bring the United Nations and the Global Goals to young New Yorkers, our NYC Junior Ambassadors program now has thousands of alumni who are taking action in their communities on issues our national government has ignored. For example, after studying Sustainable Development Goal 14: Life Under Water, one of our cohorts organized a cleanup of the Bronx River.
New York City also worked to create a seat at the table for cities and local governments at the United Nations. Unsurprisingly, the Trump administration has disengaged at the multilateral level on the Sustainable Development Goals (SDGs), which are a roadmap to address poverty and climate change by 2030. New York City leveraged our influence at the United Nations to create the NYC Declaration on the Voluntary Local Review, an opportunity for cities and local governments to directly bring their leadership on the SDGs to the global community. We now have more than 210 cities and states worldwide that have committed to sharing ideas and using the SDGs to accelerate change in their communities.
The hard work cities here in the U.S. and around the world are doing is what will greet the incoming Biden-Harris administration, especially the work we have done on the frontlines of combatting COVID-19. It has been local leadership that has saved lives. We followed the science and data and continue to do so, but the coming year will bring many challenges including equitable distribution of vaccines.
The president-elect's intentions around COVID-19 management, climate, immigration, minimum wage, and more, are all steps in the right direction that will create a better world for millions.
After four long years, cities are finally gaining an ally in Washington, D.C. and the promise of building back better seems to be within our collective grasp.
***
Penny Abeywardena is Commissioner of the Mayor's Office for International Affairs. On Twitter @PAbeywardena.
***
Have an op-ed idea or submission for Gotham Gazette? Email This email address is being protected from spambots. You need JavaScript enabled to view it.