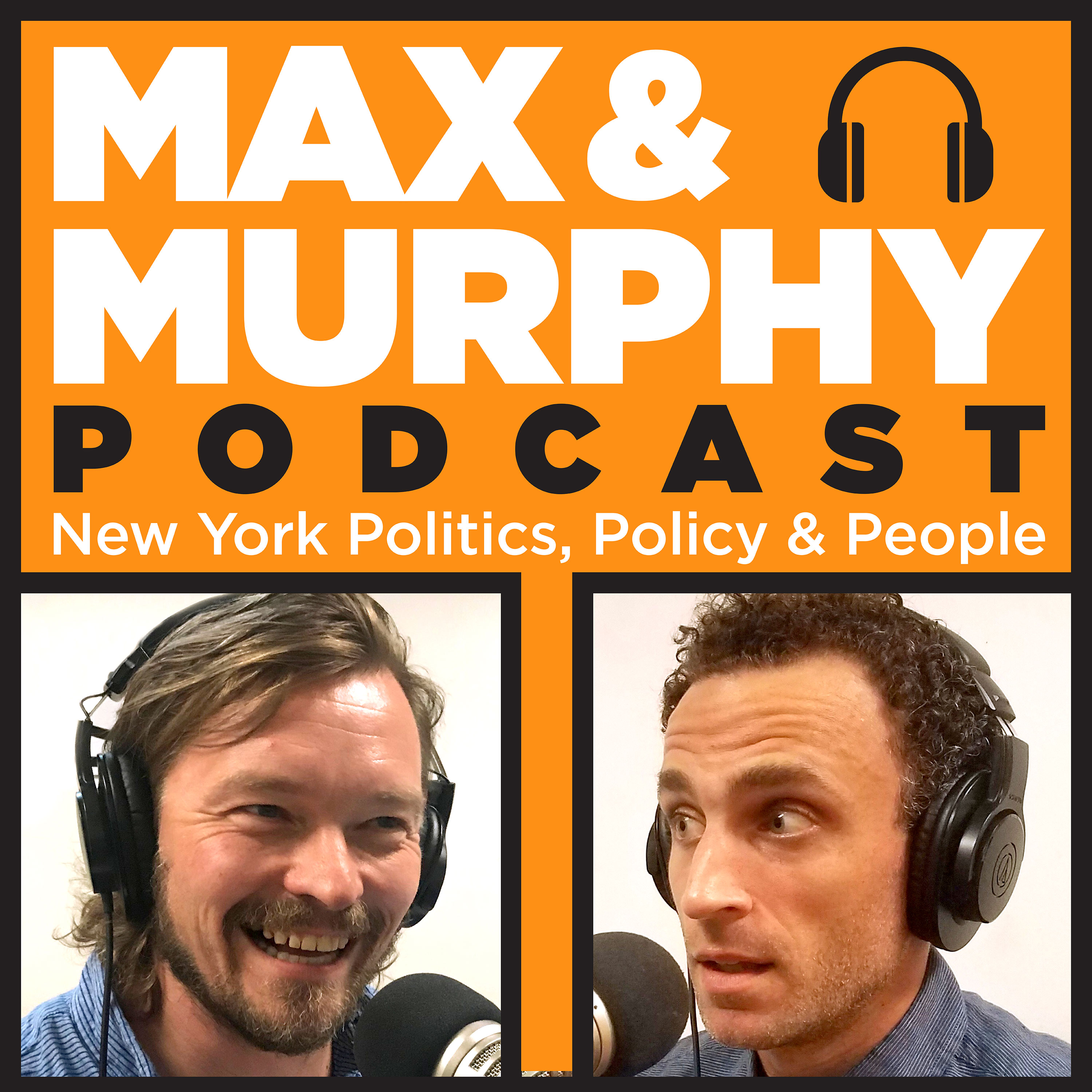 Ben Max, right, of Gotham Gazette, and Jarrett Murphy, left, of City Limits
---
"Max & Murphy" is a podcast hosted by Ben Max of Gotham Gazette and Jarrett Murphy of City Limits that began in 2016 as a brief discussion on the latest in housing policy but quickly expanded to lengthier discussions of a wide variety of political and policy issues, including interviews with candidates for office, elected and appointed government officials, advocates and other experts. In 2017 the show was an important stop for candidates for top city offices and in 2018 for candidates for state offices. Also in 2018, the podcast was picked up by WBAI radio, where the show initially airs on Wednesdays from 5 to 6 p.m. Portions or full episodes of the show are then posted to the podcast streams, and to the Gotham Gazette and City Limits websites.
Find episodes through the links below, or find "Max & Murphy" wherever you get your podcasts: iTunes, Google Play, Stitcher, Soundcloud, Spotify, and iHeartRadio. Find it on your favorite podcast network and subscribe!
Have feedback? Find us on Twitter @TweetBenMax and @jarrettmurphy.
Why The Manhattan District Attorney Election Is So Important - June 9, 2021
Breaking Down the Race for Manhattan District Attorney - June 9, 2021
Breaking Down the New York City Comptroller Primary - June 2, 2021
Where The Mayor's Race Stands with Under 3 Weeks - June 2, 2021
Murphy Signs Off - May 26, 2021
What Might the Democratic Electorate Look Like for the June Primary? - May 26, 2021
Resetting the Democratic Mayoral Primary withUnder 5 Weeks To Go, with Jonathan Rosen - May 19, 2021
A Brief Rundown of the Down-Ballot RacesA Brief Rundown of the Down-Ballot Races - May 19, 2021
Previewing the First Official 2021 Mayoral Debate, with Bob Hardt of NY1 - May 12, 2021
Christine Quinn & Bill Thompson on Running for Mayor & This Year's Race - May 12, 2021
The State of the Mayoral Race with 7 Weeks To Go - May 5, 2021
An Environmental Justice Agenda for the Next Mayor - April 28, 2021
A Waterfronts Agenda for the Next Mayor - April 28, 2021
Fernando Mateo on His Run for Mayor - April 21, 2021
Curtis Sliwa on His Run for Mayor - April 21, 2021
'Teens Take Charge' Takes on the Future of City Schools - April 14, 2021
UFT President Michael Mulgrew on Reopening Schools & Picking the Next Mayor - April 14, 2021
How the Next Mayor Can Listen to the 'Unheard Third' - April 7, 2021
State Senator Gustavo Rivera on the New State Budget - April 7, 2021
A Housing & Homelessness Agenda for the Next Mayor - March 31, 2021
Hunger in New York City During and After Covid - March 17, 2021
Breaking Down Cuomo's Nursing Home Scandal - March 10, 2021
New York Democratic Party Chair Jay Jacobs on What's Next for Governor Cuomo -March 3, 2021
State Senator Jessica Ramos Calls for Governor Cuomo's Resignation - March 3, 2021
Michelle Caruso-Cabrera is Running for Comptroller - February 24, 2020
Reshma Patel is Running for Comptroller - February 24, 2020
Zach Iscol is Running for Comptroller - February 24, 2020
Terri Liftin is Running for Comptroller - February 24, 2020
Scott Stringer on His Run for Mayor - February 17, 2020
Shaun Donovan on His Run for Mayor - February 10, 2021
Dianne Morales on Her Run for Mayor - February 10, 2021
The Police Reform Movement's Goals for 2021 - February 3, 2021
Balancing Police Reform and Fighting Crime - February 3, 2021
David Weprin on His Run for New York City Comptroller - January 27, 2021
Brian Benjamin on His Run for New York City Comptroller - January 27, 2021
What the De Blasio Administration Wants from the Biden Administration, with Press Secretary Bill Neidhardt - January 21, 2021
State Senator Liz Krueger on New York's Finances - January 21, 2021
Kevin Parker on His Run for New York City Comptroller - January 19, 2021
Brad Lander on His Run for New York City Comptroller - January 6, 2021
Previewing Bill De Blasio's Last Year as Mayor and the Race to Replace Him, with Mara Gay & Sally Goldenberg - December 23, 2020
Senator Jamaal Bailey on the Albany Agenda and Leading the Bronx Democrats - December 17, 2020
Maya Wiley Runs for Mayor - December 17, 2020
Ray McGuire is Running for Mayor - December 9, 2020
Eric Adams Launches His Campaign for Mayor - November 24, 2020
State Senator Liz Krueger on Next Steps in the Covid Fight - November 18, 2020
City Council Education Chair Mark Treyger on What's Next for City Schools - November 18, 2020
Carlos Menchaca on His Campaign for Mayor - November 11, 2020
Zach Iscol is Running for Mayor - November 11, 2020
State Democratic Party Chair Jay Jacobs - October 28, 2020
Jennifer Jones Austin on Police and Prison Reform - October 22, 2020
Phara Souffrant Forrest on Her Campaign for Assembly - October 22, 2020
State Senator Andrew Gounardes on His Case for Reelection - October 8, 2020
Ensuring Voting Access by Monitoring Poll Sites, with Perry Grossman of NYCLU - October 8, 2020
Borough President Gale Brewer on Manhattan's Future - September 30, 2020
Principals Union President Mark Cannizzaro on Reopening New York City Schools & a Vote of 'No Confidence' in the Mayor - September 30, 2020

Senator Gianaris on Next Steps in New York's Recovery - September 23, 2020

New York City's Choppy School Reopening - September 23, 2020

Kathryn Garcia on Trash, Food, & Possibly Running for Mayor - September 16, 2020
Even After Delay, Will City Schools Be Ready to Reopen? with Asamia Diaby, an organizer with the Alliance for Quality Education - September 2, 2020
Controversy Over Homeless Shelters on the Upper West Side, with City Council Member Helen Rosenthal and Melissa Sanchez of Upper West Side Open Hearts Initiative - September 2, 2020
Lessons for Today from New York City's 1970s Fiscal Crisis - August 26, 2020
Dr. Christina Greer on Lessons from the 2020 Primaries, Black Voting Patterns & New York Politics - August 19, 2020
Donovan Richards on Development, Jobs & His Vision for Queens - August 19, 2020
New York City's Leadership Void, with Harry Siegel - August 12, 2020
Democratic Socialists Ascendant, with Senator Julia Salazar & Jabari Brisport - August 12, 2020
The Working Families Party's Big Primary Wins - August 5, 2020
Shaun Donovan Explores a Run for Mayor - August 5, 2020
A Devastating Economic Picture in New York & What To Do About It, with Kathryn Wylde of Partnership for New York City - July 22, 2020
Public Advocate Jumaane Williams on Gun Violence & Police Reform - July 22, 2020
Prison Reform at a Crossroads - July 15, 2020
The Looming Eviction Disaster - July 15, 2020
NYPD Chief Jeffrey Maddrey on Building Community Relationships - July 8, 2020
Teachers Union President Michael Mulgrew on Reopening New York City Schools - July 8, 2020
Police Reformers Dissatisfied with NYPD Moves in City Budget - July 1, 2020
Council Member Brad Lander on the New City Budget - July 1, 2020
One Year to the 2021 Mayoral Primary - June 24, 2020
Parks, Beaches and Open Space in the Coronavirus Recovery - June 10, 2020
What's the Right Housing Policy in the COVID-19 Aftermath? - June 10, 2020
Brooklyn DA Eric Gonzalez on Prosecuting, Protests and Police Misconduct - June 03, 2020
Jonathan Herzog on His Bid to Unseat Rep. Jerry Nadler in NY-10 - June 03, 2020
Lindsey Boylan on Her Bid to Unseat Rep. Jerry Nadler in NY-10 - June 03, 2020
State Senator Gustavo Rivera on New York's Health Care Response to COVID-19 - May 27, 2020
State Senator Brian Benjamin on Rescuing New York's Finances & More - May 27, 2020
Isiah James Runs for Congress in Brooklyn's 9th District - May 20, 2020
Lutchi Gayot Runs Again in Brooklyn's 9th Congressional District - May 20, 2020
WATCH: Democratic Primary Debate in the Bronx's 15th Congressional District - May 14, 2020
Rep. Yvette Clarke on Why She Deserves Another Term in Congress - May 13, 2020
Adem Bunkeddeko Runs Again in Brooklyn's 9th Congressional District - May 13, 2020
Brooklyn BP Eric Adams on the City's Coronavirus Response - May 6, 2020
Council Member Helen Rosenthal on How the City Should Approach Its Massive Budget Gap - April 29, 2020
Job Loss and New York City's Coronavirus Recession, with James Parrott - April 29, 2020
Former Health Commissioner Dr. Mary Bassett on the Coronavirus Pandemic - April 15, 2020
Senator Michael Gianaris on 'Canceling Rent' & Other Responses to the Coronavirus Crisis - April 15, 2020
City Council Member Carlina Rivera on Hospital Oversight Amid Coronavirus - April 08, 2020
Senator Jessica Ramos on Coronavirus in Queens & the New State Budget - April 08, 2020
Schools Chancellor Richard Carranza on the City's Shift to Remote Learning - April 1, 2020
City's Hunger Crisis Exacerbated by Coronavirus Fallout, with Joel Berg, CEO of Hunger Free America - April 1, 2020
Remote Learning Begins for the City's 1 Million Students, with Alex Zimmerman of Chalkbeat NY - March 25, 2020
The City's Developing Public Health Response to Coronavirus, with City Council Member Mark Levine - March 25, 2020
The Coronavirus Crisis & Vulnerable Children, with Jennifer March - March 18, 2020
Coronavirus' Impact on State Finances, with Comptroller Tom DiNapoli - March 18, 2020
Breaking Down the Queens Borough President Special Election - March 11, 2020
Coronavirus in New York - Assessing the Threat & Response - March 4, 2020
Supporters of Democratic Presidential Candidates Make Their Case - February 26, 2020
Michael Bloomberg Runs for President, with Bob Hardt & Eleanor Randolph - February 19, 2020
The City Council's Plan to Reduce Homelessness, with Council Member Stephen Levin - February 12, 2020
De Blasio's 2020 'Save Our City' Agenda - February 12, 2020
Mayoral Candidate Loree Sutton - February 5, 2020
Mayoral Candidate Dianne Morales - February 5, 2020
How the City's Economy is WorkingHow the City's Economy is Working - January 29, 2020
How the City is Addressing a Rise in Hate Crimes, with Deborah Lauter - January 22, 2020
The Rise in Anti-Semitic Hate Crimes, with David Greenfield - January 22, 2020
The Bushwick Rezoning Hits an Impasse, with City Council Member Antonio Reynoso - January 15, 2020
Taking Stock of City Housing Policies, with NYU Furman Center's Matthew Murphy - January 15, 2020
Cuomo's State of the State & What's Next, with Senator Liz Krueger - January 8, 2020
2020 Vision - Previewing the Year Ahead in New York Politics - January 1, 2020
The Top 10 Stories of 2019 in New York Politics - December 25, 2019
Advocates Question NYPD's Gang Policing - December 18, 2019
State Campaign Finance Reform Takes Shape, with Challenge to Minor Parties, with Jay Jacobs & Jessica Wisneski - December 4, 2019
Debating Major Criminal Justice Reforms Taking Effect in January - November 27, 2019
Comptroller Scott Stringer — November 20, 2019
Christine Quinn on Homelessness, Making Government Work, & Her Future — November 13, 2019
Analyzing the 2019 Election Results — November 6, 2019
Staten Island Borough President James Oddo — October 28, 2019
Breaking Down the Consequential Questions on Your Ballot — October 24, 2019
The Candidates for Public Advocate — October 21, 2019
Post-Presidential Campaign, De Blasio Faces Final 2+ Years as Mayor - with Errol Louis, David Jones & Sally Goldenberg — October 2, 2019
The Future of Fusion Voting in New York — September 25, 2019
The MTA's New $52 Billion Plan to Save the Subways & More — September 25, 2019
The City's Fight Against Homelessness, with Commissioner Steve Banks — September 18, 2019
NYPD Counterterrorism Chief John Miller on the Anniversary of 9/11 — September 11, 2019
Recommendations from the Mayor's School Diversity Task Force & What Comes Next - with task force member Matt Gonzales & City Council Member Mark Treyger — September 4, 2019
How the CCRB Prosecuted the Eric Garner Case — August 28, 2019
The 30th Anniversary of David Dinkins' Election as Mayor — August 21, 2019
The Future of the Republican Party in New York, with City Council Member Joe Borelli — August 14, 2019
Reentry Programming, State Prison and Parole Policy - with Liz Gaynes of Osborne Association— August 7, 2019
Senate Deputy Leader Michael Gianaris on Gun Control, Queens Politics & More — August 7, 2019
Planning for the City's Future — July 31, 2019
A 'Mass Shooting' in Brownsville & the Community Response, with Council Member Alicka Ampry-Samuel — July 31, 2019
City Council Public Safety Chair on NYPD Accountability - with Council Member Donovan Richards — July 24, 2019
Examining the City's Resiliency Planning & Emergency Preparedness - with Council Member Justin Brannan — July 24, 2019
City Plan to Replace Rikers Island Jails Moves Ahead — July 17, 2019
Transit Organizing & the Future of the MTA — July 17, 2019
The Police Reform Movement is Focused on NYPD Officer Accountability — July 10, 2019
The Queens District Attorney Primary Heads to Recount — July 10, 2019
State Senators Liz Krueger & Zellnor Myrie on the Year in Albany — June 26, 2019
Analyzing Queens District Attorney Primary Results — June 26, 2019
Breaking Down the Queens District Attorney Race — June 19, 2019
Landmark Climate Legislation in Albany — June 19, 2019
Brooklyn Borough President Eric Adams — June 12, 2019
Dissecting Dynamics in Albany — June 12, 2019
Is Vision Zero Stalled? — June 5, 2019
Lessons from London for How to Fix NYCHA — May 29, 2019
NYCHA Interim CEO Kathryn Garcia — May 29, 2019
Pressing Immigration Issues, with City Council Member Carlos Menchaca — May 7, 2019
Should De Blasio Run for President? — May 7, 2019
Manhattan Borough President Gale Brewer — May 1, 2019
The 2019 City Charter Commission Narrows Its Focus - with Commission Chair Gail Benjamin & Carol Kellermann — April 24, 2019
Senator Jessica Ramos on the Adopted State Budget & Upcoming Albany Agenda — April 17, 2019
The City Council Takes on Climate Change, with Council Member Costa Constantinides — April 17, 2019
City Council Speaker Corey JohnsonCity Council Speaker Corey Johnson — April 10, 2019
State Budget Takeaways — April 3, 2019
The Debate Over Rent Regulations — April 3, 2019
Bronx Borough President Ruben Diaz Jr. — March 27, 2019
Should the City Develop a Comprehensive Plan? with Elena Conte of Pratt Center — March 27, 2019
Concerns About Marijuana Legalization, with Nassau County Executive Laura Curran — March 20, 2019
Getting to Yes on Marijuana Legalization, with Assemblymember Richard Gottfried — March 20, 2019
The Push for Criminal Justice Reform, with Tina Luongo of Legal Aid Society— March 13, 2019
Comptroller Tom DiNapoli on the State Budget — March 13, 2019
State Senator David Carlucci — March 6, 2019
Should the City Run the Subways? — March 6, 2019
De Blasio's Presidential Ambition & the 2020 Democratic Field — February 27, 2019
Public Advocate-Elect Jumaane Williams — February 27, 2019
Public Advocate Candidate Ydanis Rodriguez — February 20, 2019
Public Advocate Candidate Jumaane Williams — February 20, 2019
A Hearing on Sexual Harassment in Albany — February 13, 2019
Public Advocate Candidate Melissa Mark-Viverito — February 13, 2019
The Future of NYCHA with City Council Member Alicka Ampry-Samuel — February 7, 2019
State Senator Alessandra Biaggi — February 7, 2019
Public Advocate Candidate Jared Rich — January 30, 2019
Public Advocate Candidate Ben Yee — January 30, 2019
Public Advocate Candidate Nomiki Konst — January 23, 2019
Public Advocate Candidate Ron Kim — January 23, 2019
Public Advocate Candidate Dawn Smalls — January 16, 2019
Public Advocate Candidate Danny O'Donnell — January 16, 2019
Public Advocate Candidate Michael Blake — January 16, 2019
Public Advocate Candidate Eric Ulrich — January 9, 2019
Should Andrew Cuomo Run for President? — January 02, 2019
Public Advocate Candidate Rafael Espinal — January 02, 2019
Top Stories of 2018 & What to Watch in 2019 — Decemeber 26, 2019
Lieutenant Governor Kathy Hochul on 2019 Priorities — Decemeber 19, 2018
Comptroller Scott Stringer — Decemeber 19, 2018
Will Single-Payer Health Care Come to New York? — Decemeber 12, 2018
De Blasio Finishes Year 5 & The Push for 'Fair Elections for New York' — Decemeber 5, 2018
Homelessness & Affordable Housing Development — November 28, 2018
Congestion Pricing & the MTA in 2019 — November 21, 2018
Bail Reform with Assemblymember Latrice Walker — November 14, 2018
Senate Democratic Leader Andrea Stewart-Cousins — November 14, 2018
Analyzing 2018 Election Results & Looking Ahead to 2019, with Alyssa Katz of The Daily News — November 7, 2018
Election Day Live Show with Special Guests including Jumaane Williams & Errol Louis — November 6, 2018
'Minor Party' Candidates for Comptroller & Attorney General — October 31, 2018
Cuomo-Molinaro Debate Analysis — October 23, 2018
U.S. Rep. Dan Donovan — October 23, 2018
Battle for Control of the State Senate — October 10, 2018
Larry Sharpe, Libertarian nominee for Governor — October 10, 2018
Republican Attorney General Nominee Keith Wofford — October 10, 2018
Comptroller Tom DiNapoli — October 3, 2018
Jonathan Trichter, Republican nominee for Comptroller — October 3, 2018
Stephanie Miner, Serve America Movement Nominee for Governor — September 26, 2018
Howie Hawkins, Green Party Nominee for Governor — September 26, 2018
Marc Molinaro, Republican Nominee for Governor — September 19, 2018
Primary Post-Mortem with Top Cynthia Nixon Strategist — September 19, 2018
Primary Day Is Here — September 12, 2018
Final Days of the Lieutenant Governor Primary between Kathy Hochul & Jumaane Williams — September 5, 2018
Intense Queens Senate Primary Centers on Delivering for Immigrant Communities, with Jessica Ramos & State Senator Jose Peralta — August 30, 2018
Race & Politics in Ten Years Since Obama's Nomination — August 22, 2018
Preparing for Primary Day — August 22, 2018
Central Brooklyn Senate Primary Tests IDC Awareness (with Zellnor Myrie and Senator Jesse Hamilton) — August 15, 2018
Queens State Senate Rematch Features Different Kinds of Democrats (with Senator Tony Avella and challenger John Liu) — August 8, 2018
Attorney General Candidate Sean Patrick Maloney — August 8, 2018
Manhattan State Senate Rematch Centered on Breakaway Democrats — August 1, 2018
Attorney General Candidate Leecia Eve — July 25, 2018
Letitia James & the Attorney General Primary — July 18, 2018
Attorney General Candidate Zephyr Teachout — July 9, 2018
The Long Fight for New City Sexual Harassment Laws — June 25, 2018
A New Era at The MTA? with Nicole Gelinas — June 21, 2018
Lieutenant Governor Kathy Hochul — June 14, 2018
Criminal Justice Reform in New York — June 5, 2018
Senate Democratic Leader Andrea Stewart-Cousins — June 1, 2018
State Party Conventions & Nominations — May 25, 2018
Stephanie Miner — May 15, 2018
City Council Member Joe Borelli — May 7, 2018
Brooklyn Borough President Eric Adams — May 1, 2018
Political Purity Tests in New York — April 25, 2018
Reforming Special Elections & More in Albany — April 17, 2018
Suing NYCHA — April 10, 2018
Molinaro Launches Campaign for Governor — April 2, 2018
First Lady Chirlane McCray — March 26, 2018
City Planning Commissioner Michelle de la Uz — March 19, 2018
A Journalist Runs for State Senate — March 13, 2018
De Blasio's Progress Fighting Homelessness — March 5, 2018
IDC Challengers Robert Jackson & Jessica Ramos — February 26, 2018
Lieutenant Governor Candidate Jumaane Williams — February 23, 2018
Analyzing De Blasio's State of the City Address — February 14, 2018
Deconstructing De Blasio's Visit to Albany — January 30, 2018
De Blasio's 2nd Term Focus on Education — January 30, 2018
Congestion Pricing with Alex Matthiessen of Move New York — January 22, 2018
City Council Member Ritchie Torres on The New Council & His New Role — January 17, 2018
New City Council Members Justin Brannan & Carlina Rivera — January 10, 2018
Big Political News to Start 2018 — January 3, 2018
City Council Speaker Melissa Mark-Viverito — December 15, 2017
Eric Koch, former City Council communications director — December 15, 2017
NYCHA CEO Shola Olatoye — December 7, 2017
City Council Member Elizabeth Crowley — December 5, 2017
Previewing de Blasio's 2nd term — November 27, 2017
Analyzing the 2017 Election Results — November 9, 2017
10 Things to Think About on Election Day — November 7, 2017
Resetting the Mayoral Race after the Final Debate — November 3, 2017
Akeem Browder, Aaron Commey & Mike Tolkin are Running for Mayor — October 23, 2017
Analyzing the Public Advocate & Comptroller Debates — October 19, 2017
Analyzing the First General Election Mayoral Debate — October 11, 2017
Public Advocate Letitia James — October 2, 2017
Comptroller candidate Michel Faulkner — September 29, 2017
Public Advocate Candidate JC Polanco — September 18, 2017
Gifford Miller, former Speaker of the City Council and mayoral candidate — September 11, 2017
Brigid Bergin of WNYC radio — September 5, 2017
De Blasio Author Joseph Viteritti — August 30, 2017
Public advocate Candidate David Eisenbach — August 28, 2017
Azi Paybarah — August 17, 2017
Representative vs. Substantive Representation, with Dr. Christina Greer and Alexis Grenell — August 15, 2017
The Mayoral Race with Top Political Strategists — July 31, 2017
Mayoral Candidate Bo Dietl — July 24, 2017
Republican Mayoral Candidate Nicole Malliotaki — July 13, 2017
Eric Phillips, press secretary to Mayor Bill de Blasio — July 5, 2017
Democratic Mayoral Candidate Sal Albanese — June 26, 2017

Republican Mayoral Candidate Paul Massey — June 19, 2017 (note: Paul Massey dropped out of the mayoral race on June 28, though the episode is still worth listening to)

Democratic Mayoral Candidate Bob Gangi — June 12, 2017
Election Season is Here! — June 1, 2017

A variety of earlier episodes of the Max & Murphy Podcast, through the archive, often focused on New York housing policy and politics — see all episodes from the start February 12, 2016 to May 25, 2017