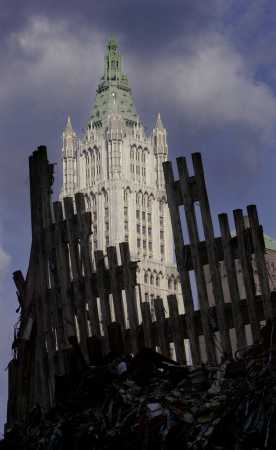 On September 11th, I was standing in front of P.S. 234, where my eight-year-old son is a student, when the World Trade Center was attacked a few blocks away. Suddenly the neighborhood where I had lived for 16 years became nothing resembling a place to live. As the only person on the new Lower Manhattan Redevelopment Corporation who actually lives in Lower Manhattan, I see part of my job as representing my neighbors and helping to make the neighborhood around "Ground Zero" better than ever.
I was one of the lucky residents. I was evacuated from my home for only five days, because they thought the gas lines in the building might blow up.
At least 30,000 of the 50,000 residents were displaced in those first few days and weeks. Three months after the attacks, nobody knows exactly how many are still displaced, since many people have decided to move out permanently, but a rough estimate would be 6,000.
Twenty five percent of the children are in group counseling. Some have been moved to other schools where there are 80 children in a classroom.
People have lost so much. They would like to stay downtown, but they need support. There's been tremendous resilience, but there's also been tremendous trauma. People are still very nervous, very afraid, very unsettled.
The city has not been very helpful. If you walk along Pier 25 on West Street, you can see 15 to 20 trucks idling, the debris in the back uncovered. Much of that debris contains asbestos. A crane picks up the debris and drops it on to a barge, which also disperses dust and asbestos into the air.
This is a 24-hour-a-day operation. It happens right next to Stuyvesant High School where there are 3,500 students and the Borough of Manhattan Community College where there are 15,000 students. Across the street, 5,000 people live in Independence Plaza and the surrounding buildings.
We are trying to get it closed between midnight and six a.m., so the thousands of people living nearby can get some sleep. The workers want it to happen. The construction companies want it to happen. But the city's Office of Emergency Management has been unresponsive.
The clean-up began as an emergency effort. But we are no longer in an emergency, so there is no reason we cannot improve the process of the clean up.
We have asked them to put the material in closed containers at the site, so less debris is released into the air as it is transported. We are trying to get the cranes and trucks to use low sulfur fuel. We have asked that a net be put on the side of Stuyvesant High School to keep the debris from coming into the building. The site where the debris is loaded from trucks onto a barge, should also be moved further north toward Canal Street, where there are fewer residents. Setting up this new site would take nine days to complete, but would greatly improve life for those in the area.
Stuyvesant High School is still the only school in the area near the World Trade Center that has reopened. The teachers and the students came back with the understanding that there would be a new air filtration system put in and that the schools could hire their own air quality testers. Months later, these things still have not happened. Several parents wanted to transfer their students elsewhere temporarily, especially those who have respiratory ailments, but the Board of Education said that if they do not return, the students will be discharged from the school permanently.
We have to prepare our other schools for reuse before the students return. That means cleaning them and putting in new air filtration systems to keep dust and asbestos from coming back into the building. We also have to deal with the psychological aspects of bringing children back to a school that they were evacuated from. The children in the area saw the towers fall. Now we have to make them feel as at home as possible.
Community Board 1 is also the only one in New York City without an indoor recreation facility. Our grassy fields have been paved over as part of the clean up. The pier that was an outdoor recreation center that was used for summer camps and after-school programs is now being used as a dump. As a temporary solution, there is a proposal to put a temporary bubble to be built on city land that can be used as recreation until development begins again in the area.
Streets all over the area are being torn up for new telephone, gas, and electricity lines. There is going to have to be a whole new infrastructure underground. We are asking for a reasonable reconstruction plan so the digging is done in a coordinated fashion. Often now, a street is dug up by one agency, covered up, and then dug up the next day by another agency. We need a plan that lets members of the community use the streets and get some sleep.
Madelyn Wils is the chair of Community Board 1 and a member of the newly appointed Lower Manhattan Redevelopment Corporation.
Click here to read Etta Sanders' "Living Near Ground Zero"
###