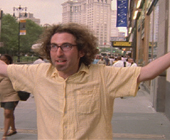 Timothy Speed Levitch
Philosopher tour guide Timothy Speed Levitch, featured in the documentary The Cruise, has an idea for a 9/11 memorial. But it does not quite fit in with the guidelines of the Lower Manhattan Development Corporation's memorial competition.
"Sixteen acres of blazing green grass, a place for togetherness, healing out loud, and spontaneous culture, and in the middle of the park, the memorial should not be an inanimate slab of stone, but should have a heartbeat," Levitch says while giving a lower Manhattan tour in Richard Linklater's documentary Live from Shiva's Dance Floor. And that isn't the end of it. The heart that is beating should be a buffalo heart, Levitch says, hugging the line between philosopher and crackpot, "the lost sages of North America brought back to the existential front-and-center of America."
The movie is one of nine about New York City after September 11 playing at the second annual Tribeca Film Festival this week. The festival, which Robert De Niro and Jane Rosenthal started as a way to boost a neighborhood damaged by 9/11, has more movies and bigger sponsors this year. "The festival will crank up the feel-good early 1960s-style frippery, and steer clear of the Sundance-style wheeling and dealing. There will be fewer Sept. 11 memorials, less Marty Scorsese, but more Al Pacino," the New York Observer wrote last week. But there are still plenty of September 11 memorials, even though, like Live from Shiva's Dance Floor, they are far from straight-forward documentaries about the disaster.
The documentary Ashtanga, N.Y. shows aging yoga guru Sri K. Pattabhi Jois' visit to New York City in September 2001. Jois helps New Yorkers -- including Gwenyth Paltrow and Mike D from the Beastie Boys -- cope with 9/11 in his Soho studio.
In the feature Ash Tuesday, Janeane Garofalo and Giancarlo Esposito play lower Manhattan residents dealing with September 11. The movie shows how humor and wit can be responses to tragedy, and is billed as a comedy-drama. "It was important to me that we complete principle photography prior to the first anniversary of September 11. I wanted all of us, cast and crew, to make the film with a fresh wound, and without the benefit of perspective," filmmaker Jim Hershleder said in a director's statement.
In Evan Oppenheimer's movie Justice, E.R.'s Erik Palladino plays an artist who creates a comic book hero to help him get over his grief after September 11.
A schedule of films -- features, documentaries and shorts -- about rebuilding New York (for a full festival schedule, go to the film festival website)