By Michael Burger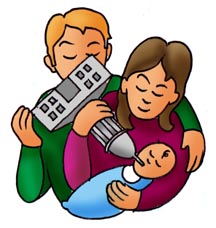 Video camera in hand, Jose Rivera zoomed in on his 22-year-old son, Joel, an undergraduate at Fordham University. Like any proud father, he wanted to record his child's moment of glory. Only, this was not the end of May on a college campus, but last Tuesday at City Hall, and the elder Rivera was not videotaping Joel's graduation but his swearing-in. Joel Rivera was taking over the City Council seat that his father Jose Rivera had possessed until November, when he left to become a member of the New York State Assembly.
Joel Rivera defeated his opponent Edwin Ortiz in a special election held last Month (He must run for re-election this fall). Ortiz, 13 years his senior, has worked for more than a decade as a youth and tenant organizer, a campaigner for the Democratic party, and a previous candidate for public office. Rivera, who has a resume without explicit work experience, campaigned by mentioning events he attended when he was five years old. "This campaign was 22 years in the making," he said to his supporters after his victory.
After the City Hall ceremony last week, Councilmember Victor Robles rose to commemorate Joel's election: "Let me remind you that besides being the youngest member ever on the council, he made history because both the father and the son are sitting elected officials. So we have one up on the Bushes. We have the history books."
Councilmember Phil Reed then rose to speak. "With all due respect to Councilmember Robles, we actually have two such father-son teams simultaneously in office."
Reed was referring to State Senator Pedro Espada Jr. and his son, City Councilman Pedro Gautier Espada. As it happens, the Riveras and the Espadas are political rivals. The senior Espada and the senior Rivera may run against one another for borough president of the Bronx.
"Nepotism is nothing new in American politics," political consultant Hank Sheinkopf told the Daily News. But what is happening this campaign season in New York is making some kind of history -- and that makes some people very unhappy.
DYNASTIES
The reign of George W. Bush follows only eight years after the presidency of his father, George Bush. (For history buffs: the presidency of John Quincy Adams followed some 20 years after that of his father John Adams, and Benjamin Harrison, the 23rd U.S. President, was the grandson of the ninth, William Henry Harrison.) The younger Bush's opponent, former Vice President Al Gore Jr., was the son of a U.S. Senator Al Gore Sr.
"There are a lot of family traditions specifically in New York," says political consultant Joseph Mercurio. There were of course the Roosevelts. On Staten Island, the father-daughter team of Guy and Susan Molinari have operated their own political shop. In 1985, while Mr. Molinari sat in the U.S. Congress, Susan, 27 years old at the time, became the sole Republican on the City Council. Five years later, he became borough president and she took over his seat in the House.
But thanks to term limits, the city is seeing more relatives running at one time than ever before. There are at least a half dozen races in which one of the candidates is the son or daughter of the incumbent council member:
District 16 in the Bronx: Helen Diane Foster, daughter of Wendell Foster
District 22 in Queens: Peter Vallone Jr., son of Peter Vallone Sr
District 37 in Brooklyn: Erik Malave-Dilan, son of Martin Malave-Dilan,
District 40 in Brooklyn: Yvette Clarke, daughter of Una Clarke
District 42 in Brooklyn: Donald Wooten, son of Priscilla Wooten, Donald Wooten
Rickly Dear, the wife of Councilmember Noach Dear, is also reportedly considering a run to succeed him in district 44 in Brooklyn.
This phenomenon has not left everybody with a warm and fuzzy feeling. "We've spent years getting away from colonial rules of government," says Wellington Sharpe. "I don't want to see us setting up a royalty here." Sharpe, a Jamaican immigrant who operates a day care center, is running for council from district 40 in Brooklyn. One of his opponents is Yvette Clarke, 35, daughter of Una Clarke, the current council member in the district.
Critics have charged that some of these running relatives are little more than surrogates for their parents. Due to citywide redistricting, elections will be held again in two years. So, critics believe, some incumbents are running their children as a way to keep the seats warm until they themselves can run again in 2003. Others suspect that the older generation will stay on behind the scenes, regardless of whether they run again, working their parental influence.
THE REALITY OF POWER
Candidates opposing the offspring of council members are confronted with a unique, if not entirely uncommon, problem. "As a matter of fact, I am running against Una Clarke," says Sharpe. "It's not against her daughter per se. I'm running against the establishment, whatever friends and people she has. There are people who owe her favors. So all she has to do is call them in. It's not a level playing field."
Yvette Clarke, director of business services at the Bronx Overall Economic Development Corp who says she was encouraged by friends of her mother to run, acknowledges the benefits of her bloodline. "When one has the support of an incumbent, there is an advantage," she says. "They've established relationships, and their reputation and rapport precedes them. When you start from scratch, you have to gain entree, you have to gain access to and support from entities within the community. It's a challenge to differentiate yourself from opponents."
Michael Benjamin is running against Helen Diane Foster, daughter of Councilmember Rev. Wendell Foster, for the seat in the Highbridge section of the Bronx. Benjamin sees this election as a transitional moment. "It is an opportunity to remake the city council, to make it more diverse, more reflective of city at large," he says. But Benjamin is facing the same problems as Sharpe, Ortiz, and the rest. "Wendell Foster has the name recognition of ten years of taxpayer funded mailings," he says. "He's introducing his daughter as his successor, creating fear that capital projects in the hopper won't get funded if she's not elected. He's putting his machinery behind his daughter and he's not making any bones about it."
Benjamin says Rev. Foster is trying to set up a dynasty. "He's stated that people who don't vote for his daughter are racist, because there are the Bushes and the Kennedy'sā¤|.It's distasteful that he wants to keep it in the family, rather than let people who have been out there doing it for years serve in a greater capacity. She's never been to meetings outside his presence. She's just parachuting in."
Helen Foster, of course, does not see it this way. "The more I was out with my father, which I've been doing since I was ten, more and more people expressed an interest in my running," says Foster, who is 34. "I've been meeting with a core group of ministers and political advisers. They're asking me to consider it, pray on it, and be guided accordingly."
THE PARENT-CHILD BOND
Joel Rivera and Yvette Clarke learned politics from their parents. They worked on campaigns, attended political events, and met the right people. Clarke, who ran her mother's congressional bid and both of her reelection campaigns, says she learned "sort of by osmosis." Rivera speaks of standing beside his father in Vieques, Puerto Rico during protests of U.S. naval operations there, and in the Bronx during protests of the Amadou Diallo killing. "It cannot be ignored, the experience that the children of council members have gained," he says. "It's a real life experience. No one can match that."
The influence of parents on their children in any circumstance is undeniable; in these instances, the boundary between the personal and the political disappears, giving some credence to fears of a democracy undermined by filial connections.
Rivera says that his father has always been his mentor. "This is a man who has been involved in politics for 30 years," he says. "He knows the issues, and that is how I came to know the issues that face the community. I will always look up to him."
"Her expertise is invaluable," says Clarke of her mother. "She can start a sentence and I can almost finish it."
"My father and I have always had a relationship where I'm his sounding board," says Helen Diane Foster. "And not just in politics but in life. We don't make a move without one bouncing ideas off the other."
And Peter Vallone Jr., 39, who is running to fill mayoral candidate Peter Vallone Sr.'s seat in Astoria, adds: "I look to my father for advice on all matters political. He's probably the best source available, and I'm lucky to have him. Nobody knows more about how city government works than my father."
Dutiful sons and daughters all.