NYC Issues 2001: Children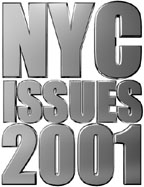 By Peggy Farber
Policies for children claim a substantial portion of New York's municipal resources, yet many pass into established practice with minimal public debate. During the Giuliani administration, radical shifts in children's programs took place out of the public's view. One popular after-school program grew by thirteen thousand percent, one highly regarded juvenile probation program was extinguished. The budget of the Administration for Children's Services doubled.
Indeed, the Administration for Children's Services, the city's agency for handling cases of child abuse and neglect, has the fifth largest budget, more than the Health and Hospitals Corporation, the Department of Sanitation and the Department of Transportation combined -- $2.4 billion of the $39.5 billion city budget. Only the Board of Education, the Department of Social Services, and the Police Department get more money. And of course, the Board of Education has something to do with children too.
Among the many decisions the new mayor will have to make about Mayor Giuliani's children's programs are whether to keep Nicholas Scoppetta on as head of the Administration for Children's Services, whether to reverse an unannounced alteration of the city's day care, whether to continue the mayor's energetic push to enroll all eligible uninsured children in public medical plans, and whether to save children's health clinics, many of which were temporarily rescued from closing in May.
The candidates respond to our questions on children's issues:
Measured by many indicators, the condition of children in New York City has improved over the eight years that Rudolph Giuliani has been mayor. The percent of children living in poverty has dropped from 44 percent to 34 percent. Fewer children are being born to teenaged mothers, and a smaller portion of mothers are giving birth without ever having had prenatal care. The foster care population has shrunk from a high of 45,000 at the start of the Giuliani term to 31,000 in March this year, and the number of new admissions is steadily declining (after a burst of admissions in the agency's first few years).
WILL SCOPPETTA STAY ON?
Nicholas Scoppetta has made no secret of his desire to continue as commissioner of the Administration for Children's Services. "I haven't made any other plans," he said recently. However, Scoppetta's willingness to continue under a new mayor depends on having the kind of access to the mayor he has now, he said. As head of a major agency, Scoppetta has Giuliani's direct support, participating in the mayor's daily 8:00 a.m. meeting where there is an opportunity to talk to and lobby the mayor that Scoppetta deems invaluable.
At the moment, the Administration for Children's Services exists as an independent agency at the pleasure of the mayor. A bill to make it permanently independent of the Human Resources Agency is stalled in the City Council. Scoppetta has made passage of the bill a top priority and a lot may be at stake in its passage.
Scoppetta has brought about reforms of the child welfare system few would have thought possible at the start of his term. These include a major upgrade in caseworker training, a realignment of services along neighborhood lines, an assertion of authority over contract agencies - but the reforms may not be firmly rooted enough to withstand Scoppetta's departure.
In addition, despite improvements at the top of the system, appalling practices continue at many contract agencies. For example, according to a new state audit of the city system, in 71 percent of cases where the goal for a foster child is reunification with his or her parents, caseworkers fail to arrange even two one-hour visits a month between children and parents, as state law requires. This failure rate is up from 57 percent in 1997. If Scoppetta is not at the head of the agency during the next mayoralty, whoever takes over will have to be capable of carrying his reforms out to frontline practitioners if the system overhaul is to last.
City Council members, including speaker Peter F. Vallone, a mayoral candidate, resist making the Administration for Children's Services a permanent charter agency because they think some of the programs currently assigned to that agency might be better off back at the Human Resources Administration. They point to the city's child care system, a $600 million line in the Administration for Children's Services budget.
STEALTH DAY CARE
One of the most serious hazards threatening the stability of low-income families in New York is a severe shortage of affordable child care, a crisis that is continually deepening as thousands of New York City parents lose welfare benefits. The Giuliani administration has quietly effected a major change in the city's day care policy, and the next mayor will have to decide what to do about it.
New York City has an extensive, largely unheralded, network of public day care centers for low-income families, administered now by the Administration for Children's Services. The centers, the creation of the John V. Lindsay administration, provide care for roughly twenty-five thousand pre-kindergarten children. The Administration for Children's Services also manages a comprehensive network of licensed family-based centers for low-income children. These are run by individuals in their homes under the supervision of the city and non-profit agencies. Both networks are absolutely full, with waiting lists of 38,000 children.
A third sector has come out of nowhere and ballooned into a major New York City child care initiative under Giuliani: The Human Resources Administration now issues its own childcare vouchers. These go to parents who must participate in work-related activities in order to receive welfare benefits. Because the two programs from the Administration for Children's Services are full, welfare mothers use the vouchers to pay relatives, neighbors, and boyfriends as babysitters. Some 38,000 children are now, suddenly, in unsupervised care under the aegis of the Human Resources Administration.
Child care experts worry that Giuliani's decision to spend money on unstable babysitting arrangements rather than established child care programs means the city is weakening its existing system and consigning thousands of parents to failure in the job market. "We need at least 90,000 new child care places over the next five years," said Philip Coltoff, executive director of the Children's Aid Society, "and the answer is not more vouchers. I want to see the slots in fully licensed center-based programs. If we don't do this it's going to be self-defeating. A lot of moms who are getting jobs are going to have to give them up."
One child care program has grown exponentially during the Giuliani years, the Beacon Schools. These are school-based, after-school programs, run by community groups throughout the city, originally funded by a city income tax surcharge raised at the end of the Dinkins administration for crime-fighting initiatives. The Beacons are administered by the city's Youth Services Division, which is an agency the mayor tried to eliminate early in his tenure. Eventually, Giuliani folded Youth Services into the Community Development agency. Funding for the Beacons has grown from $217,000 in 1994 to $29 million in 2000.
At the same time, the mayor has eliminated a nationally-acclaimed teen probation program called Family Ties, and has made a yearly ritual of threatening to eliminate the entire youth services budget, which, in addition to Beacon Schools, funds a wide range of comprehensive after-school programs, youth jobs, and community arts programs for kids.
Youth services proponents are praying the new mayor doesn't replicate Giuliani's strategy for restraining budget growth. "The most damaging thing about this mayoralty," said Michele Yanche, staff director of the Neighborhood Family Services Coalition, "has been the propensity to propose enormous cuts in the budget which then get restored by the City Council. The act itself is damaging because every year all the advocates have to spend tremendous amounts of valuable time convincing the City Council to keep the programs going."
The mayor readily admits to playing this game with advocates. "Every year you have to be willing, if you are the mayor, to have a good sense of humor and have The New York Times and The Post and The Daily News and everybody else write that you are cutting pacemakers for people and putting old people in the zoo or something," Giuliani told The New York Times last January. "In order to make sure the budget does not grow by 7 percent, 8 percent, 10, 12 percent, that is what you do."
KIDS' HEALTH
Some of the new mayor's decisions will involve Giuliani initiatives that win applause from children's advocates. The next mayor will have to decide, for example, whether to continue Giuliani's campaign to find and enroll hundreds of thousands of children in Medicaid and in Child Health Plus, the public insurance program for children whose families earn too much for Medicaid and too little for private insurance. Last July Mayor Giuliani organized an executive-level task force to find and register every eligible uninsured child.
Donna Lawrence, executive director of the Children's Defense Fund of New York, said the mayor's initiative comes as a welcome boost. The city conducted a computer match, for example, of children receiving food stamps and children enrolled in health insurance and, finding 70,000 uninsured children, then arranged for automatic enrollment of the children. "This has been a very, very positive step forward," Lawrence said of the weekly status meetings the mayor's office holds on children's health insurance, "and no other mayor has done this. We certainly hope it will be continued."
The city has not kept up funding for the Health and Hospitals Corporation, though, and one result has been a threat to children's medical clinics. The Health and Hospital Corporation's budget, even without taking inflation into account, is smaller today at $943 million than it was in 1994 at $983 million. In May the corporation announced that it would have to close 27 children's clinics because of huge deficits. A last minute reprieve came when funds from the city's school health program were used to plug the gap, but the relief is only temporary.
One of the biggest issues for the next mayor will be something no mayor has ever had to face before. On December 31st, 2001, tens of thousands of New Yorkers will reach lifetime limits on federal welfare benefits. Mayor Giuliani puts the number of people at 39,000 but the Independent Budget Office, using state figures, estimates that 100,000 people - 58,000 children - will lose cash benefits overnight. New York State and the city will jointly offer vouchers, equivalent to cash payments, to families losing federal welfare, but so far no one has made plans for transferring families to the safety net program. The new venture will require a major investment of city funds and a substantial new bureaucratic operation. Perhaps the most pressing question for the mayoral candidates is how the city is going to avert a catastrophe for children whose parents no longer have any cash income.