NYC Issues 2001: The Environment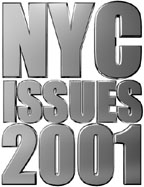 By Michael Burger
Environmental issues, like the environment itself, are best understood in terms of their interconnectedness, rather than as a series of independent problems. Yet, politicians from the mayor to borough presidents to members of the City Council tend to treat environmental issues as mutually exclusive and deal with them on a first-come, first-served basis.
The result is that the solutions often create new problems: new power plants aimed to fend off energy shortages are rushed through the regulatory system, new waste transfer stations create increased diesel truck traffic through adjacent neighborhoods, and efforts to redevelop brownfields fail to clean them up.
Not only do these short-term solutions fail to fully address the city's environmental condition, they often have the most impact on the city's low-income and minority neighborhoods. The growing inequity between rich and poor New Yorkers and the deteriorating state of the city's industrial dumping grounds call for some comprehensive, strategic plan. Will anyone answer that call?
POWER PLANT SITING
Mayor Giuliani and officials from the New York Independent System Operator and the New York Power Authority have said that the city may face a shortage of energy that could create a price spike like last summer's and the threat of blackouts and brownouts. The state has stepped in, and, in a controversial process, agreed to build 10 "temporary mini-power plants" inside city limits.
Opponents have argued against the plant sitings -- which were placed in low-income and minority neighborhoods in the Bronx, Brooklyn, Queens and Staten Island -- charging that the state sidestepped regulations that called for environmental reviews and community input. State officials have admitted that temporary plants may not be so temporary after all. And the same expedited process is being repeated with larger plants proposed for Hunts Point, Sunset Park and Long Island City. Power plant siting will continue to evoke protests for at least the next few years.
This year, candidates will be challenged to see if they support a system that favors power plant producers at the cost of public participation and environmental regulations.
AIR QUALITY
The air in New York City remains the third dirtiest in the nation, behind only Los Angeles and Houston. The soot and smog that darken the city skies come from diesel trucks, cars, and new and old power plants. Over the next few years, the city will experience a significant increase in emissions from all these sources. New plants are being built, and old ones put back in use (like a notorious coal-fired polluter in the Brooklyn Navy Yards that is being resuscitated to meet this summer's demand). Waste transfer stations are using more and more diesel trucks to make up for the closing of the Fresh Kill landfill on Staten Island. And consumers continue to buy larger, less efficient, more polluting vehicles.
Last year, the Supreme Court upheld the United States Environmental Protection Agency's new national ambient air quality standards, which regulate emissions of smaller particles of soot. Soot is the generic term for particulate matter, an airborne black dust, that at its smallest sizes lodges in the lungs and can cause respiratory illnesses and asthma. Studies show that New York City is well out of compliance with the new standards, but the city and state are holding back on developing a strategy and recommending changes until the new standards take effect.
Complying with the new standards could mean re-siting power plants so that neighborhoods are not inundated with soot, promoting alternative fuels by investing in a new fleet of electric or hybrid vehicles, and even rethinking the city's public transportation system.
"It would instigate significant changes in the way we live life in New York City," says Mathy Stanislaus, an environmental engineer who has worked with the Environmental Protection Agency, the city government, and numerous community groups. "They are trying to avoid the impact of when those decisions hit. [But] unless we deal with this now, we're cementing health for the next ten years."
SOLID WASTE
Welcome to the post-Fresh Kills era. Since the infamous landfill closed this spring, the city has been without a local solution for the 13,000 tons of residential waste the Department of Sanitation collects daily. (The same daily amount of commercial waste has always been trucked out of the city.) The city has rushed into a long-term plan for solid waste disposal that calls for contracting with a private facility in Linden, New Jersey for over half of the city's trash. But that facility has yet to be built and is subject to New Jersey regulations.
Candidates for office will be asked whether or not they support that plan and will be challenged to come up with other solutions.
Waste Transfer Stations
For the moment, residential waste is being lumped together with commercial waste and carried in and out of waste transfer stations on diesel trucks. As a result of the increased traffic, neighborhoods that play host to the stations -- which, again, are mostly poor and minority neighborhoods -- have to deal with increased air pollution and noise.
Recycling
Mayor Giuliani has cut back on funding for recycling education and infrastructure. Recycling, long the poster-child of personal environmentalism, could receive more money and airtime from a new mayoral administration or City Council.
Composting
Fifteen percent of the city's waste consists of discarded food. Composting offers a solution to tossing food in with commercial and non-organic residential waste, but the city has postponed funding compost facilities for another seven years, until 2010. The new administration could make composting a priority and force New Yorkers to deal with an additional recycling duty.
BROWNFIELD REDEVELOPMENT
Brownfields are abandoned properties that, due to actual or imagined toxic contamination, have been left unused or under-utilized. Brownfields pose a risk to both the public health and the environment, as toxics may leak into groundwater or neighboring property, or present hazards to children in search of a playground. However, brownfields also represent a great opportunity to revitalize urban neighborhoods with anything from a new community center to a public park, from affordable housing to a new manufacturing plant.
New York City has over 4,000 acres of brownfields, most located along the waterfront and concentrated in poor and minority neighborhoods.
The challenge, according to Alan Dershowitz of the Natural Resource Defense Council's Urban Program, is "not only on how to clean brownfields up but how to make that economically competitive. It often has less to do with contamination than the high costs of redevelopment in New York City."
There are currently two brownfields bills before the state legislature: a bill by Governor Pataki, and the Brownfields Coalition bill, put together by a group of private developers, government officials, community leaders and scientists. The Brownfields Coalition bill provides community-based organizations greater opportunity to participate directly by creating an advisory panel that would represent diverse interests. The governor's bill maintains a municipal veto over redevelopment plans and takes a risk-based approach to planning which could provide developers with an incentive to pave over pollution rather than clean it up. New city officials could play a role in determining which one gets the go-ahead.
Brownfields are often situated in close proximity to each other, yet redevelopment plans tend to look site-to-site. Environmental and community activists are calling for a broader vision that will look at entire areas rather than single sites in plotting urban renewal.
THE GREEN ECONOMY
New York City's government can take the lead in creating a more efficient, conservation-minded economy by using its buying power to subsidize and support markets for eco-friendly products. These could include recycled paper, wood products culled from sustainable forests, wood alternatives, and hybrid cars and SUVs that use both electric and gas power. The city can also help create and expand markets for high-efficiency water and energy systems by retrofitting government buildings with them, and can promote alternatives to fossil fuels by purchasing more power from wind, solar, and geothermal sources, as well as from companies that invest in research and development of alternative energy.
ENVIRONMENTAL JUSTICE
The impacts of the city's environmental policies are most pronounced in a few low-income, minority neighborhoods like Hunts Point, Melrose Commons and Mott Haven in the South Bronx and Red Hook, Sunset Park, and Greenpoint/Williamsburg in Brooklyn. These are the neighborhoods saddled with the power plants and the waste transfer stations, and overrun with brownfields. As a result of shouldering the city's pollution burdens, people here are more susceptible to upper respiratory illnesses, cardiovascular complications, lead poisoning, and asthma. These are also the neighborhoods with the greatest need for open space and waterfront revitalization and access.
Congresswoman Nydia Velazquez has become a champion in the cause of environmental justice, a movement that aims to lift environmental burdens from poor and minority neighborhoods. Last July, she filed two formal complaints with the Environmental Protection Agency about the amount of pollution in her district neighborhoods. This past April, she introduced legislation to Congress that would enable communities to file complaints for discrimination under the Civil Rights Act.
Candidates in this campaign season should be asked whether they support Rep. Velazquez's stance, and whether they have any plan for promoting environmental justice themselves.
This year, candidates will also have to confront a few more questions on the environment.
What kind of attention will be paid to waterfront redevelopment, including improving access, recreational facilities and mixed use of land and water? What will candidates do to protect the city's watershed, and ensure drinking water quality? Finally, and perhaps the most pressing in the summer months, will pesticides be used to control the threat of the West Nile Virus?
Related Links: