NYC Issues 2001: Health
What Tone Tomorrow?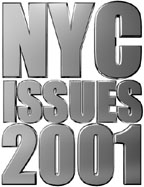 By Maia Szalavitz
There are numerous health issues that might come into play during the campaigns for mayor and for the City Council, but the most important health issue may be the tone these candidates set once they become public officials -- not just through regulations but through their rhetoric.
Candidates may argue in favor of increased health coverage and better oversight of Health Maintenance Organizations, or HMOs. They may say that they will put pressure on the Governor to ensure that existing programs (like Family Health Plus and Child Health Plus) are available as soon and as widely as possible.
But even when they become city officials, they have little power to create or rescind such programs, which are controlled mainly by the state and federal governments.
What they can do, however, is control how such programs are implemented -- with city rules, regulations and financing and their bully pulpit -- and make services more or less accessible and more or less effective.
Mayor Giuliani has tried to set a tough tone, and many of his policies have actively discouraged people from getting healthcare to which they are entitled. A study by the Urban Institute in 2000 found that 41 percent of people leaving welfare became uninsured, even though they were entitled to Medicaid. In 1999, a federal judge said that New York City was improperly denying Medicaid to thousands of people because caseworkers had falsely told them that they were not eligible due to failure to meet work requirements.
The mayor also illegally made applicants wait for a second appointment to apply for Medicaid benefits, and tried to make finger-printing a requirement for eligibility.
Numerous children fall through the cracks and lose their health coverage because of confusing and often contradictory bureaucratic requirements. And with enrollment in managed care programs becoming mandatory for most recipients throughout the city, the red tape is only increasing.
Mayor Giuliani also sought to cut health costs by using providers whose main focus is the bottom line, and by dropping people from Medicaid if they are arrested and held in jail, even if the charges are dropped and they are freed within days. It can take months for people to be re-enrolled. This extreme emphasis on toughness may be pennywise and pound-foolish, particularly in the justice system.
Here is why. In 1998, St. Barnabas Hospital became the health care provider for Rikers Island. Quality health care for prisoners is not even on the bottom of most politicians' agendas. But most people are unaware of the role the prison system plays in epidemics. One study found that 1500 prisoners with tuberculosis released from Riker's without treatment spread it to 36 New York zip codes before the epidemic was contained.
Since prisoners are frequently not given medications on time, jails and prisons are excellent breeding grounds for drug-resistant micro-organisms. And since approximately one-third of inmates at Riker's at any given time have a history of intravenous drug use and needles are often shared in the jail, HIV and Hepatitis C spread.
Perhaps the most cruel and frightening example of how cutting access to health care for prisoners has unintended consequences is the treatment of the mentally ill. Many of the city's most mentally disturbed people pass through the criminal justice system, even if they are not ultimately convicted of crimes. A full quarter of Rikers inmates have serious mental illnesses. But the city has taken legal action to avoid being required to give follow-up care when these inmates are released.
To cut costs, St. Barnabas decided that rather than provide a month's worth of medication to inmates leaving Rikers, it would only offer several days. Mentally ill inmates, when discharged, are left (like all other inmates) under the 59th Street Bridge in Queens with no information on where to go to continue their care -- and no Medicaid.
Although most people with mental illness are not any more likely to be violent than others, this is not true of unmedicated schizophrenics, who often prefer not to take their medications because of their difficult side effects. Cutting such people from Medicaid and leaving them without medications is surely not the best way to ensure that they are not a danger to themselves or others.
This year, St. Barnabas was dropped as the health care provider for Rikers, following reports of inmate deaths from negligence. It had made one million dollars in profit each month on the $342 million three-year contract -- and had cut prisoner hospital visits by 57 percent. The new provider, Prison Health Services, of Tennessee, has never served such a large, sick population and is still not legally required to connect those leaving the jail with healthcare because the city is still appealing court decisions on the requirement.
Another example: welfare rules currently allow people who fail drug treatment to be cut from both welfare and Medicaid. Drug treatment providers do not consider people who relapse once during treatment to be failures. If they did, they would lose 90 percent of their patients. But under the latest regulations, one "strike" like this gets you thrown out of treatment-- and all other medical care -- even if you continue to want help. This may help purge the welfare rolls, but it also damages public health by removing access to care from many who are most likely to get and spread infectious diseases, not to mention continue to use illegal drugs.
Like the Rikers cuts, it can also potentially increase crime, since addicts who stay on methadone treatment (even with some relapses) are much less likely to commit crime than those who aren't in care.
All of these regulations and restrictions add up to a tone which tells poor people that they are not welcome in the health care system. Though Mayor Giuliani's prostate cancer caused a change of heart, which made him push to increase enrollment in programs like Medicaid, the attitude of the system for the most part continues to be unfriendly and challenging rather than welcoming.
What candidates seeking to improve the heath of New York may want to consider, then, is how to change the regulatory and bureaucratic environment in a way that warms up this cold and discouraging climate.
Some other issues which may become important include: