NYC Issues 2001
GOTHAM GAZETTE: SEARCHLIGHT ON CAMPAIGN 2001: FEATURE
Learn About
Your District
Click on the pull-down menu and select your district
Archives
Recent Feature Stories:
The Nod of the Bosses... Scramble for the City Council... Basic Training for Council Recruits... How They Stack up on Term Limit... Dynasties... The Speech that Saved Term Limits...

What is Searchlight on Campaign 2001?
Searchlight on Campaign 2001 is a guide to the political races in what many are calling New York City's most significant campaign season in modern history.
What is so significant about it?
For the first time in memory, most political offices in the city will be wide open to people who have neither money nor connections.
Why will the races be so open?
There are two reasons. This year, a new law goes into effect that limits the terms of New York City elected officials, forcing the mass retirement of most incumbents in the city - including the mayor, the comptroller, the public advocate, four of the five borough presidents, and 36 of the 51 members of the City Council. At the same time, a new campaign finance law kicks in, which allows any candidate who agrees to certain restrictions to collect four dollars of matching funds for every dollar they raise.
What does this have to do with this site?
As a public service, Searchlight on Campaign 2001 has a separate page for each race, including all the races for City Council, that not only sorts out the candidates -- many of them new and unfamiliar -- but also offers an opportunity to learn about the issues, and the districts themselves.
Who is behind Searchlight on Campaign 2001?
Searchlight on Campaign 2001 is a project of Gotham Gazette, a non-profit, non-partisan, non-ideological (but non-boring) web site about New York City news, policy and politics published by Citizens Union Foundation, part of the oldest and largest good-government group in the city (founded in 1897).
What's wrong with the way the regular press covers the races?
That is for you to decide. And one of our regular features, Campaign Trail, helps you to decide. Campaign Trail provides succinct summaries and links to campaign articles in the commercial press.
Who are we?
Masthead
A Vision for Parks?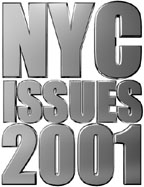 By Anne Schwartz
America's great park systems, like those in Minneapolis or Portland, Oregon, did not happen by accident. These cities have had elected officials and civic leaders who strongly believe that parks are an essential part of a city's vitality. They see well-maintained parks and greenways, protected natural areas, and good recreational facilities as among the most important contributors to a city's quality of life, and therefore to a healthy economy.
In the nineteenth century, New York was in the forefront of the movement to create city parks. Cities all over the country wanted their own version of Central and Prospect parks, which still stand as landscape masterpieces. The next great park-building wave came during the era of Robert Moses. In recent decades, however, city political leaders have considered parks a low priority. Municipal funding for parks has waned, and the reigning philosophy has it that parks should be supported as much as possible by the private sector or by fees charged for concessions or special uses. (And most of those fees go to the general government coffers, rather than being specifically earmarked for parks.) Creating and tending parks has been considered neither an essential public service nor an impetus for economic development, an investment in a city's infrastructure that is ultimately repaid many times over. So perhaps the underlying parks issue for the mayoral campaign is: Do any of the candidates have a real vision for what parks can do to make a better New York?
PARKS AND THE BUDGET
The most pressing issue that parks advocates want candidates to address is funding. Budget allocations for maintaining parks and running recreation programs have been shrinking for the better part of two decades. Parks operating funds now amount to less than one half of one percent of the total city budget. The parks department has 60 percent fewer fulltime employees than it did 15 years ago. That means that parks that rely solely on city funding - that is, the ones in poorer neighborhoods that (unlike Central Park) cannot raise money from private individuals and companies - have little or no staff to care for plantings, maintain ball fields, run recreation programs, or keep the bathrooms clean. The lack of funds has hit recreation programs the hardest. New York City spends the least amount per capita on recreation of any major city in the United States, resulting in a shortage of playing fields, tennis courts, pools, and other recreational facilities and programs.
Parks advocacy groups want candidates to make a commitment to reversing this trend. They have organized a campaign calling for doubling the city's spending on park operations to one percent of the budget. That would allow the city to hire enough gardeners, tree pruners, plumbers, and electricians to maintain the plantings and facilities in the parks; it would also provide for the return of the parkies, the neighborhood-based employees who maintained and monitored their parks and ran recreation programs. Additional operating funds would allow the parks department to end its practice of using capital money for restoring parks and structures that have fallen into disrepair because of neglected maintenance. Capital funds could be spent instead on reclaiming abandoned parkland and creating new green and recreational space in underserved parts of the city.
EQUAL OPPORTUNITY FOR OPEN SPACE
While candidates are called upon to address the shortage of affordable housing, especially in the city's poor, heavily minority districts, those very same neighborhoods tend to have the fewest and most poorly maintained parks. It is estimated that 69 percent of the city's Community Planning Districts do not even meet the city's very modest open space standard of 2.5 acres per thousand residents. Often, the only green places are the community gardens created by the residents on vacant city-owned lots. In addition to addressing the community garden issue (see below), parks advocates want candidates to be thinking in terms of neighborhood-based planning that includes recreational and green space along with new affordable housing. A recent study of District 3 in the Bronx, by the Design Trust for Public Space, addressed this issue in depth. Other opportunities exist for creating open space in these areas on former industrial sites (brownfields), small lots, and the waterfront (see below).
FAIR SHARE OF STATE FUNDING
City elected officials could also be lobbying much more actively to direct state open space funding to the inner city. New York City has not received its fair share of state Bond Act and other funds for open space acquisition, and the little money it has received has been concentrated in Staten Island, which has far more open space than the other boroughs. The New York City Environmental Justice Alliance is developing a proposal, called "Green Cities," for the creation of a state environmental investment program for urban areas.
COMMUNITY GARDENS
Two years ago, in a bizarre twist on the land trust concept, private groups ended up buying public land to prevent the city from auctioning off more than 100 community gardens to private developers. While cities all over the country are promoting the development of community gardens, New York City's remaining 600 or so gardens are in limbo. An injunction resulting from a lawsuit by state Attorney General Elliot Spitzer has stopped the city from tearing down gardens, but the city continues to go through the process of selling lots, stopping short of actual development. The stalemate will most likely be left for the next mayor and city council to resolve. A year ago, legislation was introduced in the city council that would establish a process for reviewing proposed sales of community gardens and for preserving gardens and creating new ones. It has languished because of lack of support from many council members as well as the City Council Speaker, Peter Vallone, who is running for mayor.
WATERFRONT
The decaying industrial waterfront offers the best opportunity for new parks and open space in the city, especially in many low-income neighborhoods that lack parks. Revitalizing the waterfront would connect New Yorkers to the city's greatest natural resource, the harbor, with its spectacular views and opportunities for aquatic recreation. There is a lot of momentum right now, with large parks taking shape along the West Side of Manhattan and downtown Brooklyn, as well as smaller parks being created in Harlem, Hunts Point, and elsewhere. The Waterfront Park Coalition has developed a comprehensive inventory of 150 potential sites, and is working with local groups to make the parks a reality. What sort of vision do the candidates have for the waterfront and how it fits into the New York City of the 21st century? Among the issues that need to be addressed: access to the water; community involvement in waterfront planning; and how much commercial development is appropriate.
GREENWAYS
Few people know that New York City has an official greenway plan to create 350 miles of trails for walking and biking. The Department of City Planning created the plan in 1993, incorporating proposals for a Brooklyn/Queens greenway by the Neighborhood Open Space Coalition and a Bronx greenway by Bronx Borough President Fernando Ferrer. The city has received more than $60 million in federal funding so far for this program, under the ISTEA and TEA-21 legislation that seeks to promote alternative modes of transportation. The program requires only 20 percent in state or city matching funds, a great opportunity in an era of scarce money for green space and recreation, and one that city elected officials should be pursuing more vigorously. The state recently committed $11 million for a section of the Bronx River Greenway, which is envisioned to run continuously from Wards Island to the Westchester border. The plan includes restoring land and creating access to the river for the community. At present, New York City has about 70 miles of existing greenway routes, 25 miles under construction, and 80 more miles planned. What would candidates do to speed up the implementation of the greenway plan?
THE URBAN FOREST
It is delightful to walk down a city street with a canopy of large trees (and perhaps more delightful to live on such a street!) Trees contribute significantly to the quality of life in the city. They provide shade, cool the air and reduce energy use in the summer, filter pollutants, slow runoff, and screen out noise and ugly views. Studies at housing projects in Chicago have even shown a correlation between the presence of trees and fewer incidents of violence. Trees and other plantings have also been shown to increase commercial and residential property values.
Yet New York City's elected officials have given even less thought to trees than to parks. The city's urban forest, which includes trees along streets and highways as well as in parks and natural areas, has been neglected, according to Keeping the Green Promise, a 1998 report by the Environmental Action Coalition and the Regional Plan Association. New York City has less "canopy cover" (the area shaded by trees) than most similar cities. Not surprisingly, trees are particularly scarce in the same low-income, minority neighborhoods that have a shortage of parks. Advocates want candidates to address the need to expand the urban forest in these areas. Also at issue is better management of the existing street, highway, and park trees through better planting techniques and more frequent inspection and pruning. Urban forestry advocates want the city to fulfill an unkept promise to continue a program to restore urban woodlands that was begun with private philanthropic funding. Elected officials could also be doing more to obtain state funding for the city's forestry needs. Last year, after intensive lobbying by city environmental groups, the state allocated money to urban forestry for the first time.
GOVERNORS ISLAND
Last year, the city and state agreed on a plan to turn the 173-acre former Coast Guard base into a new civic space, which would include a conference center, educational facilities, and parkland. The plan had wide support. But with the failure to get legislation passed during the Clinton Administration to transfer the island to New York State at no cost, the fate of Governors Island is still up in the air. Part of the island, including two historic forts and the surrounding land, was declared a national monument in an executive order issued by President Clinton in his last week in office, and President Bush is expected to let the order stand. The federal government is now moving ahead to sell the rest of the island at fair market value by the end of the year. New legislation to transfer the island to the state will be introduced; the state could also negotiate a deal with the General Services Administration, which is handling the sale. But before turning the land over to the state, the federal government needs a binding commitment from the state and city to the plan they created. Whoever is elected mayor could make a difference in whether or not Governors Island becomes a new public space. What are the positions of the mayoral candidates on the concept plan announced last year? If elected, would they support placing restrictions on the island in keeping with that plan, either through state legislation or city zoning? And, would they support capital investment to create public spaces on the island?
What is this?
Gotham Gazette's Searchlight on Campaign 2001 offers a comprehensive look at what is being called New York City's most significant campaign season in modern history. (See the left-hand column for an explanation).
Districts of the Week
District 1 -- Lower Manhattan
Whoever wins the election in district 1 will represent immigrant Chinese garment workers, as well as Wall Street traders living in Battery Park City. There are several candidates hoping to be the council's firsts -- the first Asian-American man, the first Asian-American woman, the first gay Rhodes Scholar, the first dot-com guru -- running against some politically well connected opponents. Endorsements and fundraising will play a big role in this race. But voter turnout could be the main determinant of who will next represent district 1 on the council. The key question is how many voters from each community will come out on Election Day.
District 7 -- Washington Heights, Manhattan
The northern tip of Manhattan has become one of the most popular places for new immigrants to call home. The northern tip of Manhattan is a place that today's new immigrants call home. The majority have come from the Dominican Republic, but also from countries in South America, Eastern Europe, and Asia. But it is not just new immigrants that are moving in. Students, artists, and other Manhattanites looking for less expensive rents and larger apartments have also moved north. Ten Democratic candidates are competing for the 15,000 voters expected on primary day. The winner who emerges from a crowded field of candidates will have to balance the needs of the newcomers with those who have lived there for years.
District 16 -- Highbridge, Bronx
The neighborhoods of district 16 are the city's poorest, with the highest rate of unemployment and the lowest median household income. But those who live there also point out that much is positive and stable about the area, thanks in large part to local organizations, not-for-profit agencies, and houses of worship that help hold the neighborhoods together. Each candidate for City Council believes that through his or her connections to churches and local organizations, they can help empower the community toward a better life. Helen Foster, the current council member daughter, will face Michael Benjamin, who has worked as an aide to several government officials and Anthony Curry, a Bronx neighborhood activist.
District 20 -- Northeast Flushing, Queens
This year district 20 may elect the first Asian-American ever to the City Council to an area which now has the second highest number of immigrants from Korea and Taiwan in the city. There are three Asian candidates in the Democratic race who have each drawn big endorsements. Council Speaker Peter Vallone endorsed Terence Park, City Comptroller Alan Hevesi endorsed John Liu, and the New York Times recently endorsed Ethel Chen The campaign has also drawn national and international press coverage
District 25 -- Jackson Heights, Queens
Thirty-seventh Avenue in Jackson Heights, Queens is one of the most diverse streets in the world. Little India quickly blends into Little Colombia, with vendors selling Latin American food to Colombians, Peruvians, Ecuadorians, Mexicans, and Uruguayans. And each summer, the Queens Pride Parade fills the same street with rainbow banners. So it is no surprise that this election year the district produced a diverse field of candidates. A number of them, however, found out that getting on the ballot is not an easy task, especially when the Queens Democratic organization sends teams of lawyers to challenge petitions. But five Democratic candidates survived and will face off on September 11.
District 31 -- South East Queens
When a heavy rain hits southeast Queens, many residents in neighborhoods like Springfield Gardens, Laurelton and Rosedale head to the basement with a bucket in hand. And it has been that way for the last 50 years. In the rush to build housing in the area after World War II, developers overlooked the need for storm drains in hopes that the city would eventually build a city-wide sewer system. The plan never materialized and the area has experienced "100-year rains" three times in the last decade. The eight Democrats -- all with little experience overseeing massive infrastructure projects--will try to convince voters that they can finally solve the flooding problems.
District 35 -- Central Brooklyn
The residents in council district 35 have some of the highest incomes in Brooklyn and some of the lowest. They can play in a famous park and a beautiful botanical garden, and live in the city's most crumbling public housing. They can attend one of the four institutions of higher learning in the district, and the worst-scoring high schools in the city. Such juxtapositions are a way of life for a district that includes the Brooklyn Academy of Music, the Brooklyn Museum, and the Brooklyn Botanical Gardens; mid dle-class African-American communities near Prospect Park; immigrant communities from Haiti, Sierra Leon, Nigeria, and Trinidad, and in Crown Heights, a mix of Hasidic Jews and African-Americans. Seven Democratic candidates are campaigning in hopes that they can bring some kind of unity, and attention, to the area. Their backgrounds are as diverse as the neighborhoods themselves.
District 39 -- Park Slope/Carroll Gardens, Brooklyn
The candidates in district 39 include a chief of staff for an Assemblywoman, the husband of a member of U.S. Congress, a lawyer for the Legal Aid Society, an attorney and president of the Central Brooklyn Independent Democrats, Senator Hillary Clinton's campaign manager, the district manager of Community Board 6, and a labor organizer. This is the race to watch this year. The group of high-profile Democrats have raised a lot of money, almost $1.4 million combined.
District 45 -- East Flatbush
In no place in the city are the effects of campaign finance reform and term limits being felt more than in East Flatbush. The seven Democratic candidates seeking to represent this largely West Indian district come from a number of Caribbean nations. Many have been working on politicians' staffs and serving with community groups, clearly hoping someday to win their own elected office. Term limits has presented them with that opportunity, and they want to make the most of it. But this race that usually draws only about 8,000 voters could be decided by just a few votes. The candidates are attempting to come up with anything that will separate them from the pack.
District 49 -- North Shore, Staten Island
Staten Island has always been somewhat of a suburban stepchild to New York City. When a 1998 survey asked New Yorkers why they go to Staten Island, the top two responses were ''visiting friends and relatives" and ''passing through.'' But in many ways, the north shore has more in common with areas of Manhattan and Brooklyn than with the rest of the Staten Island. The top priority for all the candidates -- Jon Del Giorno, an administrative manager for the Board of Elections, Mike McMahon, an attorney and counsel to current Councilmember Jerome O'Donovan, and Debi Rose, an administrator at the College of Staten Island and the first African-American candidate in Staten Island politics -- is to make sure that the island becomes more than just a turn-around-point for the over one million tourists who ride the free ferry from Manhattan each year.
Abbreviations for Party Affiliation
American Dream Party (AMD)
Better Schools Party (BES)
Communist (Com)
Conservative (Con)
Constitution (CST)
Democratic (Dem)
Friends United Party (FUN)
Fusion Party (FUS)
Green (Gre)
Harmony Party (HAR)
Independence (Ind)
Liberal (Lib)
Libertarian (LBT)
Marijuana Reform Party (POT)
Natural Law Party (NLP)
Party of Ethics and Traditions (PET)
Reform Party (Ref)
Republican (Rep)
Right to Life (RTL)
School Choice Party (Sch)
Socialist Workers Party (SWP)
Working Families (Wor)
2001 Election Calendar
June 1 -- Deadline for candidates to join the Campaign Finance program, qualifying for the four-to-one match of contributions.
June 5 - First day for candidates from the eight major parties (Democratic, Republican, Indpendence, Conservative, Liberal, Green, Working Families, and Right to Life) to circulate petitions. Candidates running for City Council must collect the signatures of at least 900 people living in the district for which they are running in order to appear on the Primary ballot. Candidates not running under these eight major parties do not appear on the Primary ballot and have a separate set of deadlines.
July 12 - Deadline for major party candidates to file petitions.
July 10 - First day for unaffiliated candidates to circulate petitions, in order to appear on the ballot in the General Election. They must collect the number of signatures equal to five percent of the total enrolled in that party.
August 7 - Board of Elections announces candidates appearing on the Primary ballot.
August 17 - Last day for non-absentee voters to register to vote in the Primary Election.
August 21 - Deadline for non-major party candidates to file petitions to be included on the General Election ballot.
September 4 - Last day to postmark application for absentee voting in the Primary
September 10 - Last day to personally deliver application for absentee voting in the Primary Last day to postmark absentee ballot for Primary
September 11 - Primary election; Polls open at 6:00a.m. and close at 9:00p.m.; Absentee ballots must be hand-delivered by 9:00 p.m.
September 25 - Runoff Primary election for Mayor, Comptroller and Public Advocate, if needed
October 12 - Last day to for non-absentee voters to register to vote in the General Election
October 30 - Last day to postmark application for absentee voting in the General Election
November 5 - Last day to hand-deliver an application for absentee voting, or to postmark an absentee ballot for the General Election.
November 6 - General Election; polls open at 6:00a.m. and close at 9:00p.m. in NYC; Absentee ballots must be hand-delivered by 9:00 p.m.

This website is brought to you by Citizens Union Foundation and is made possible by grants from the Charles H. Revson Foundation, the Rockefeller Brothers Fund, the New York Times Foundation and viewers like you.