Staying Safe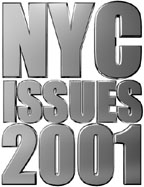 By Julia Vitullo-Martin
American cities are doing well these days. And no city is doing better than New York, which has returned to its historic position at the top of the world food chain. The reasons are many, but high up in any mix of causes sits the new reality of the city's being safe. As Columbia University history professor Kenneth T. Jackson wrote in a recent New York Times op-ed: "The single greatest catalyst to inner-city revitalization has been a sharp decline in crime."
THREE FOR GIULIANI'S CRIME AGENDA, ONE AGAINST
During Mayor Rudolph Giuliani's eight years in office, overall violent crime has gone down 63 percent. Homicide is down 70 percent. Nobody is likely to become the next mayor of New York by running to the left of Rudolph Giuliani on crime. This poses no problem for Republicans, but a serious dilemma for the four contenders who are liberal Democrats--Public Advocate Mark Green, City Comptroller Alan Hevesi, City Council Speaker Peter Vallone, and Bronx Borough President Fernando Ferrer. As James Traub noted in The New York Times Magazine in early February, these four "are all longtime officeholders and all, to varying degrees, priests of the old religion upon which Giuliani has wreaked devastation."
The Democrats, however, are not without their own resources. Mark Green released the first salvo, and it was a good one. He announced that if elected he would appoint Giuliani's former police commissioner, William Bratton, as his own police commissioner. Since Bratton spent two successful years corralling crime only to be unceremoniously let go by Mayor Giuliani in 1996, this allows Green to position himself as the Ur-Giuliani on crime policy, but as the un-Giuliani personality-wise.
Similarly, City Comptroller Hevesi has been willing to credit both the city's tourism boom and its higher education boom to Giuliani's successful fight on crime. When Hevesi announced his candidacy on March 20, he refused to distance himself form the mayor on policy issues: "Mayor Rudy Giuliani hasn't given us a perfect city, but in large part--not for everyone yet and not everywhere--our city is going in the right direction." He said he would not "pander" or make "phony promises that sound good today but would destroy the long-term future of the city."
What's more, Hevesi even had his own phantom Bratton in the crowd--Jerry Hauer, the former head of Giuliani's Office of Emergency Management, and current head of the Crisis and Consequence Management Group of Kroll Associates, the international security firm. In November 2000 Kroll Associates signed an agreement with Bratton, now head of a small management firm, to provide Hauer's division with consulting services. Hauer called Hevesi "head and shoulders above the rest," according to the New York Post.
Hevesi didn't maintain his uneasy truce with the mayor for long. In a television commercial entitled "Commander" he said, "We need zero tolerance for police abuse. That's why, as mayor, I'll hold police commanders responsible for reducing crime and police misconduct." He also said "I'll stop profiling." A furious Giuliani called "the whole thing a terrible insult to the police department."
To the astonishment of many, City Council Speaker Vallone has worked successfully with the prickly mayor over the last eight years. Vallone chose from the start of his campaign to continue his conciliatory posture. When asked by the Daily News, along with the other three Democrats, whether he would re-appoint current Police Commissioner Bernard Kerik, Vallone said Kerik would "absolutely" be on his short list if elected.
But Vallone is no wimp. He told the AP wire service that Giuliani has "done a really good job in fighting crime and managing the city, but we've got to make sure that every mother in the city can run to a police officer with open arms instead of running away from them." Invoking motherhood is always good, but in this context it's downright inspired.
Only Bronx Borough President Fernando Ferrer is striking out into new territory--or perhaps he is simply returning to what Traub calls the old religion.
PUTTING RACE AT THE FORE
Ferrer is the only candidate willing to run a racially charged campaign--trying to stake out a Latino-black coalition in this race, much as he tried for a Latino-white coalition in his unsuccessful 1997 mayoral campaign.
Ferrer is said to speak for those New Yorkers who want the city to be taken in a bold new direction. He distinguishes two New Yorks: "the one we see on television and read about, in which hotels are full and tourism is up and squeegee men are off the street; and the other New York, with parents deeply concerned about failing schools attended overwhelmingly by black and Latino children."
In this other New York, argues Ferrer, "communities want to bring crime down but also to end the indignities of racial profiling. They want to ensure that the divide of distrust between the police and the communities they serve that has widened under Mayor Giuliani is repaired."
Ferrer argues that "what progress we've made over last the last eight years has come at a tremendous price. Millions of New Yorkers feel shut out and shut down by the Giuliani administration."
If millions of New Yorkers agree with Ferrer--and if they vote--he will be in the race. The city is certainly racially divided on the subject of Giuliani. A March Quinnipiac University poll found 70 percent of white New Yorkers but only 26 percent of black New Yorkers approve of Giuliani.
But is the city also racially split on substantive issues? This is not clear. Cooper Union Professor Fred Siegel says that the division Ferrer is talking about "comes and goes with incidents and how they're publicized. This division is not deeply embedded for most of the city. There's been no terrible incident in awhile, so the polls show Commissioner Kerik doing a fabulous job. Are the police policing differently? I don't think so. Now that Giuliani is a lame duck, people have little interest in pushing these issues."
Siegel also raises the problem of the primary, to be held in September, versus the election, to be held in November. Ferrer "is talking to people with grievances," he says, "which may make sense for the primary. But he's digging himself into a hole, which will make it very hard for him to govern if he's elected."
White New Yorkers remain the largest voting group. In the Democratic primary, blacks and Latinos together will probably be just over 45 percent of the vote. The polls showed Green as an early leader--and Ferrer lagging--because Green got substantial numbers of white voters while also attracting two of five black voters.
Is Ferrer worried about lagging? Spokesman John Del Cecato says, "These issues are very personal to him. He's not running for mayor just to have a new place to live and a bigger office. This is a crusade for him. There needs to be someone who can speak in a personal way for those New Yorkers who have been shut out." Underlying these words is the assumption that Guiliani's aggressive policing tactics in part produced this (presumably large) group of shut-out New Yorkers.
WHAT GIULIANI AND BRATTON ACCOMPLISHED
There's no doubt that crime in New York has been plummeting, and that policing has become more aggressive--starting in 1991, when Mayor David Dinkins used an income tax surcharge to increase the size of the force. What is controversial, however, is why crime has come down. Conservatives tend to credit policing and mayoral sternness toward quality-of-life offenses. Liberals prefer to credit a whole host of factors--the economy, demographics, incarceration, the end of the crack epidemic, even higher education. Liberals also like to note that many major cities--Washington, D.C., Philadelphia, Chicago, Los Angeles--experienced a New-York-style decline in crime during the 1990s. So what is the big deal here?
What Bratton did as commissioner--and the reason that his name will indeed go down in police history--is create a technically advanced computer system that allowed the department to track crime fairly precisely. CompStat, which stands for computer-generated comparative statistics, pin-pointed crimes geographically and, just as important, made the data accessible to headquarters as well as to the precincts. This meant the commissioner could bring commanding officers to heel, particularly those officiating over the now clearly demarcated high-crime areas.
In their book on the history of the police department, James Lardner and Thomas Repetto give a vivid description of how this worked: "Prior to Bratton, the crime numbers had often been months behind. Now they came out weekly. At intervals of four to six weeks, an entire police borough command, led by the two-star chief in charge along with his inspectors, captains, and other key players, and accompanied by commanding officers of special units in the area such as detectives and narcotics, would be assembled in the command center, or 'war room' on the eighth floor of One Police Plaza. Meetings would convene at 7:00 a.m.--not an hour of great activity at headquarters in years gone by. Commanders would be questioned on the crime conditions in their particular areas of jurisdiction. In the room long tables, lit by green lamps, were set up in a horseshoe, facing a lectern. A high-tech console flashed maps and graphs on overhead video screens. Commanders were called to the rostrum to make their presentation, then grilled with frequent reference to the map. Crime by crime, sector by sector, a precinct would be scoured by laser pointer."
Knowing that one's neighborhood is being scoured crime by crime, sector by sector, can warm the citizen's heart along with the commissioner's. CompStat represented a management revolution--calling the entire police department, from commanders down, to precise account for their ability to fight crime.
But CompStat was only part of the revolution. The other part was Giuliani's obsession: quality-of-life crimes. Giuliani believes in the "broken window theory" developed by Harvard academics James Q. Wilson and George Kelling, who in the 1980s argued persuasively that neighborhoods that neglected minor things like broken windows and graffiti set up a conducive environment for more serious crime. Both Giuliani and Bratton were convinced that if you halted the minor stuff, you would keep the major stuff at bay.
Bratton's experience as head of the transit cops served him well as commissioner of the entire police department. He encouraged cops to crack down on turnstile jumping and panhandling, based on the belief that jumpers and panhandlers were also committing serious crimes. Indeed, when the newly computerized police department started running checks on turnstile jumpers, they found they had often arrested on a minor charge someone wanted on major charges.
WHAT GIULIANI AND BRATTON DID NOT ACCOMPLISH
So what's wrong with the Giuliani-Bratton revolution?
Liberals make two arguments. First, argue some criminologists, such as Andrew Karmen at John Jay College, policing was merely one of many factors that brought crime down. Second, say politicians such as Freddy Ferrer, the fight against crime extracted too high a price from minority communities.
In his book, New York Murder Mystery, Karmen analyzes what caused the murder rate to fall, and concludes that it was not due primarily to CompStat, in part because the murder rate began falling before CompStat. Also, in cities with very different policing strategies like San Diego, the murder rate fell even faster than here. Rather, a number of trends--productive immigration, favorable demographics, the waning of the crack epidemic, low-cost higher education, and an increased death rate--came together effectively with aggressive policing.
Violent crime tends to be a young male activity. The number of poor black and Latino young males, says Karmen, fell significantly during the 1990s--and the crucial cohort of 20-to-24-year-olds fell 19 percent. (Some dispute this drop.) At the same time, death through drug overdoses, AIDS among intravenous drug users, and homicides plus the deportation of some criminal aliens eliminated about 43,000 lawbreakers. There were simply fewer criminals on the streets of New York.
This distressing picture is lightened somewhat by another Karmen argument: New Yorkers, including low-income blacks and Latinos, are more likely to have attended and finished college than minority residents of other cities. He argues that the city's investment in public universities has paid off in reduced crime.
His proposals to the next mayor are simple. First, using heavy-duty statistical programs, find out what is really behind the decline in crime and respond accordingly. (He would like to see a neutral blue ribbon commission appointed.) Second, continue to invest in higher education, including community colleges and training programs.
If Karmen is right that policing was not the major factor driving crime reduction then the other liberal argument--Ferrer's point that the price was too high--may look stronger.
WHY SOME SAY THE PRICE WAS TOO HIGH
Let's get one thing out of the way: The candidates (you can insert the Republicans here as well) pretty much agree with Giuliani's quality-of-life strategies. As James Traub noted in the New York Times, Hevesi cites his "100 percent voting record from the A.C.L.U.," but says he never saw aggressive panhandling in civil liberties terms anyway. Ferrer, says Traub, calls himself "an early adherent" of the widely publicized theories that underpinned the mayor's crusade against street crime. And while all four candidates favor some kind of community policing to replace Giuliani's hard-line tactics, Traub writes: "you have to wonder what will happen if crime starts to inch back up."
Yet the quality-of-life campaign was inextricably woven into the aggressive policing tactics that liberals, particularly Ferrer, deplore. Under Bratton, cops did not wait for a crime to happen. Bratton's strategy was to get guns off the street, crack down on minor offenses like public drinking or fare beating, and police "proactively," to use his term. If cops thought someone had a gun, or drugs, or was involved in some crime, including a quality-of-life offense, they stopped and searched the person. Most of those stopped were young black or Latino males. It was under an extension of this strategy that four undercover cops in the Street Crime Unit shot the unarmed Amadou Diallo in February 1999.
In 1999, of course, Bratton was no longer commissioner--Howard Safir was. And while Safir maintained Bratton's strategy, he modified some crucial operational details. For one thing, he quadrupled the size of the Street Crime Unit over the opposition of its commander, Richard Savage. Savage complained that the street cops no longer knew one another well enough to work together effectively, and that the newest cops lacked training. As David Lefer told the story in the Daily News, the result was disastrous. The number of felony weapons arrests per officer--a crucial measure--fell by half, warning the department that something was wrong.
As Lefer wrote in late 1999, "With new officers heavily outnumbering seasoned ones, teamings of inexperienced officers became common, and they typically worked in a different part of the city every night." On the day Amadou Diallo was shot, says Lefer, a shortage of cars forced four new cops to team up. None knew the area or one another. We all know the tragic result.
Perhaps not sure what else to do, the federal government opened an investigation into racial profiling by the police--prompting Giuliani to say in October of last year that yes, of course, the police stop and frisk black and Latino men at a rate that far exceeds their share of the population. Minority men are most often identified as suspects by victims, he said, and he added that abandoning this tactic would quickly translate into a surge in murders, rapes and robberies.
His one concession, in response to another federal investigation of the department, was to propose that the system of handling complaints of brutality and misconduct should be revamped.
At the time City Council speaker Vallone said, "If you are criticizing the police force for doing its job, it is absurd and it is ridiculous. Police are supposed to catch criminals. That is what they are out there to do. But I have been out there, and I have been to many community meetings, and I have seen people who are not guilty of any crime who are complaining about being stopped, and that is wrong." On this issue of racial profiling, the Democrats present a unified front of opposition. Because any Republican candidate will be likely to support proactive policing, this will almost surely become an issue in the general election.
As the candidates ponder their positions on these troubling issues, they would do well to remember Fred Siegel's warning that intemperate positions in the campaign can affect a mayor's ability to govern later. Tom Repetto begins his book with a quote from Robert F. Wagner, the city's mayor from 1954 to 1965: "When I go to bed at night, I say a special prayer for the safety of the city. Then I say another special prayer of thanks that nothing bad happened in the police department."
Our next mayor will be the man who convinces New Yorkers that he will keep their city safe--and that he will oversee a police department that has the sensitivity to treat New Yorkers respectfully and the toughness to fight crime successfully.