NYC Issues 2001
Science and Technology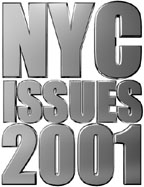 By Laura Forlano
Few candidates running for office in New York this year are likely even to utter the words "science" or "technology," much less make them a major focus of their campaigns.
But when politicians talk about issues that they care deeply about, such as education and economic development -- indeed, when they talk about the future of New York -- they are in fact talking in some ways about science and technology. Science and technology are the forces behind the changes in many areas. They are embedded in most issues that New York faces.
Here are some suggestions for policy priorities in science and technology.
LOCAL ISSUES
Economic Development
In recent years, New York has made a great effort to promote the industries of information technology, with some success, and biotechnology, with much less success. Both are hot industries that should have a natural home in New York.
With all the talk of dot-bombs, high tech and new media companies already make up a $9.2 billion industry in the city with 4,000 firms, many in Silicon Alley in Manhattan, but others are spreading to Brooklyn, where developers are continuing to renovate and wire large commercial spaces to make them attractive to high-tech.
New York, with an astonishing 46 medical schools and 64 hospitals and medical centers, currently ranks second in funding from the National Institutes of Health (NIH) .
The city may need to create tax and other incentive programs, improve the needed infrastructure, and help enact a fuller coordination between government, industry and education to help these industries flourish in New York.
Education
1. Coordination With Higher Education
Positive relations between the public and private sectors help to fuel economic growth, but universities are the lynchpin in creating new knowledge and research. In New York, the critical relationship between government and its universities has suffered in recent years. New York City has more than 40 colleges and universities, especially large research institutions such as Columbia and New York University, that have built a web of partnerships reaching out nationally and globally. Some of the most important research is not applied locally, and so New York does not reap the substantial economic returns. More must be done to build strong relationships between the city, our universities and our industries.
2. Increased Funding In Public Schools
New York City public schools are failing to train adequately in basic science, which is the driver of innovation and therefore should be encouraged at all levels of education from kindergarten through college. A greater focus on math and science will create citizens who are better equipped to work in New York's priority industries, biotechnology and information technology. This will also help citizens understand important policy issues related to science and technology as they develop.
Outreach
Increased public participation will allow us to broaden the dialogue about science and technology and build a society that reflects the input of the citizens and not only that of scientists, engineers and politicians. Instead of science and technology being guided by what it is possible to discover and invent, it will be more important to decide what society wants and then use science to achieve those goals. New York City can begin to get the public involved in policymaking in this area by sponsoring a series of citizens' panels on topics from cloning to privacy on the Internet to driving while using a cellular phone.
Access
Government officials, industry leaders, academics and non-profit groups alike worry that rapid changes in information technology, including the introduction of broadband or high-speed Internet access technology, will exacerbate the digital divide. The divide commonly refers to the lack of access to new technologies for rural and urban poor in this country and around the world. New Yorkers are very concerned about the gap between higher and lower income people in the use of the Internet. According to the Internet Policy Institute poll, well over three quarters of New Yorkers believe that the government should subsidize Internet access for underserved populations.
E-Government
In the next few years, more and more government services will be available online. We will be able to pay our taxes, register for government programs and maybe even vote online. New York is making progress in this area due to efforts by the New York City Department of Information Technology. Its e-government initiatives currently include the testing and demonstration of CityAccess, a kiosk that allows citizens to interact with city agencies and obtain information on a wide range of opportunities, services, and regulations. By expanding this experiment, the next mayoral administration will be able to streamline bureaucracy, create greater efficiency, simplify government services for citizens and set a model for other cities and the world.
What will help achieve all of these goals is appointing an official specifically to oversee science and technology policy in New York, something the city lacks now, though we have deputy mayors and commissioners for many other major areas of importance to the city.
FEDERAL ISSUES
Because so much being decided nationally in science and technology affects what happens in the city, New York politicians should monitor the debate and speak out on issues of importance.
Intellectual Property Laws
Intellectual property refers to ownership of copyrights, patents and trademarks. Legal trends and policies in this area are vitally important to some of New York's priority industries such as media and entertainment, biotechnology and information technology. Strong intellectual property laws are important because they give the private sector the incentive to create new ideas and innovations. However, if laws that protect intellectual property are too strict they will discourage the sharing of knowledge and innovation especially at the university level. This could stifle research and, in the end, negatively impact the success of New York's key industries.
To Tax Or Not To Tax E-Commerce
As with mail-order catalogues, on-line purchases have not been subject to taxation unless the seller has offices in the state where the buyer resides. However, many people feel that Internet businesses have an unfair advantage against main street businesses, in part because they can offer goods tax-free. The government also has lost substantial income due to the rise of e-commerce. Over half of New Yorkers feel that they should not have to pay sales tax for purchases they make over the Internet according to the Internet Policy Institute poll.
Privacy And Security
Consumer privacy has come under fire this year due to media attention over Amazon.com and other companies changing the privacy contracts on their Websites to allow for the sale of their consumer information. In an age when medical and financial information is increasingly stored online, consumers may be taking an unnecessary risk. According to the Internet Policy Institute poll over three quarters of New Yorkers want federal laws to restrict what kinds of personal information can be collected online about them. Many of New York's key businesses thrive on the buying and selling of consumer information.
The security of online transactions is key to New York's financial sector because these companies are moving towards increased electronic transactions from mobile phones, Personal Digital Assistants (PDAs) and computers and people will be unlikely to use these new forms of transactions unless the security of their information can be guaranteed.