Transportation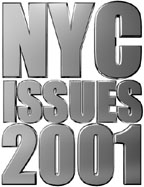 By Bruce Schaller
The foremost transportation issue is whether transportation will surface as an issue in the fall campaign.
Voters seem receptive. After education and public safety, transportation is one of the public's top concerns, according to an August 2000 public opinion survey conducted for the City Council. When politicians meet with constituents, and when New Yorkers gather for focus group researchers, city residents talk about the stress of crowded commutes, jammed sidewalks and congested traffic. These problems are a constant annoyance of daily life.
Rudy Giuliani tended not to focus on transportation issues during his eight years as mayor. But in two ways, his legacy creates a more favorable climate for this year's candidates to raise transportation issues. First, Giuliani heightened public awareness that attacking the "little" everyday irritants can make a big difference to quality of life in the city. Remember the squeegee men?
Second, Giuliani challenged the city to rethink its assumptions. He shattered conventional wisdom that, for example, protected able-bodied welfare recipients from having to work.
Thus, the next mayor will be able to give a fresh look at transportation.
Some of the candidates seem to be ready. Mark Green and Peter Vallone have both focused on subway overcrowding recently, Green calling it the "last great quality of life issue in the city right now."
Only a fraction of transportation is under the mayor's direct control. Therefore, we divide transportation issues into two groups: mayoral issues, and those where he must use the mayor's bully pulpit more than direct orders to get the job done.
Mayoral Issues
Imagining the city
Big box zoning, housing development, new sports stadiums, west side development. These major development issues can be proposed and discussed for a remarkably long time before elected officials focus on how folks would actually get to them. Will the candidates make transportation considerations a key part of their planning, or leave them as an afterthought? Do they envision a city built for transit, or for the automobile? Do their stands on development issues form a coherent whole when set beside their ambitions for transportation and transit development?
City funding for transit
Subways and buses are the backbone of the city's transportation system but the city's financial contributions were severely reduced over the past decade. The new mayor will be hard-pressed to use the mayoral megaphone to ask the state and federal governments for financial assistance unless the city steps up to the plate too. Are the candidates willing to commit increased city funds to the transit system?
Traffic safety and pedestrian improvements
Three hundred and eighty four New Yorkers died in 1999 in traffic crashes, including 186 pedestrians and 27 bicyclists. While Queens Boulevard, one of the city's most dangerous roads, has attracted keen attention in recent months, it is not the only dangerous arterial. How do the candidates feel about tradeoffs between traffic speeds and pedestrian safety? Are they willing to slow the traffic on arterials, widen sidewalks in business districts, erect traffic calming speed bumps and dead-ends on residential streets, to make the city a friendlier and safer place to walk? Or do they feel that commuters zooming to work or play is a more important aspect of quality of life or economic vitality? Can they propose creative solutions that prevent this from being an either/or choice? Do they consider Giuliani's pedestrian fences in Midtown Manhattan a creative solution?
Links: Transportation Alternatives on Herald Square and Times Square pedestrian improvements
Bus lanes
Los Angeles has successfully implemented bus priority lanes on two major thoroughfares. Traffic signals were adjusted to give priority to buses running behind schedule, the spacing between bus stops was increased, and low-floor buses were put on these routes. Bus speeds increased by 26 percent and ridership zoomed 30 percent.
L.A.'s program can't be transplanted directly to the crowded grid system of Manhattan. But the existing bus lanes on the East Side could work vastly better with increased enforcement, physical separation of traffic and other steps. These steps cost money and engender local opposition. Where do the candidates stand?
Value pricing of road capacity
Among the city's most valuable but overlooked assets are its streets, roads and bridges. For the most part, anyone can use these resources either for free or by slipping a few quarters into a meter. Not surprisingly, the streets are congested, the bridges backed up and on-street parking is impossible to find. Citizens and businesses do pay a hefty price -- not to the city, but in time spent unproductively in traffic or looking for parking.
The city sensibly has begun to try to allocate its scarce resources through up-front pricing rather than (barely) hidden search and delay costs. The Department of Transportation has set up a special metering program in Midtown for trucks making deliveries. This is only the beginning of what could be done for commercial and other vehicles. Do candidates think it makes sense to give New Yorkers the option to pay money to save time to use public streets, roads and bridges? Would the candidates aggressively evaluate and refine the truck delivery metering program to ensure its success? Would they apply it elsewhere in the city? Would they crack down on merchants who hog valuable metered parking by feeding the meter all day? And the ultimate tolling issue: do they favor some type of tolls on East River bridges?
Car-free parks
This is another area of tradeoff between leisurely enjoyment and motorist needs. Pedestrian groups have long pushed for Central and Prospect Parks to be car-free, not just on weekends and off-hours, the way they are now, butthroughout the day. Would the candidates support this change? Where do they stand with the tradeoffs among quiet parks, motorist inconvenience and more traffic on streets just outside the parks?
Links: Transportation Alternative campaigns for car-free parks
Oversize trucks
The big rigs present efficiency gains for business but noise and pollution for residents. How do candidates feel about this tradeoff between local and citywide needs?
Franchise buses
While the mayor doesn't control the MTA, he does oversee the seventh-largest local bus operation in the country, the private bus lines that serve much of Queens and portions of the Bronx and Brooklyn. A decade ago the new City Charter set up a process to re-franchise these services. Enmeshed in a complex Charter process and even more Byzantine politics, the decades-old franchises have been repeatedly extended. Meanwhile, service has deteriorated, beset by old buses with a penchant for breakdowns and unable to handle surging ridership. Are the mayoral candidates committed to tackling this difficult and thorny issue?
Commuter vans
Another hot potato stuck in a political quagmire. Mayor Giuliani wanted to license dozens more commuter vans, most for outer-borough services. Spurred by their union supporters, the City Council resisted. In the tradeoff between supporting public transit and their unions vs. private enterprise and commuters anxious for a quicker trip to work, where do the candidates stand? Do commuter vans enhance the transportation system by providing additional and speedier travel options, or detract by draining riders from MTA buses and clogging the streets? With an influx of new Council members, will the next mayor focus on bringing movement to this issue?
Taxi medallions
The number of taxicabs has increased by a mere 400 since the Great Depression. Black cars and neighborhood car services fill the transportation needs left unmet by restrictions on the number of cabs, and now outnumber taxicabs even in Manhattan. Yet these newer services operate less efficiently and present a greater risk to the public for traffic crashes. Would the candidates rationalize taxi policy by expanding the number of medallion taxis?
Links: Declines in taxi service availability
Mayoral Bully Pulpit Issues
State funding of transit and highways
The state has cut back its funding of the Metropolitan Transportation Authority's capital program. The city receives only 23 percent of state highway and bridge funding. Would the candidates allocate a portion of their limited influence in Albany on behalf of transportation needs?
Transit service configuration
Giuliani showed how powerful a mayor can be when focused on the daily operations of nominally independent entities such as the Board of Education. Will the new mayor use his platform to put transit changes under the public microscope? When the MTA dusts off a 10-year-old subway service plan that reduces G train service, and critics charge that changing neighborhoods like Williamsburg and Greenpoint will be shortchanged, where do the candidates stand? Will improved commuter rail service in Queens and the Bronx be on the next mayor's agenda?
Links: Straphangers Campaign to Save the G
Big MTA projects
Giuliani made sure that the MTA's next capital program included funding for a rail link to LaGuardia and pushed plans to extend the 7 line to the Javits Center. What are the candidates' priorities for the big MTA capital projects? Where does a Second Avenue subway rank in relationship to a rail to LaGuardia, linking the Long Island Rail Road to Grand Central Terminal and West Side extensions? How do these priorities support candidates' land use and economic development positions?
Links: MTA Capital Program; MTA East Side Access Project; Regional Plan Association's MetroLink proposals
Cross-harbor tunnel
The Giuliani Administration commissioned a large study to determine the costs and feasibility of building a freight tunnel across the New York harbor and recently hired consultants to compile an environmental impact statement. The cost: $2.3 billion over 6-8 years. A tunnel would relieve ever-growing truck traffic congestion and reduce diesel emissions. Critics fault the proposal as a futile and costly attempt to turn the clock back to railroads, and point to lack of rail freight infrastructure on the Brooklyn waterfront. Observers believe that the Port Authority is the logical agency to fund and build the tunnel. Would the next mayor pursue this ambitious construction project?
Other Port Authority projects
The other big pot of money is held by the Port Authority. How do the candidates think the Port should spend its capital money? Do they think the city is shortchanged in that process? Do they favor building such long-stalled projects as the Goethals twin bridge between Staten Island and New Jersey? What are their views on port development along the Brooklyn waterfront? Do they see airport investments, including upgrading of disgracefully inadequate freight facilities, or a one-seat ride to JFK, as a priority?