NYC Issues 2001: Waterfront
Sea Change on the Waterfront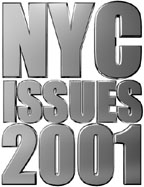 By Peter Fleischer
The nation's history unfolded on New York's waterfront, but its glory is not just in the past. New York City remains the nation's most important port, home to surfers, striped bass, harbor herons, kayaks, garbage scows, yachts and the Queen Elizabeth II. And in many neighborhoods in New York, the waterfront is now home to the community's dreams. And dreams for the future are something that no public official should take lightly.
THE PORT
New York exists as a city because of its harbor. For centuries, shipping, trade and finance have placed New York among the world's great cities. Today, hundreds of thousands of jobs in three states are directly linked to the port. Urban diversity is enhanced by the variety of goods readily imported to this cosmopolitan market. Goods are less expensive because they come here rather than being transshipped from another port. Preserving the viability and relevance of the port must remain high on the agenda of the next mayor as well as the City Council.
There are three key issues -- dredging, the rail harbor tunnel and relations with the Port Authority.
Dredging
The silting up of a waterway is a natural process that requires human intervention if navigation is to continue. In recent years, dredging has become problematic in this harbor because of interstate rivalries, toxic substances embedded in the muck, and the lack of adequate, safe facilities in which to place the dredged materials. Competing harbors from Canada to Virginia see opportunity in New York's paralysis. Among the ideas under consideration, though there are community concerns as well as scientific and technical issues still to be addressed, is a "capped" facility amidst the derelict piers of the Brooklyn Army Terminal.
Harbor Tunnel
Though Mayor Rudy Giuliani's best-known construction projects have to deal with real or imagined stadiums, his most far-reaching proposal is the construction of a tunnel to move rail freight under the harbor from New Jersey or Staten Island to Brooklyn. This idea, whose two billion dollar cost might largely be paid by private sources, would save New Yorkers money and time in several ways. Most importantly, it would result in a substantial decrease in heavy trucks on critical roadways. This would be a boon to travel times and help delay roadway deterioration. With more goods being moved by rail, the cost of goods region-wide might decrease since shipping by truck would cease to be a virtual monopoly. A rail tunnel would also serve to increase the port's capacity and flexibility.
Port Authority
Mayor Giuliani's war with the Port Authority of New York and New Jersey continues. And it is good that it does. The Port Authority has historically favored New Jersey. Does the Port Authority matter to New York City? Absolutely. It has a substantial capital budget that can be used to advance needed projects throughout the region. It currently controls the port, the three airports, key bridges and tunnels, key ferry routes and real estate. Jobs, prestige, and economic development are at stake.
Unfortunately, New York's mayor and City Council have no direct say in the Port Authority's affairs. Its board is controlled 50-50 by the governors of the two states. The next mayor would be wise to seek a greater hand in the Port Authority's activities, first by working with New York's governor and second by reaching an accommodation with New Jersey's new leadership.
ENVIRONMENTAL QUALITY
In 1970, the Clean Water Act mandated that localities treat their effluent before releasing it into nearby rivers, bays and estuaries. Consequently, over a thirty-year period, the water in New York harbor has gone from dirty and dangerous to cleaner and, in some spots, swimmable. That improvement, (measurable in scientific terms like transparency, dissolved oxygen, and coliform levels) has allowed for a resurgent environment. Fish of numerous species have made comebacks. Striped bass, shad and blue crabs proliferate. Egrets, heron, peregrine falcon, and osprey soar once again above New York's waters because the fish, their prey, are back.
This ecosystem improvement, coupled with reduction in industrial pollution, has opened much of the waterfront to more natural uses. Nevertheless, in a heavily used and dense city, the waterfront continues to be at risk. In Jamaica Bay, residents and the bay itself face the twin threats of severe and unprecedented salt marsh loss and the prospect of mud dumping by the Army Corps of Engineers into the Bay's deep channels. Jamaica Bay's highly productive marshes now provide refuge for hundreds of species of birds and numerous varieties of fish. Marsh, once lost, is extremely hard and expensive to restore. The marshes that exist today are a small portion of what once existed in the New York area.
Preserving water quality, saving marshes, wetlands and coastal open space are critical components of the city's quality-of-life. Giuliani's quality-of-life drive made the streets of the city safer. The next mayor must focus on the waters that surround the city's streets.
ACCESS AND RECREATION
Thanks to the cleaner water, the waterways have seen a resurgence in waterborne tourism and recreation. Surfers, kayakers, fishermen, and jet-skiers can today be found along the shores of all five-boroughs. There is a vast army of citizens who recreate on and near the waters.
Neighborhood groups are retaking their waterfronts, revitalizing them and using them to access the water. Community groups in the South Bronx have joined forces to clean up the legendarily destitute Bronx River. Today, local teenagers learn to canoe on the meandering stream that is the Bronx River -- a scenic route that can easily be confused for an Adirondack or Berkshire watercourse.
On the Hudson River, several boathouses have been established. Scores of volunteers at the Downtown Boathouse have provided over 20,000 free kayak trips in the last three years. Floating the Apple teaches students boat-building skills and rowing techniques. Its growing fleet of historic recreation vessels can be seen throughout the harbor. The EcoWatchers, operating out of Broad Channel, Queens track and map the loss of salt marsh and advocate for their protection.
These groups are but a few of the hundreds of organizations around the five boroughs who have invested their time, money and hopes in some piece of the waterfront. They represent tens of thousands of New Yorkers who want their politicians to care and do something about waterfront issues.
Of all access issues associated with the waterfront, the most fundamental is knowing how to swim. As evidenced by New York City's perennial lifeguard shortage, it is clear that too few New York City youth learn to swim. This poses a three-edged problem. First, youths that do not swim are limited in regard to other water-related activities. Second, these youths will become adults that are unable to teach their children to swim. Third, if too few swimmers mean too few lifeguards than there will be too many days on which city beaches are closed and too many beaches closed on days that call for being in the water.
Knowing how to swim should be viewed as a right not a luxury. The city's elected officials, leaders of the world's most important maritime metropolis, should dive in headfirst on this one.
HISTORY AND CULTURE
New York's harbor and waterfront abound with historic and culturally significant locales. New York is awash in waterfront points of renown, from sites frequented by Native Americans to forts built in all boroughs in every century to the South Street Seaport, Fulton Landing, Sailor's Snug Harbor, Conference House, Pelham Bay Park, City Island and the Little Red Lighthouse.
Many of these coastal locations, particularly the fortifications, have been neglected and because of their out of the way sites, they lack the recognition of a Central Park or the World Trade Center. Still, New York history was forged at these places and in some cases national and international history was created. The gems of the periphery deserve some of the cultural support that goes to the well-known stars in Manhattan.
Teaching about New York's waterways should also be a priority. While the history of forts may, even in a given borough, be off the agenda of many school districts, the importance of water and waterways to the city's past, present and future should find a home in the curriculum. Understanding the waterfront goes a long way toward understanding transportation, economic development, environment as well as history.
Do you know if your district is "on the waterfront"?
TRANSPORTATION
For New York's first two hundred years, the waterways were the primary means of travel from point to point around the city. For the next hundred years, ferries played a pivotal role by connecting Manhattan Island, Long Island (including Brooklyn and Queens) and Staten Island to each other as well as to the Bronx and New Jersey and the rest of America. For the last few generations, the waterways were largely forgotten as bridges, tunnels and interstate highways predominated.
In recent years, however, the city's waterways have been noticed and utilized as congestion-free transportation corridors. Starting in the mid-1980s, private ferry routes, encouraged by new city policies, began to link New Jersey to lower Manhattan. Today, these routes move thirty thousand people per day in addition to the sixty thousand daily riders of the city-run Staten Island Ferry.
Other new ferry services include routes to Yankee Stadium, LaGuardia Airport, Brooklyn Army Terminal as well as a tourist run up the Hudson River. The Giuliani Administration has strongly supported ferry development efforts. The next administration would also benefit by continuing this policy.
New ferry routes throughout the harbor are regularly being proposed. One such proposal is the Harbor Loop concept from the Metropolitan Waterfront Alliance. This ferry route would stop at key waterfront locales in lower-Manhattan, Brooklyn, Governors Island, Staten Island and New Jersey. It would link historic, cultural and economically significant sites to transit stops as well as to the existing ferry lines. This loop has the potential to be a catalyzing force on the growth of the little used, formerly industrial, parts of the harbor at the same time that it brings commuters and tourists to some of the harbor's most famous and beautiful sites.
New York City presently underwrites many private transportation services. This innovative public/private partnership may need some amount of subsidy to sail forward. Elected officials would do well to consider this tri-borough, bi-state, transportation service as an investment in the city's future and therefore in their own.