Learn About
Your District
Click on the pull-down menu and select your district
Archives
Recent Feature Stories:
The Nod of the Bosses... Scramble for the City Council... Basic Training for Council Recruits... How They Stack up on Term Limit... Dynasties... The Speech that Saved Term Limits...

What is Searchlight on Campaign 2001?
Searchlight on Campaign 2001 is a guide to the political races in what many are calling New York City's most significant campaign season in modern history.
What is so significant about it?
For the first time in memory, most political offices in the city will be wide open to people who have neither money nor connections.
Why will the races be so open?
There are two reasons. This year, a new law goes into effect that limits the terms of New York City elected officials, forcing the mass retirement of most incumbents in the city - including the mayor, the comptroller, the public advocate, four of the five borough presidents, and 36 of the 51 members of the City Council. At the same time, a new campaign finance law kicks in, which allows any candidate who agrees to certain restrictions to collect four dollars of matching funds for every dollar they raise.
What does this have to do with this site?
As a public service, Searchlight on Campaign 2001 has a separate page for each race, including all the races for City Council, that not only sorts out the candidates -- many of them new and unfamiliar -- but also offers an opportunity to learn about the issues, and the districts themselves.
Who is behind Searchlight on Campaign 2001?
Searchlight on Campaign 2001 is a project of Gotham Gazette, a non-profit, non-partisan, non-ideological (but non-boring) web site about New York City news, policy and politics published by Citizens Union Foundation, part of the oldest and largest good-government group in the city (founded in 1897).
What's wrong with the way the regular press covers the races?
That is for you to decide. And one of our regular features, Campaign Trail, helps you to decide. Campaign Trail provides succinct summaries and links to campaign articles in the commercial press.
Who are we?
Masthead
"City in Transition: NYC Issues 2001" is a series of seminars developed by the New York University Center for Excellence in New York City Governance, Coro Eastern Center and Citizens Union Foundation (publisher of Gotham Gazette). They are being offered for free to candidates and their staff. For the seminars, experts, mostly academics from New York University, have been asked to explain the key issues facing New York City, and the options available to these candidates to solve the problems. We are posting these "options papers" on our site as they become available. In addition, the contributors of Gotham Gazette will offer our own overviews of the issues, geared more to the public.
Economic Development Option Paper: Forging a New Strategy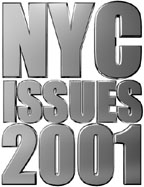 By D. Kenneth Patton
This paper recognizes the remarkable growth in New York City's economy during the last half of the 1990's, but argues that during these prosperous years, many opportunities have been missed to prepare the city's economic base for further growth. These include:
adequately exploring options for growth in available areas of the Manhattan Central Business District
extending development to other geographic areas of the city;
streamlining the processes for development
encouraging the growth of additional capacity in housing and transportation
improving conditions for such additional industry sectors as biotechnology.
BACKGROUND: NEW YORK CITY'S ECONOMY IN EARLY 2001
New York City's economy grew rapidly during the last half of the 1990's, following the severe recession of 1989 to 1992 and the slow recovery years of 1993 to 1995. By the end of the year 2000, over 400,000 jobs had been created, surpassing the number of jobs lost during the recession, and surpassing the rate of job growth in the United States.
In addition, income growth has been particularly robust, particularly in the city's finance industry and advanced business services, which together have accounted for over half of all growth in income during the 1990's boom. By 2000, the average wage in the securities industry was approaching $200,000, compared to an average wage in all other city industries of $48,000. This surge in wages and bonuses has boosted growth throughout the tri-state metropolitan region via the expenditures of commuters' incomes, and has yielded record surpluses for the budgets of the city, of New York State, and also of the neighboring states of New Jersey and Connecticut.
In response to the city's economic resurgence, population growth has been substantial during the decade, much of it due to immigration, so that for the first time the city now has more than eight million people, according to the official 2000 Census.
New York City's growth has resulted in a range of challenges. A strong demand for office space led to low vacancy rates and rapidly rising rents, stimulating a new wave of office construction. Housing construction, while improved over the low levels of the early 1990's, was still inadequate to meet the demand of a rapidly growing population and job market, resulting in an extremely tight and expensive housing market. There were once again competitive pressures from areas outside the city, and several major corporations based in New York City announced new construction projects along the Hudson waterfront in northern New Jersey.
The city's strong economic growth in the 1990's has largely been a result of major forces in the national and international economy, particularly as this has contributed to the resurgence of the city's financial and business services industries, as well as its growth in the arts, culture, media and communications, and tourism. Other than the successful targeting of crime reduction and related ⤗quality of life' measures, and the use of substantial tax abatements as a retention tool, this growth can not be attributed to any explicit or coherent economic development strategy undertaken by the city government.
Clearly, what the city needed by 2000 was more housing and more office space, less crowded transportation, and better city services, as well as basic infrastructure to support its revitalizing residential communities.
Even with the current concerns over an economic slowdown, these are still what the city needs.
NYC'S CURRENT APPROACH TO ECONOMIC DEVELOPMENT
New York City's current economic development program is focused around the following major components:
Reducing property taxes
Reducing taxes, or using tax credits, to offset high energy costs (Alternately, major companies can be offered electrical power at lower cost from the New York Power Authority)
Lending or granting some of the city's capital funds for improvements in infrastructure
Using tax-exempt bonds, issued either by the city or by one of its authorized agencies.
These tools and programs, as well as changes in zoning and use of marketing campaigns, were aggressively used during the 1980's to spur relocations of companies, including manufacturing firms, to the four boroughs other than Manhattan.
Two deputy mayors work on economic development -- the deputy mayor for economic development and planning, and the deputy mayor for community development and business services. There is also the non-profit Economic Development Corporation, which also administers the city's Industrial Development Agency tax exemption and business financing programs, the city's food and marine terminals, and the planning, development and management of waterfront properties.
In addition to the city's programs, there are economic development programs of New York State's Empire State Development Corporation and the Port Authority of New York and New Jersey; and a wide range of private, non-profit and quasi-governmental entities engaged in economic development activities or commercial development, including local development corporations (LDCs), community development corporations (CDCs), business improvement districts (BIDs), and foundation-sponsored programs such as LISC.
FOCUS OF ECONOMIC DEVELOPMENT STRATEGY DURING THE 1990'S
During the 1990's, the tax reduction program was a major feature of the city's economic development program. What was reduced included a wide range of city taxes. The most important one to be eliminated was the 12.5 percent extra income tax that New Yorkers had had to pay to beef up the police under the Dinkins Administration's Safe Street/Safe City program. Also eliminated, outside of the Manhattan Central Business District, was the commercial rent tax. The city's share of the hotel tax was reduced. By Fiscal Year 2001, the cumulative value of these and other tax reductions was $2.5 billion. If the entire next round of the mayor's recently proposed tax reductions were to be enacted, total tax reductions would amount to almost $4.5 billion by Fiscal Year 2004.
However, the most evident tool used for economic development during the 1990s has been the retention program, where substantial tax relief or grants have been given to major corporations as inducement for staying in the city, primarily in the Manhattan Central Business District. The cumulative value of this retention program is estimated at well over one billion dollars during the past eight years. While New York City is not alone in its practice of using significant grants and tax exemptions to woo or retain business (both New Jersey and Connecticut have used similar programs to attract city-based businesses), it is notable that concessions were frequently made to industries that were growing rapidly during the 1990s, and that clearly considered the city a vital location.
NEW YORK CITY'S CAPITAL BUDGET FOR ECONOMIC DEVELOPMENT
The city's total capital budget showed almost no growth during the 1990's, remaining around the level of $4 billion. It is significant that in the Mayor's latest proposal, this total would increase to $7 billion in 2002, 2003 and 2004, with heavy emphasis on school construction, wastewater and filtration systems, the transit and bus system, and bridge repair.
The city's capital budget commitments specifically for economic development have been moderate at best during the 1990's, totaling $270 million for the four fiscal years of 1997 to 2000. The mayor's proposal for FY2001 to 2004 projects a substantial increase, to a total of $1.4 billion, of which $570 million is proposed for investments in cultural facilities. During his State of the City address in early January of 2001, the Mayor also highlighted proposed increases in capital for specific projects in the boroughs, such as his $70 million commitment to the Brooklyn Bridge Park, and $10 million assistance for the BAM district redevelopment project.
NEW YORK CITY NEEDS A NEW VISION, NEW STRATEGIES, AND A NEW ORGANIZATION FOR ECONOMIC DEVELOPMENT
Needed: A New Vision of Future Economic Potential
In this first decade of the 21st Century, New York City needs to engage its citizens in a discussion of the city's future potential and future needs: How much population and economic growth is wanted? How is the city to mobilize resources to provide the capacity for renewal of its neighborhoods, for transportation, and for further growth?
A major focus of the city's economic development strategy should be the formulation of policies and programs to implement this vision of expanded growth and renewal.
Needed: New Strategies to Achieve Future Economic Potential
There needs to be a major change in the focus, away from retention grants and tax abatement, and towards marshalling the city's budget, tax policies, economic development programs and capital investment to spur that new vision of future development:
Formulation and Advocacy of Economic Policy: Increased attention needs to be paid to sound economic analysis of the city's economy, over and above the needs for budget preparation. Such analysis would form the basis for sound policy formulation, and for sound planning for tax policy, infrastructure needs and capital budget. What might help is the establishment of an office of a Chief Economist.
Changing the Process of Economic Development: substantial changes need to be made to facilitate development in the city. These changes could include:

improving the supply of available land, by rezoning, cleaning up brownfield sites, and acquiring more land, using the equivalent of earlier urban renewal powers if needed;
more aggressive leadership in expediting projects through the Uniform Land Use Review Process, community board review, and environmental regulatory process;
establishing a more streamlined process or, the ⤗one-stop shopping' approach to delivering services to the city's businesses.

Capital Investment to Spur Economic Development: more effectively direct the city's capital budget towards:

expanded capital investment for land preparation and assemblage;
provision of needed infrastructure to support new housing, offices, waterfront development, and to establish key business districts outside of the Manhattan Central Business District.

Vastly Improve City's Infrastructure and Add New Capacity: in this decade, there is the need to move beyond current efforts of bringing systems back to 'state of good repair', to add capacity in:

transportation, with both new subway lines, extension of existing lines, new concepts in adding capacity in neighborhoods such as trolleys, small jitney buses, new ferry systems to serve waterfront development;
housing, both private and public, to accommodate recent growth and unmet demand, and to support future growth in population and employment.
electricity, where need for additional power is imperative during next five years, with additional generating facilities, transmission lines and natural gas pipeline capacity;

Target Development Strategies to Broaden the Geography of Development, and to Spur New Development Districts:

New York City's economic development efforts need to be extended away from the Manhattan Central Business District (CBD) to revitalize communities in upper Manhattan and in the four boroughs. Attention needs to be paid to supporting residential neighborhoods with improved protective, environmental, and park and recreational services, and infrastructure investment to support emerging commercial districts.
New development districts should be encouraged, similar to the success of Metrotech in Brooklyn, to encourage alternative office, hotel and other commercial facilities as well as new residential development. These districts could be located in northern Manhattan, e.g. in Washington Heights or Harlem; and in the other four boroughs in such potentially important new downtown districts as Downtown Brooklyn and Long Island City; but also in Downtown Jamaica, Flatbush, St. George ferry terminal area, Flushing, Astoria, or Fordham Road.

Target New York City's Capital Investment Program to Support its Major Industry Sectors:

these sectors could include the arts, higher education, graphic design, hospital and health-related research, biotechnology, or the film and entertainment industries.
For example, the arts are not only a major cultural resource for New Yorkers, but also a powerful attraction for tourists and business visitors and for new residents to the city, and constitute a $12 billion industry in the city's economy.
Needed: A New Organizational Structure for Economic Development in New York City

New York City is in need of a major reorganization in its economic development mechanisms, to more closely align the making of policy, programs and decisions within the mayoral offices, and the departments charged with implementation.
All policy, program, project development, business services and community development efforts need to be consolidated into the office of one Deputy Mayor for Economic Development, who is directly and solely the agent of the mayor. This would include reconstituting a number of functions previous in government which were devolved to the Economic Development Corporation, but are more appropriately the province of city government and accountable directly to the mayor.
Consideration should be given to encompassing the responsibilities of City Planning, the Mayor's Office for Film, Theatre and Broadcasting, and coordinating the efforts of housing development, energy, telecommunications, technology, or labor training within the purview of the Deputy Mayor for Economic Development, to better and more efficiently align these functions with the policy and program goals of the mayor,
The Deputy Mayor for Economic Development would serve as the mayor's key coordinator with major agencies such as New York State Empire State Development Corporation; the Metropolitan Transportation Authority and the New York City Transit Authority; the Port Authority of New York and New Jersey; and the federal departments of Commerce, Housing and Urban Development, and Transportation.
Improve co-ordination with the economic development efforts of major non-profit groups.
Kenneth Patton is Associate Dean of the Real Estate Institute at New York University
What is this?
Gotham Gazette's Searchlight on Campaign 2001 offers a comprehensive look at what is being called New York City's most significant campaign season in modern history. (See the left-hand column for an explanation).
Districts of the Week
District 1 -- Lower Manhattan
Whoever wins the election in district 1 will represent immigrant Chinese garment workers, as well as Wall Street traders living in Battery Park City. There are several candidates hoping to be the council's firsts -- the first Asian-American man, the first Asian-American woman, the first gay Rhodes Scholar, the first dot-com guru -- running against some politically well connected opponents. Endorsements and fundraising will play a big role in this race. But voter turnout could be the main determinant of who will next represent district 1 on the council. The key question is how many voters from each community will come out on Election Day.
District 7 -- Washington Heights, Manhattan
The northern tip of Manhattan has become one of the most popular places for new immigrants to call home. The northern tip of Manhattan is a place that today's new immigrants call home. The majority have come from the Dominican Republic, but also from countries in South America, Eastern Europe, and Asia. But it is not just new immigrants that are moving in. Students, artists, and other Manhattanites looking for less expensive rents and larger apartments have also moved north. Ten Democratic candidates are competing for the 15,000 voters expected on primary day. The winner who emerges from a crowded field of candidates will have to balance the needs of the newcomers with those who have lived there for years.
District 16 -- Highbridge, Bronx
The neighborhoods of district 16 are the city's poorest, with the highest rate of unemployment and the lowest median household income. But those who live there also point out that much is positive and stable about the area, thanks in large part to local organizations, not-for-profit agencies, and houses of worship that help hold the neighborhoods together. Each candidate for City Council believes that through his or her connections to churches and local organizations, they can help empower the community toward a better life. Helen Foster, the current council member daughter, will face Michael Benjamin, who has worked as an aide to several government officials and Anthony Curry, a Bronx neighborhood activist.
District 20 -- Northeast Flushing, Queens
This year district 20 may elect the first Asian-American ever to the City Council to an area which now has the second highest number of immigrants from Korea and Taiwan in the city. There are three Asian candidates in the Democratic race who have each drawn big endorsements. Council Speaker Peter Vallone endorsed Terence Park, City Comptroller Alan Hevesi endorsed John Liu, and the New York Times recently endorsed Ethel Chen The campaign has also drawn national and international press coverage
District 25 -- Jackson Heights, Queens
Thirty-seventh Avenue in Jackson Heights, Queens is one of the most diverse streets in the world. Little India quickly blends into Little Colombia, with vendors selling Latin American food to Colombians, Peruvians, Ecuadorians, Mexicans, and Uruguayans. And each summer, the Queens Pride Parade fills the same street with rainbow banners. So it is no surprise that this election year the district produced a diverse field of candidates. A number of them, however, found out that getting on the ballot is not an easy task, especially when the Queens Democratic organization sends teams of lawyers to challenge petitions. But five Democratic candidates survived and will face off on September 11.
District 31 -- South East Queens
When a heavy rain hits southeast Queens, many residents in neighborhoods like Springfield Gardens, Laurelton and Rosedale head to the basement with a bucket in hand. And it has been that way for the last 50 years. In the rush to build housing in the area after World War II, developers overlooked the need for storm drains in hopes that the city would eventually build a city-wide sewer system. The plan never materialized and the area has experienced "100-year rains" three times in the last decade. The eight Democrats -- all with little experience overseeing massive infrastructure projects--will try to convince voters that they can finally solve the flooding problems.
District 35 -- Central Brooklyn
The residents in council district 35 have some of the highest incomes in Brooklyn and some of the lowest. They can play in a famous park and a beautiful botanical garden, and live in the city's most crumbling public housing. They can attend one of the four institutions of higher learning in the district, and the worst-scoring high schools in the city. Such juxtapositions are a way of life for a district that includes the Brooklyn Academy of Music, the Brooklyn Museum, and the Brooklyn Botanical Gardens; mid dle-class African-American communities near Prospect Park; immigrant communities from Haiti, Sierra Leon, Nigeria, and Trinidad, and in Crown Heights, a mix of Hasidic Jews and African-Americans. Seven Democratic candidates are campaigning in hopes that they can bring some kind of unity, and attention, to the area. Their backgrounds are as diverse as the neighborhoods themselves.
District 39 -- Park Slope/Carroll Gardens, Brooklyn
The candidates in district 39 include a chief of staff for an Assemblywoman, the husband of a member of U.S. Congress, a lawyer for the Legal Aid Society, an attorney and president of the Central Brooklyn Independent Democrats, Senator Hillary Clinton's campaign manager, the district manager of Community Board 6, and a labor organizer. This is the race to watch this year. The group of high-profile Democrats have raised a lot of money, almost $1.4 million combined.
District 45 -- East Flatbush
In no place in the city are the effects of campaign finance reform and term limits being felt more than in East Flatbush. The seven Democratic candidates seeking to represent this largely West Indian district come from a number of Caribbean nations. Many have been working on politicians' staffs and serving with community groups, clearly hoping someday to win their own elected office. Term limits has presented them with that opportunity, and they want to make the most of it. But this race that usually draws only about 8,000 voters could be decided by just a few votes. The candidates are attempting to come up with anything that will separate them from the pack.
District 49 -- North Shore, Staten Island
Staten Island has always been somewhat of a suburban stepchild to New York City. When a 1998 survey asked New Yorkers why they go to Staten Island, the top two responses were ''visiting friends and relatives" and ''passing through.'' But in many ways, the north shore has more in common with areas of Manhattan and Brooklyn than with the rest of the Staten Island. The top priority for all the candidates -- Jon Del Giorno, an administrative manager for the Board of Elections, Mike McMahon, an attorney and counsel to current Councilmember Jerome O'Donovan, and Debi Rose, an administrator at the College of Staten Island and the first African-American candidate in Staten Island politics -- is to make sure that the island becomes more than just a turn-around-point for the over one million tourists who ride the free ferry from Manhattan each year.
Abbreviations for Party Affiliation
American Dream Party (AMD)
Better Schools Party (BES)
Communist (Com)
Conservative (Con)
Constitution (CST)
Democratic (Dem)
Friends United Party (FUN)
Fusion Party (FUS)
Green (Gre)
Harmony Party (HAR)
Independence (Ind)
Liberal (Lib)
Libertarian (LBT)
Marijuana Reform Party (POT)
Natural Law Party (NLP)
Party of Ethics and Traditions (PET)
Reform Party (Ref)
Republican (Rep)
Right to Life (RTL)
School Choice Party (Sch)
Socialist Workers Party (SWP)
Working Families (Wor)
2001 Election Calendar
June 1 -- Deadline for candidates to join the Campaign Finance program, qualifying for the four-to-one match of contributions.
June 5 - First day for candidates from the eight major parties (Democratic, Republican, Indpendence, Conservative, Liberal, Green, Working Families, and Right to Life) to circulate petitions. Candidates running for City Council must collect the signatures of at least 900 people living in the district for which they are running in order to appear on the Primary ballot. Candidates not running under these eight major parties do not appear on the Primary ballot and have a separate set of deadlines.
July 12 - Deadline for major party candidates to file petitions.
July 10 - First day for unaffiliated candidates to circulate petitions, in order to appear on the ballot in the General Election. They must collect the number of signatures equal to five percent of the total enrolled in that party.
August 7 - Board of Elections announces candidates appearing on the Primary ballot.
August 17 - Last day for non-absentee voters to register to vote in the Primary Election.
August 21 - Deadline for non-major party candidates to file petitions to be included on the General Election ballot.
September 4 - Last day to postmark application for absentee voting in the Primary
September 10 - Last day to personally deliver application for absentee voting in the Primary Last day to postmark absentee ballot for Primary
September 11 - Primary election; Polls open at 6:00a.m. and close at 9:00p.m.; Absentee ballots must be hand-delivered by 9:00 p.m.
September 25 - Runoff Primary election for Mayor, Comptroller and Public Advocate, if needed
October 12 - Last day to for non-absentee voters to register to vote in the General Election
October 30 - Last day to postmark application for absentee voting in the General Election
November 5 - Last day to hand-deliver an application for absentee voting, or to postmark an absentee ballot for the General Election.
November 6 - General Election; polls open at 6:00a.m. and close at 9:00p.m. in NYC; Absentee ballots must be hand-delivered by 9:00 p.m.