By David Schwartz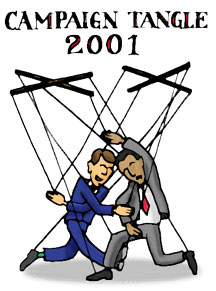 "Confusion," Board of Elections Commissioner Nancy Mottola-Schacher was saying emphatically at the weekly board meeting, exactly three weeks before the September 11th primary. "It was to avoid confusion. That was the main thrust. Confusion."
She happened to be debating a ruling over the scramble by both mayoral candidates Alan Hevesi and Michael Bloomberg to create a new party with the name "Education" in it. But she might as well have been talking about all of Campaign 2001 so far.
The Board of Elections cannot tell you the number of candidates who have made it onto the ballot, having survived the legal challenges by their opponents, lack of funds, and court fights. "Go to the Web site and you can count them," said a spokeswoman. But the Web site was down for six days.
The Board of Elections also could not determine whether a certain candidate was still on the ballot or not, and or even whether another one was alive or, as rumored, dead.
Still, with time running out before the primary, the ballot is taking shape, even if the Board of Elections does not seem to be. Out of a total of 340 candidates, about 60 -- as of this moment -- have been knocked completely out of contention. Another 30 were bumped off of one party line, but remain on the ballot because they are on another party line (such as Liberal or Conservative or Working Families.)
This is not a final number. Candidates are still fighting in court to get back on the ballot; some have actually won. The challenges, counter-challenges, and legal fighting can go on up, according to the Board of Elections, until the day before the primary.
Perhaps in New York this is all normal. But that does not make it any less bizarre. This is the place, for example, for Campaign Tangle to issue a correction: Heyward Dotson is not dead -- we think. He was declared dead -- literally, complete with eulogies -- but now the Board of Elections has put him back on the ballot.
NOT AS DEAD AS EVERYONE THOUGHT
Candidate Victor Bernace was at the Board of Elections when the board kicked one of his opponents in district seven, Heyward Dotson, off the ballot. "He seemed very devastated, very depressed," Bernace recalls. "He said to me, 'I have to disappear, I can't show my face around the neighborhood for a week or so. I'm so embarrassed.'"
The next day, at a candidate forum in Harlem, Eddie Caldwell stood up and identified himself as Heyward Dotson's campaign manager. Caldwell told the audience that, the night before, shortly after the Board of Elections kicked him off the ballot, Dotson had died.
The other candidates were shocked. There was a moment of silence in remembrance of Dotson, who had a history of heart problems. The candidates each said a brief eulogy for him. And later, candidates left messages at his house offering condolences. Others sent flowers to his apartment.
There is a good chance Dotson appreciated the sentiments. Apparently, he is alive. He has been seen in a Manhattan courtroom trying to overturn a Board of Elections ruling kicking him off. And the Board of Elections has declared him both alive AND back on the ballot.
"Someone played a real nasty joke," District 7 candidate Jackie Rowe-Adams said. "We were really concerned for him."
But, Dotson is still an elusive man. He has not answered his phone for the past week, has not returned nearly two dozen messages left at his number, or a message left with his brother. When one reporter went to court to find him, Dotson was "Out to lunch," said a court officer. We waited. He never returned.
After a few calls to Dotson's number, someone answers the phone. "Mr. Dotson is indeed alive, and he had nothing to do with the rumors," said John Harrell, who said he was Dotson's brother and the real campaign manager. "The rumors haven't stopped him from campaigning vigorously," Harrell said.
Harrell said Dotson had nothing to do with the rumors.
So who was Caldwell, the mystery man that announced Dotson's death? "He was just a campaign worker. We've been trying to get in touch with him, but haven't been able to," Harrell said. Caldwell lives at a homeless shelter, and was thus, he said, hard to get in touch with. Then again, so is Dotson.
OFF AND ON
Carol Howell has a different problem. Nobody thinks she is dead. But they do think she is no longer a candidate. Howell had fought hard to get on the ballot in the district 31 City Council race. She had been kicked off by the Board of Elections after the Queens Democratic organization challenged her cover sheet and page numbers. On August 3rd, she went to court with a fixed-up cover sheet and new page numbers, and the Queens Democratic organization lawyer, Frank Bolz decided not to challenge her. "He told me, 'Congratulations, you're on the ballot.'" Howell asked for written confirmation, but was told she did not need it. "I thought it was done," Howell said.
More than 10 days later, though, the Board of Elections was still telling people that she was off the ballot.
"This is ridiculous. [The Board of Elections] expects you to be perfect and have everything exactly right, but when it comes to them reporting the truth or an accurate statement, I haven't found that to be true," Howell said.
After supporters, opponents, and reporters from Gotham Gazette, Daily News, and Newsday told her that the Board of Elections was telling everybody she was off the ballot, Howell called herself.
She asked if she was on the ballot; they said no. She said she was the candidate, and was on the ballot. She was transferred to another official, and, eventually, she finally got the confirmation she was looking for. Yes, the official declared, she was indeed back on the ballot.
This is not the end of it, though.
"If you press, you get the right answer," Howell advised Campaign Tangle. "Otherwise, they'll tell you I'm off the ballot."
Campaign Tangle tried it, and when we asked if Carol Howell of District 31 was on the ballot, got a "no". When we identified ourself, we were transferred to director of communications and public affairs, Naomi Bernstein.
"I think she's off, but someone said she was back on," Bernstein said. When told that Howell had indeed won her court case, Bernstein replied, "We don't know that until we get notification from the court." Pressed again, she put the us on hold. A few minutes later, she said, "She's back on the ballot. She was put back on by our board," she said.
So why, twelve days later was there still confusion over whether she was on the ballot? "I don't know why we were telling her that," Bernstein said.
"This has definitely hurt my campaign. People thought I was off the ballot, and that I'm a liar. How do you build a campaign like that?" Howell said.
THE NAME GAME
Last week, the Board ruled neither Alan Hevesi or Michael Bloomberg could use the word "Education" in new parties they are forming; otherwise voters would get confused.
Alan Hevesi changed the name from "Education Party" to "Better Schools" party. At the regular weekly board meeting, Bloomberg's campaign argued that since Hevesi changed the party name, Bloomberg could use his original name, "Education First."
"The parties have resolved it," said Lawrence Mandelker, a lawyer for Bloomberg. But when one board member asked him if Hevesi's campaign was ever notified about this, the attorney avoided answering.
Board of Elections Commissioner Nancy Mottola-Schacher, who is a Republican, was all for letting Bloomberg have the name.
"Unless the Hevesi campaign waives Education Party as their first choice of names ... I can't see how you can fairly use 'Education First'," replied Commissioner Douglas Kellner, a Democrat.
The four Democratically-appointed commissioners voted against Bloomberg and the four Republican-appointed commissioners voted for it. A tie meant that the Bloomberg move failed.
"I don't see what the big deal is," Mottola-Schacher quipped. 'Better' is better than 'First.'" Nobody laughed.