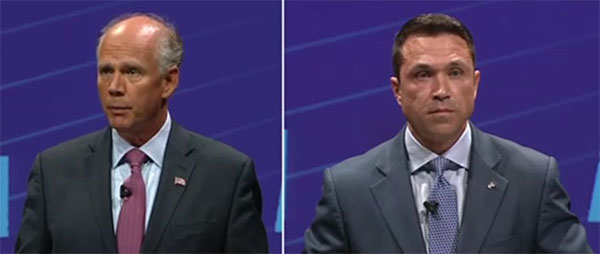 Rep. Donovan, left, and former Rep. Grimm on NY1
---
Perhaps the most-watched congressional primary in New York ahead of Tuesday's vote is the Republican contest centered on Staten Island, where former Congressional Representative Michael Grimm is attempting to unseat incumbent Representative Dan Donovan in what has been a nasty, hard-fought race with a heavy focus on President Donald Trump.
The district, which includes all of Staten Island and a sliver of southern Brooklyn, is home to many Trump supporters, especially in the Republican primary, and both candidates have been pledging allegiance to the commander in chief, despite each having a fairly moderate record. Trump recently endorsed Donovan, a fact that the incumbent -- who voted against Trump's signature tax reform legislation -- has been touting as he attempts to stave off what appears to be a very serious threat to his reelection.
The winner of the Republican primary will face the victor on the Democratic side in what promises to be a spirited general election also centered around Trump and the first-term president's policies. While the district almost exclusively elects Republicans to Congress, Democrats see an opportunity this year given heightened expectations about turnout in the first national elections since Trump shocked much of the world in 2016.
But first, the Grimm-Donovan contest has been full of energy, policy, and drama. While Donovan has virtually all of the institutional support, including from all of the Republican elected officials in the area, a long list of labor unions, and the two newspaper editorial boards that stand to matter to primary voters -- the Staten Island Advance and the New York Post -- Grimm still retains a strong following in the district and is putting his formidable campaign skills to work.
In endorsing Donovan in a move it acknowledged as exceptional given its reluctance to weigh in during party primaries, the Advance editorial board called it an "extraordinary race" indicative of "this era of out-of-the-ordinary phenomena on America's political landscape." "For us, there is no question: Dan Donovan deserves to be the Republican nominee," the board wrote. "He has served Staten Island with distinction and sensitivity, despite accusations to the contrary tossed about by Mr. Grimm."
The two candidates recently engaged in one radio and one television debate, where they lobbed personal and professional attacks against each other, attempted to prove who is the most supportive of the president, defended their policy records, and presented some sense of their vision for representing the district into the future if entrusted by voters to do so.
The debate on WABC radio, hosted by Rita Cosby, was full of argument and insults, emblematic of the overall race, which has been bitterly fought and has included a number of specific allegations of wrongdoing in each direction, not to mention discussion of Grimm's time in prison after he pleaded guilty to federal tax evasion. It was that plea that led him to resign from Congress just after winning reelection in 2014, in what is the only Republican-held Congressional seat in New York City.
The debate on NY1 television, moderated by Errol Louis along with Courtney Gross and Anthony Pascale at the College of Staten Island, was a somewhat tamer affair than the radio debate, and included a bit more substance, though it did not lack for candidate attacks.
"My opponent's whole campaign has been based on lies about my record and about his," Donovan said near the start of the radio debate, responding to a question about whether his own campaign excessively used Grimm's criminal record. "The people have to know what the truth is."
"What I think it is," Grimm responded, "is he's trying to reflect onto me the fact that he's been lying about his own record."
During his opening statement of the TV debate, Grimm criticized Donovan's decision to not rent a D.C. apartment but to instead sleep at his office while working in the capital, which the incumbent calls an efficiency measure.
"I'm running again because over the last three years, my opponent hasn't just been sleeping in his office, he's been sleeping on the job," Grimm said. "And that's why I'm asking for your vote.
In asking for votes, Grimm cannot bolster his pleas with the backing of the president, whom he has heaped praise on an attacked Donovan for not supporting enough.
The president backed Donovan's candidacy in two tweets that lauded the incumbent for his stances on borders, crime, the military, and tax cuts. Donovan boasted of Trump's support during the NY1 debate, noting that not Trump not only supported his candidacy but denounced Grimm's, making an apparent reference to Grimm's record and the notion that Grimm would be a weaker general election candidate than Donovan. The president analogized Grimm's candidacy to that of Roy Moore in the 2017 special Senate election in Alabama. Moore, the former chief justice of the Alabama Supreme Court, was the rare Republican to lose an Alabama Senate race to a Democrat, doing so amid allegations of sexual assault.
"I have a campaign going on now that you're watching and witnessing that's filled with lies and distortions, so much so that the president of the United States had to come in and set the record straight," Donovan said. "He told the people of our community he wants me to be the candidate, he wants me back in Congress to help him make the America first agenda succeed and help make America great again."
With each candidate's allegiance to the president clear, they were asked if they would side with Trump even if it meant harming the district. Both said while they support the president's national goals, the district will always come first. They each cited a time when they opposed the Republican Party while they were in Congress.
Grimm spoke about his flood insurance reform bill in 2014 — a measure put in place to repeal overwhelming increases in flood-insurance rates after Superstorm Sandy devastated New York — citing that he "risked my career" to get the bill passed despite harsh opposition from Republicans.
Donovan reminded viewers that he was one of only 12 House Republicans to vote against the GOP tax bill in December, citing that it harms high-tax states like New York.
"I voted with the president 90% of the time," Donovan said during the NY1 debate. "I voted with the people I represent 100% of the time."
Still, Grimm challenged Donovan's allegiance to the president during the WABC debate, citing how the incumbent has voted against major legislation pushed by the Trump administration, such as the repeal of the Affordable Care Act, a ban of sanctuary cities, and the passage of the tax reform bill.
"Those are three signature issues that our president actually ran on," Grimm said.
Though he doesn't have Trump's endorsement Grimm drew his own parallel with the president, saying that he was targeted by then-U.S. Attorney General Loretta Lynch just as Trump has been targeted by special counsel Robert Mueller in the federal investigation into possible Russian collusion and other matters during the presidential election.
"I think everyone knows that I had three delivery boys and a dishwasher off the books," Grimm said during the radio debate, referring to his hiring of undocumented employees to work at his Manhattan-based health food restaurant, Healthalicious. "And I never hid from that. It was a civil offense that the Obama Justice Department, that is politically corrupt, used against me."
In 2014, Grimm was indicted on 20 counts, including charges of mail fraud, wire fraud, and the preparation of false federal tax returns, although he only pleaded guilty to one charge of tax evasion. When asked during the radio debate if he would now release his tax returns, Grimm said he would not because he's "not required to," then said that Donovan pushing for the release of his tax returns was "a typical liberal line."
On more substantive matters facing the country and the district, the race has had a lot of discussion of immigration, as well as storm recovery and resiliency, the opioid addiction crisis, and other matters.
Neither candidate's website specifically addresses immigration policy, but Grimm's prior employment of undocumented workers and Donovan's vote against punishing sanctuary cities like New York — cities that limit their cooperation with the federal government over the enforcement of immigration law — has elicited strong criticism from one another and some discussion of policy proposals.
Grimm advocates for the implementation of a stronger guest worker program and e-verify, a system that allows employers to verify the eligibility of employees to work in the U.S. Donovan snapped backed during both debates that Grimm's sudden support of e-verify is contradictory given his history of hiring of undocumented workers.
"The one thing he mentioned that's pretty ironic, though, is e-verify," Donovan said on NY1. "If we had e-verify when he owned his restaurant, he would have been caught a lot earlier because e-verify requires employers to check and verify the status of anybody that they hire."
"Sanctuary city policy is a horrible, dangerous policy," Grimm said during the WABC debate. "It came down to when you had an opportunity to send the message to Mayor de Blasio and ban sanctuary cities, the bottom line is he voted 'no.'"
The former Richmond County district attorney defended his vote, stating on NY1 that he worked in law enforcement for 20 years.
"I believe that you have to enforce the laws and you can't pick and choose which ones," Donovan said. "Sanctuary cities choose which laws to enforce and they don't enforce our federal immigration laws…if you're not going to enforce the federal law, we're not going to give you federal funds to do it." He explained his vote, however, by saying he was worried about how Mayor Bill de Blasio, a liberal Democrat, would adjust policing in the city based on withholding of federal funds.
In regards to the opioid epidemic on Staten Island, a significant issue in the district discussed during both debates, the two again quarreled. Donovan said within his first few months of office, he helped incorporate New York into a national database that would allow the state's pharmacists and physicians to see whether or not patients were going to bordering states to get their prescriptions filled.
Grimm, on the other hand, contends that New York already had such a program in place with the Internet System for Tracking Over-Prescribing Act, or I-STOP, and associates the rise of the opioid epidemic with Donovan's 12-year tenure as Richmond County's district attorney.
"If you really look at my opponent's record as the district attorney, when he first came in…there was barely a problem," Grimm said on WABC. "That problem grew into a crisis, that crisis became an epidemic on his watch. The reality is this epidemic was fostered under your watch."
The allegation incensed Donovan, who argued that he was both tough and smart about the growing crisis while district attorney, and was not caught flat-footed by its growth, helping by both prosecuting dealing and pursuing preventative approaches for users.
Grimm also said that he attempted to make New York's I-STOP program, which enables doctors and pharmacists to access data that could identify potential drug interactions or abuse between patients and other doctors, into a federal law, although it didn't pass during his time in Congress.
On the issue of the Affordable Care Act, otherwise known as Obamacare, which was discussed during the NY1 debate, Grimm and Donovan agreed that parts of the program should remain, such as child eligibility for parental plans until the age of 26 and covering those with preexisting conditions.
Nevertheless, Grimm said the act should be torn apart and renewed from scratch, and he criticized Donovan for not voting for its repeal, though Donovan argued he didn't vote to rescind the act only because there was not a suitable replacement plan.
"Government intervention into our healthcare system was probably the worst thing we could do," Grimm said on Thursday. "The private sector does things more efficiently, more effectively, and we should keep the government as much as we can out of our health care."
Donovan's platform additionally pushes for creating new transportation projects to help those on Staten Island and in southern Brooklyn with long commutes, improving student aid for covering the costs of higher education, increasing healthcare competition while reducing premiums, supporting the Veterans Healthcare Choice Improvement Act, and fighting cuts to law enforcement resources, although these issues were barely — or not at all — brought up during either debate.
Grimm, whose campaign website does not have a page dedicated to issues, has announced his support of Trump's Tax Cuts and Jobs Act and supports the termination of the Diversity Lottery program in various press releases posted onto his website.
The only public poll of the primary put Grimm ahead by 10 points over Donovan, as conducted by NY1 and Siena College, though potential voters were polled right around the time of the Trump endorsement, the effect of which was likely untapped. Donovan also has former Mayor (and now Trump lawyer) Rudy Giuliani and virtually the entire New York Republican establishment behind him, including Republican elected officials from Staten Island like conservative City Council Member Joe Borelli and moderate Borough President Jimmy Oddo.
It's a fact not lost on Grimm, who is using it to portray himself as the candidate of the people, though it is indicative of the fact that he is seen as toxic by many due to his criminal record and behavior such as his threatening a NY1 reporter while he was still in Congress.
"Dan Donovan has the entire establishment behind him," Grimm said, responding to a question about the poll. "He has the president behind him. He has all of these endorsements and I only have the people behind me. And I'm okay with that."
A Donovan campaign spokesperson, on the other hand, dismissed the lone poll results. "Siena poll means nothing," tweeted Jessica Proud. "In the field prior to Trump endorsement, our internals show us up. Weight of paid media on endorsement going to crush his false narrative. Talk to me in a few weeks."
Voters will do that talking on Tuesday.
***
by Jordan Kimmel and Chelsey Sanchez