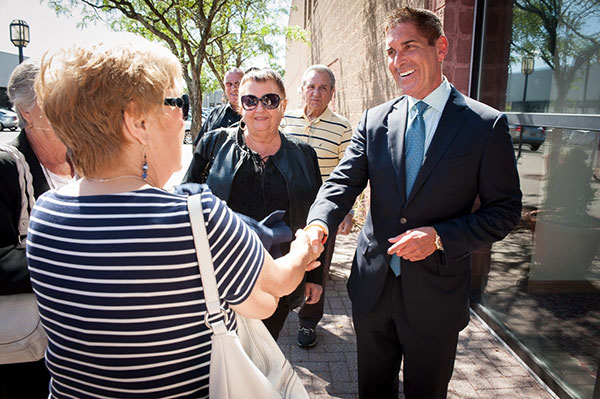 Sen. Jeff Klein meets voters (Photo: jeffkleinny.com)
---
Already spending at what is likely a record pace, with two weeks until the September 13 primary, New York State Senator Jeff Klein kept spending his campaign cash at a rapid clip to try to beat back a Democratic primary challenge from Alessandra Biaggi, a lawyer and first-time candidate, Klein's late post-primary campaign finance filing shows. In sum, Klein spent nearly ten times more than Biaggi, but was still unsuccessful as Biaggi claimed the nomination, likely unseating one of the state's major powerbrokers of the past decade, in the district that covers parts of the Bronx and Westchester.
Klein spent nearly $700,000 in September, out of more than $3 million -- an astronomical sum for a state legislative race -- that he depleted in trying to retain his seat in this two-year election cycle. He also raised another $246,000 in those final weeks of the primary -- he has brought in $1.8 million since January 2017 -- including $103,000 from the Senate Independence Campaign Committee, which he and partners originally set up jointly between the Independence Party and the erstwhile Independent Democratic Conference, a breakaway group of eight senators led by Klein that formed a power-sharing agreement with Republicans in the Senate. The SICC was ruled by a state supreme court judge to be illegal, though it apparently moved into compliance thereafter, and the state BOE had ordered that IDC members refund its contributions, but they refused. In total, the SICC directed $403,000 to Klein's reelection coffers.
The SICC also moved hundreds of thousands of dollars, largely from major donors in real estate and education reform, to other members of the IDC, with Klein and five other former IDC members losing their primaries.
In the days leading up to September 13, Klein received $90,500 in donations from limited liability companies and from political action committees, including some associated with law enforcement unions and the nursing and beverage industries. Klein has benefited greatly from the largesse of corporations, PACs and LLCs, the last of which are not required to name their owners and can therefore circumvent contribution limits. In total, those types of contributors gave him about $1.16 million for his reelection.
There were a few notable individual donations in the most recent filing as well. On primary day itself, Carl Icahn, the billionaire investor with close ties to President Donald Trump, gave Klein $11,000; two days before that, hedge fund billionaire Paul Tudor Jones gave him $15,000; and in the week before, Larry Robbins, also a billionaire and of the KIPP charter school network, donated $10,000.
Of the latest spending spree, about $390,000 went to the Hamilton Campaign Network, a Democratic campaign consulting firm, which organized campaign mailers, phone and text banking efforts, and produced videos for Klein's campaign.
After all his spending, Klein still had $510,000 sitting in his campaign account as of this filing, which was sent to the Board of Elections a week late. He could retain that cash or potentially transfer it to another campaign account, should he decide to run in any upcoming elections, or he can donate to other candidates running in the general. He may decide to use it for his own continued campaign, given that he has the Independence Party ballot line to run on in November after losing the Democratic nomination, and Klein has not formally conceded his race or endorsed Biaggi.
In the Democratic primary, Klein received 14,754 votes, about 44.5 percent, losing to Biaggi's 17,618 votes, or 53.1 percent. All told, Klein spent roughly $207 for each vote while Biaggi only disbursed $18.90 per vote.
Independent expenditure groups also showed their support for Klein. Those include Laborers Building a Better New York, a group associated with the Construction and General Building Laborers Local 79 union, which spent $109,360 to favor several candidates, including Klein. New Yorkers for Quality Healthcare, affiliated with the Greater New York Hospital Association, spent a whopping $447,450 on digital ads, direct mailers, web design, and tv production to support Klein and State Senator David Valesky, another former IDC member who lost to his own primary challenger, Rachel May. The Patrolmen's Benevolent Association's independent expenditure committee also spent $65,338 on direct mailers boosting Klein.
In total, Biaggi spent $332,000 on her campaign and raised about $534,000. While Klein was attempting a well-funded last ditch effort to sway voters, Biaggi only dropped about $160,000 in that final three week period, raising only $62,500 in the same time. She has another $133,000 as she heads into the general election, where she would be unopposed unless Klein continues to run.
A spokesperson for Klein's campaign did not return a request for comment for this article. He has not appeared in public since primary day, and did not address supporters on primary night.
Biaggi also received outside help in the primary. The Empire State 32BJ SEIU PAC spent $97,285 to support her election, through mailers, canvassing efforts and social media ads. They also spent $11,540 on a mailer opposing Klein. The union, 32BJ, dedicated significant resources, including financial and human, to Biaggi's successful bid.