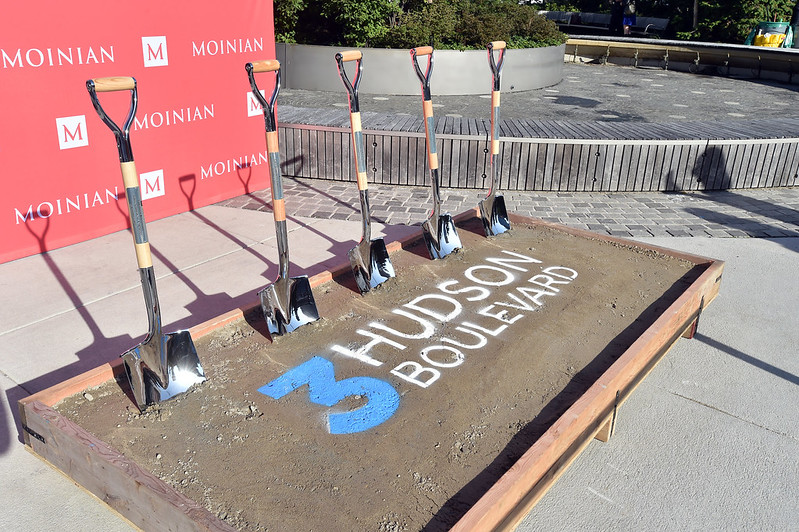 Real estate groundbreakings may be less celebrated (photo: governor's office)
---
In a few short years, real estate money has gone from the norm to "toxic" in New York State Democratic politics, with many of those who once gladly accepted thousands of dollars from the industry now pledging to take none. While there are still exceptions — including notables such as Governor Andrew Cuomo and Brooklyn Borough President and 2021 mayoral candidate Eric Adams — the overall trend is reflected in the recent June primaries for seats in the state Legislature, where the main New York real estate lobbying group donated a fraction of what it has in past election cycles.
The 2018 loss of the State Senate by Republicans, the latest campaign finance filings, and a growing list of Democratic candidates pledging to refuse donations with ties to real estate interests suggest the once-formidable Real Estate Board of New York, or REBNY, is in something of a political no man's land.
Real estate plays a pivotal part in the New York economy, grossing around $1 billion annually for the state through the real estate transfer tax, according to the State Assembly; boasting around $5 billion in taxable sales in 2019, according to the New York State Department of Taxation and Finance; and employing thousands. But although Senate Republicans, who held a majority in the body through 2018, were often sympathetic to the industry, Democratic-aligned activists and politicians alike see it as one that requires reining in and reform in order to make New York City more affordable and equitable.
The changing majority in the Senate paved the way for historic tenant-friendly legislation passed in 2019, which was strongly opposed by REBNY and real estate interests generally. It also correlated with a marked decrease in campaign donations by REBNY's political action committee (PAC): while in 2018 the organization spent $450,000 during the primary elections alone, that number is less than $80,000 this year, which as usual featured almost exclusively Democratic contests in New York City.
A large chunk of REBNY's 2018 spending — well over $100,000 — went to support the Independent Democratic Conference (IDC), a group of real estate-friendly state senators elected as Democrats but who formed a rogue conference and had a power-sharing agreement with Republicans, often preventing progressive legislation, including major rent regulation reform, from being passed. Six of eight members of the IDC lost their primary races in 2018, with a wave of progressive challengers who ran in part on their commitment to fighting big real estate interests.
Besides the change in control of the Senate that REBNY attempted to prevent, a shift in voters' perspectives and its impact on many Democratic politicians was a likely cause of the decrease in the donations by REBNY to candidates, according to Cea Weaver, Campaign Coordinator of Housing Justice for All.
"At this point real estate money is toxic," said Weaver, a leading organizer in the pro-tenants coalition that has fought for tighter rent regulations and more affordable housing. "It's a testament to the tenant movement that real estate money has become basically a litmus test that you can't run in New York as a progressive if you take it, no one's going to take you seriously."
Weaver said it was Diana Richardson who first ran on a promise to not accept real estate money during her 2015 bid for State Assembly in Brooklyn and that her success encouraged others, especially in districts with areas facing rising rents and gentrification, like Crown Heights in Richardson's district and other neighborhoods in Brooklyn, Queens, and beyond. Senators Julia Salazar, Zellnor Myrie, and Alessandra Biaggi are examples of those who have since run and won primaries against incumbents on platforms centered around opposing and limiting the extensive power of real estate developers and big landlords.
Both Myrie and Biaggi challenged incumbents (Jesse Hamilton and Jeff Klein, respectively) who were members of the IDC. Those upsets, among others, left REBNY with fewer allies, Democrat or Republican, in New York government.
Weaver said those wins, and others, propelled the movement to reform the rent laws that resulted in last year's landmark legislation.
"The reality is winning on that demand created a mandate to deliver," Weaver said, given that the expiring rent laws were a major focus of 2018 Democratic primary campaigns, mostly in the city, and a rallying cry for general election races to flip the chamber, including one race in Brooklyn and several in city suburbs.
It wasn't always this way, though. In 2016, the campaign fund for Democrats in the State Assembly was third behind the State Senate Republican Campaign Committee and the campaign committee of the Independent Democratic Conference in receiving donations from REBNY. That year, the Democratic Assembly Campaign Committee received over $100,000 from the real estate group, and in 2018 REBNY donated four times as much to Democrats as it had in 2016 (including the support for the IDC and its members).
"They recognized in 2018 that it was a threshold moment for the real estate industry in terms of the balance of power in Albany," said Erik Engquist, the senior managing editor at The Real Deal, a publication that covers real estate, and a longtime New York City journalist. "Giving money to the Republicans in the Assembly accomplishes nothing. So, you can't read that as support for the Democratic Party, it's more like 'we want influence, period.'"
Engquist said REBNY may have hoped Assembly Democrats would serve as a moderating force to counteract the soon-to-be more liberal Senate. Although REBNY was extremely displeased with the rent laws passed in 2019, and some were mystified by how little influence Cuomo injected on behalf of his allies in real estate, there were indications that its strategy worked to some degree.
For example, a number of officials and advocates wanted to fully eliminate the Major Capital Improvement (MCI) program, which allows landlords to increase rents by a capped amount if they enhance the building in a way that benefits all tenants. Instead, the cap on rent increases after MCIs was reduced from 6% to 2%, something Engquist credited to Assembly Speaker Carl Heastie. And, even as bad as the legislation may have been for REBNY, it would still "want to at least play defense, prevent it from being tweaked more in tenants' favor," Engquist said.
An analysis of the REBNY PAC's financials shows the shift after 2018. While it donated over $10,000 to each of 42 different political campaigns in 2018, only one candidate (Democratic Bronx State Senator Luis Sepúlveda) has received more than $10,000 in 2020 as of June 20. Donations of around $5,000 or less were made to Democratic State Senators James Skoufis, Kevin Parker, and Diane Savino, and Assemblymembers Amy Paulin and Inez Dickens, among others in both houses.
And you can't spend money you don't have: contributions to REBNY's PAC went from over $1.3 million in 2018, a similar amount to what it received in 2016 and 2017, to about $200,000 in 2019.
Deputy Majority Leader of the State Senate Michael Gianaris, who successfully defended his seat in the recent primaries, is himself instructive. The Queens senator had previously taken real estate money, including roughly a few thousand dollars a year from REBNY up until 2018, but has since then upheld a pledge to not accept real estate donations. He said he took the pledge due to his newfound power when the Senate flipped, and to ensure his supporters knew he was on tenants' side leading up to the renewal of the rent laws in 2019.
Gianaris said the organizing done by pro-tenant groups was vital and will have a long-lasting effect on the ability for real estate interests to find support from politicians.
"All these things are interwoven," said Gianaris, who represents parts of Western Queens that have seen rapid development and rising costs of living in recent years. "The organizing that the tenants did played a role in helping us obtain the majority, obtaining the majority helped wane the power of big real estate and the more that happens, the more candidates are comfortable not taking their support."
REBNY spends on political campaigns through other avenues than direct contributions to candidates or committees, including through independent expenditure campaigns for or against certain candidates, which can include television ads, phone banking, and mailers paid for by an outside group, such as its Jobs For New York super PAC. Jobs For New York has spent, for example, over $100,000 to boost City Council Member Donovan Richards' bid for Queens Borough President, as reported by the Queens Eagle. And REBNY appears tied to several somewhat mysterious groups spending money in suburban Democratic primaries to boost the more moderate candidates, as reported by the Times Union.
In addition to campaign donations and independent expenditures, REBNY also has its connections and the promise of concrete community benefits to try and gain influence, Engquist said.
"REBNY will have less influence, but it won't have no influence," Engquist said. "There are elected officials out there who want development in their district. They want to tailor it and shape it, but they do want to have projects so they can say 'I provided so much affordable housing, I got a subway station fixed up,' or whatever."
He gave the example of the redevelopment by the company Two Trees of Williamsburg's Domino Sugar Refinery into large residential buildings. Engquist said politicians who want development that is too large for non-profit or small developers to handle would need the connections REBNY has with big-name developers like Two Trees.
One of the looming questions in New York City has been the extent to which even development with a large number of apartments with affordability caps is embraced by elected officials, especially local City Council members who often get significant say over any change to zoning rules in their districts. The anti-real estate trend has coincided with the city's affordability crisis, but some have wondered if that pro-tenant movement will succeed in seeing enough housing built to help provide affordable apartments, whether new or existing, for those who need them.
That is a conversation less applicable to the state Legislature, where regulations on rent stabilized apartments are crafted and elections are being held this year, and more for the City Council, where local development projects are negotiated and elections are being held next year. Not to mention the 2021 mayoral race, where housing affordability and real estate development will undoubtedly be central, hotly-debated issues. Whether or not candidates accept real estate-linked campaign donations is alread splitting the likely Democratic mayoral field, with, for example, Adams taking them and both Comptroller Scott Stringer and City Council Speaker Corey Johnson saying they are refusing such funds.
The roles played by REBNY and individual real estate developers in the 2021 city elections, particularly with regard to candidate donations, independent expenditure campaigns, and policy advocacy, will play out over the coming year-plus. They will coincide with the much larger discussion of how the city will recover from the economic devastation wrought by the COVID-19 outbreak and its fallout.
"As we begin to rebuild after this pandemic, leadership is critical," said a REBNY spokesperson, who did not answer several specific Gotham Gazette questions about its campaign donations while providing a broader statement. "We need officials at every level to implement meaningful, measurable and smart policies that can lead our City and State towards a strong recovery. We continue to watch how the [2020] primary races will shake out and look forward to working with thoughtful elected officials who understand that New York City's economy isn't healthy unless the real estate industry is healthy enough to generate the taxes needed to create jobs, build more affordable housing and fund essential services."
With only 22 Republicans in the 60-seat Senate and 43 in the 150-seat Assembly, Gianaris said REBNY may have to rethink its strategy if it is going to play any role in New York State policy.
"I hope they figured out that their traditional model of just throwing dollars at politicians and expecting them to do their bidding is over," Gianaris said. "What I would say to the real estate industry is throw the old models out the window, start working with your tenants to come up with a collaborative approach to setting policy. The idea that — on a political basis — the tenants are without allies in power is out the window."