The Hunger Crisis
By Lucy Cabrera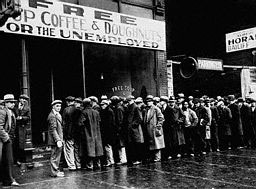 Long lines of people, many of them families with young children, wait for food at the city's soup kitchens and pantries. While some of these people are victims of the ripple effects of September 11, New York City's current hunger crisis hit long before the attack on the city.
More than 1.5 million people in New York City - about one in five - were relying on free food from soup kitchens, food pantries and shelters before September 11, according to the recently released New York City Hunger Study by the agency I head, Food for Survival. In any given week, nearly 500,000 different people received food assistance in New York City. More than half of them were children and seniors.
Our more than 1,000 emergency food programs, which together provide more than six million free meals a month, have been operating at capacity for some time. The study showed that since 1998 nearly 80 percent of the food pantries, 60 percent of the soup kitchens and 55 percent of shelters throughout the city have seen a substantial increase in the number of low-income New Yorkers turning to their programs.
The repercussions of September 11 have placed an enormous stress on an already encumbered system. "We were already seeing a steady rise in the number of families coming to our soup kitchen during the summer," says Sister Mary Alice, who runs Part of the Solution, a soup kitchen and food pantry in the Bronx. "After the World Trade Center disaster, our food pantry numbers skyrocketed."
For many unskilled and low skilled low-income workers, having a job has been of little help. The monthly after-tax salary of a minimum wage worker is $759, and the average monthly cost of housing for a family of three is $940. That forces many low-income workers to choose between buying food or paying rent and other basic expenses. They become New York's "hidden hungry" -- managing to keep themselves housed but without enough money to feed their families
But lack of work often makes matters even worse. With the decline in the economy, the sudden surge in unemployment among low-wage workers, and thousands of the families facing financial uncertainty because of the cut off of federal welfare assistance, a huge number of first-time users are turning to food relief programs to put food on the table for their families. Many of these are African American or Latin women, single mothers with children. The majority are looking for a job - often to replace one they recently lost - and many need assistance with housing and daycare.
"Since the tragedy, we've gone from feeding 500 people to well over 700 people at our soup kitchen every Saturday," says Reverend Peggy Beisler of Father's Heart Ministries, a soup kitchen and food pantry in Manhattan. "I can tell the 'new ones' by just looking at their faces. You can see they don't want to be here."
Lucy Cabrera is president of Food For Survival
Click here to read David R. Jones' "Today's The Rainy Day"
###
Check out the Feature Archives!