Today's The Rainy Day
By David R. Jones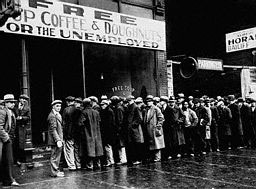 Like two freight trains headed toward each other on the same track, two different groups of people confront the city's welfare system. One includes the more than 38,000 New York City families who, on December 1, reached time limits and so can no longer receive federal Family Assistance. At the same time, more than 100,000 people - mostly low-wage workers - who lost jobs in the economic downturn following the September 11 attack on the World Trade Center will be applying for benefits. A new jobs program could aid both groups
Although the welfare caseload in New York City has been reduced by half since 1994, experts have warned that a welfare reform policy that concentrates on merely reducing the number of people on the rolls would succeed only during good economic times. Now with a recession in full swing, New York City confronts a worst-case scenario.
When Congress passed welfare reform legislation in 1996, it imposed a 60-month lifetime limit on the amount of time that people could receive federal welfare funds. The current 38,000 families, including tens of thousands of children, are merely the first wave in what will be an ongoing problem for the city as more people come up against the deadline. By February 2002, 55,000 families will have reached their time limits. By September 2002, it will be 68,000.
The Safety Net
Families facing the 60-month time limit are eligible for New York State's public assistance benefits - the Safety Net Assistance Non-Cash program - which is funded by both the city and state. Many welfare recipients have not been informed of the changes, and advocates fear that this will leave many families without basic supports. Meanwhile, city caseworkers seem unaware of critical information needed to help clients, and state officials, who will be assuming these clients, seem unconcerned.
The state has decided that welfare recipients must reapply to receive aid, and the amount of paperwork involved is onerous. But once people are again accepted for public assistance, the Safety Net program will award them with the same amount of benefits they received before.
The big difference is the way that benefits will be disbursed. Rent and utilities will be paid directly to the provider. The remainder of the grant will be provided in cash on an Electronic Benefits Transfer (EBT) card.
These benefit levels are less than half the federal poverty line ($14,630 a year for a family of three). The welfare grant for an average family, typically a mother with two children, is $577 per month.
--Cristina Di Meo, Federation of Protestant Welfare Agencies.
Because of provisions of the New York State Constitution, families reaching the time limit are supposed to receive benefits through the Safety Net Assistance program financed by the state and local governments. The transition to Safety Net Assistance should be as easy as possible. Instead, the city intends to force many families that have reached their time limit to reapply in person in order to get Safety Net Assistance.
With the city besieged by new applications because so many people have lost their jobs, and with many city computers still not working properly, now is not the time to call 38,000 families already on the rolls into city offices for interviews. Meanwhile, errors by case managers and outright misinformation have frightened some people - many of them single mothers with children - into wondering whether their benefits will end.
Some eligible recipients are already falling through the cracks. Even if the cutoff is only temporary, some people will go hungry or lose their apartments. The number of families in city shelters, already at an all-time high, will climb further, and more homeless people will be forced onto the streets.
The city's transition plan also jeopardizes the employment efforts of families who are working but need cash assistance to supplement their low wages. Almost half of those now reaching time limits fall into that group.
A more rational, logical, and humane transition plan would allow families to be reassessed without onerous paperwork and endless appointments. The city should move welfare recipients into Safety Net automatically. Any problems with eligibility could then be dealt with during the normal recertification process that recipients go through twice a year.
Reforming Welfare Reform
by Megan McLaughlin
Here are five things the new mayor could do to change welfare in New York City:
Ensure that households reaching the five-year time limit on federal assistance are able to move smoothly and without interruption to the state benefit program.
Reorient the city welfare agency, the Human Resources Administration, toward assisting people in need rather than discouraging them from getting help. Ensure that people can apply for assistance, streamline applications and limit the amount of required paperwork and appointments.
Provide programs and services to help families become economically secure. Encourage participation in education and training activities - including literacy, English as a Second Language, getting a high school equivalency diploma, post-secondary education and skills training. Increase the availability of subsidized child care. Develop targeted assistance for people with physical and/or mental disabilities, HIV/AIDS, and victims of domestic violence.
End the workfare program and replace it with jobs that offer a living wage.
Collect information to track the experiences of families leaving welfare, including employment and earnings, to help monitor the success, or failure, of welfare policies.
These changes would mark a first step in what could be a new era in welfare reform. Congress will have to reauthorize federal welfare legislation next year. A new approach is required to help families create a better future for themselves and their children.
Megan E. McLaughlin is executive director of the Federation of Protestant Welfare Agencies.
Although the city's welfare rolls have been cut in half since the advent of welfare reform, there will always be some adults who cannot work, perhaps because they are disabled, or they are caring for disabled family members. Some may be transferred to other federal programs that offer disability benefits, but others need rehabilitation and training to be able to enter the labor force.
Meanwhile, others who only just succeeded in moving from welfare to work have been thrown out of their jobs.
To address their needs, the city should create 50,000 one-year transitional jobs. The program would be open to New York City residents who have been unemployed for at least one month. Participants would be full-time employees receiving a minimum of $8.50 per hour, a rate that would still allow the workers to receive food stamps, Family Health Plus, federal and state Earned Income Tax Credit, and subsidized childcare.
There are many workplaces that need able hands but cannot afford them. The city could use these workers in parks and public hospitals. Subsidized employment would also provide a boost to many small neighborhood businesses threatened with bankruptcy. Therefore, the program would not just help the workers; the city as a whole would benefit from the work they do.
This program could be funded through a combination of federal disaster-related aid, an unused $125 million Welfare to Work grant, reinstat ement of the commuter tax and the state's Temporary Assistance to Needy Families "rainy day" fund, which now exceeds $1.6 billion. The state has consistently refused to spend this money, but if today is not a rainy day, when would be?
David R. Jones is president of the Community Service Society.
Click here to read Lucy Cabrera's "The Hunger Crisis"
###
Check out the Feature Archives!