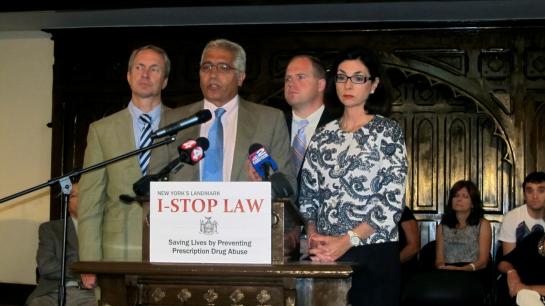 Avi and Julie Israel, front, lost their son and became parent advocates for I-STOP (nysenate.gov)
---
Avi Israel remembers everything about the day his 20-year-old son, Michael, killed himself three years ago; from the cocking sound of the shotgun to his desperate struggle to break down the bedroom door, to finding Michael in a pool of blood.
It was Michael's addiction to prescription painkillers that killed him, Israel said recently. And he blames that addiction on the 20-odd prescriptions from three different doctors treating Michael's Crohn's disease.
"When I lost Michael, it was unnecessary," Israel said. "Michael could've lived."
Israel, 61, and his wife are among the families that pushed for New York's Internet System for Over-Prescribing Act, or I-STOP, which was signed into law in 2012. As of the end of August 2013, all physicians in the state are required to check the I-STOP database before writing a prescription for many painkillers and addictive medications.
The new rule is supposed to help physicians see all the medications their patients could be taking, especially those prescribed by other doctors. As well as preventing harmful drug interactions, the database is intended to prevent patients that are struggling with addiction from "doctor shopping" – going from doctor to doctor for new prescriptions. I-STOP also requires those taking narcotics and other addictive drugs to visit their doctors at least once a month to renew the prescriptions.
But some say the law has caused unintended problems. Patients complain that the monthly doctor visit is onerous and difficult to comply with when they are debilitated by chronic pain. Drug counselors say I-STOP doesn't address the root problem – addiction – and that the emphasis should be on treatment programs, not policing patients.
Bob Dvorak, 63, of Saugerties, N.Y., said he worries the new rule will make it more difficult to get his prescriptions. He takes a slew of medications for peripheral neuropathy – or damaged nerves – in his legs. He is in constant pain, he said, usually starting his day at "one" on the pain scale, which progresses to a "seven" by bedtime.
Dvorak takes up to three pills a day of the painkiller Vicodin, as authorized by his neurologist. Sometimes he cuts them in half and takes them in smaller doses, he said, to "smooth out the big ups and downs."
"I am probably addicted to them," Dvorak said. "You know what, so what? To my mind, it's a hell of a lot better than sitting in a ball waiting for the pain to stop."
The I-STOP legislation, sponsored by state Senators Andrew Lanza (R-I, Staten Island) and Kemp Hannon (R, Nassau), came in response to what experts have called an epidemic of prescription drug abuse, which is killing more and more people in New York and nationally.
The most recent federal data shows 19,154 deaths occurred nationally in 2010 because of opioid abuse. Almost 84 percent of those deaths were related to prescription drugs such as oxycodone and morphine. In New York City, approximately 9,000 people died of overdoses between 2000 and 2012, according to the New York State Department of Health and Mental Hygiene, and in 2012, the leading cause of accidental death in the city was drug overdose.
Staten Island alone saw 70 deaths in 2012 caused by drug overdose, said NYC Health Commissioner Dr. Mary Bassett during a March 27 testimony to the New York City Council Committee on Mental Health, Developmental Disability, Alcoholism, Drug Abuse and Disability Services. The borough had the highest rates of overdose in the city, she said.
"Doctors and pharmacists now have the tools necessary to help people avoid falling prey to prescription drug abuse and to help those under its influence," Lanza said of the epidemic plaguing his Staten Island district during an April 2 interview. "While there's no magic bullet, and there will always be people struggling with addiction, I believe we can turn the tide on this epidemic by changing attitudes and implementing policies, while supporting services for prevention and treatment."
The I-STOP database has existed since 2010, but it was underutilized while it was not yet mandatory, according to the website of the State Department of Health Bureau of Narcotic Enforcement. Before I-STOP became mandatory last year, only about 5,000 people had accessed the system.
However, since the law went into effect last August practitioners and pharmacists have performed nearly 8.1 million individual searches for 3.7 million patients, according to the Bureau of Narcotic Enforcement.
It's unclear at this early stage whether the database is helping reduce prescription drug addiction, but it is a useful resource, said Dennis Galluzzo, a pharmacist in Williamsville, N.Y., who sat on all three state advisory committees for I-STOP. Pharmacists were always required to put their painkiller data into the system once a month, but this is the first time the database is updated on a constant basis.
"The whole point and crux of the matter is that doctors were not seeing it," Galluzzo said.
Dr. Sharon Stancliff, the medical director of Harm Reduction Coalition, an organization in Manhattan that promotes the health and dignity of those impacted by drug use, doesn't think the I-STOP program will help her drug-addicted patients. The focus, she said, must be on getting addicted patients into treatment.
Stancliff said the database has not shown her anything that her patients have not told her voluntarily. And if patients are lying to their doctors, she pointed out, the database is unlikely to prevent them from getting the drugs they seek. "If people don't have access to legal, they'll turn to illegal," she said.
Galluzzo, a pharmacist, also said that I-STOP in itself will not solve the problem. "There's a need for more of those places where people can get help, counseling, to help them stop taking these medications," Galluzzo said. "Once they're on, the biggest problem is getting them off."
Stancliff, Galluzzo and other pharmacists and practitioners are now hoping New York State takes I-STOP the next step, with education and follow-up programs.
On March 27, the State Senate passed a bill that would allow people over-the-counter access to naloxone, a drug that counters opioid overdose via a nasal spray. As the bill moves to the Assembly, a pilot program is already being tested on Staten Island, where the drug is being put in the hands of police officers.
Bassett told the City Council the drug has already saved three lives on Staten Island, and the Health Department is working with 35 city hospitals to adopt guidelines on prescriptions.
Another bill now in the State Senate's insurance committee would require insurers to cover treatment for addiction and would give the decision-making authority for a patient's treatment to his or her doctor.
Despite any problems with I-STOP, Avi Israel says the system could have saved his son, Michael, from a taking his own life. Michael had three doctors – his surgeon, a gastroenterologist and his primary caregiver – and Israel said they never spoke to each other or consulted each other regarding his prescriptions. Michael was on Xanax from his primary care doctor, hydrocodone from his surgeon, and Cymbalta and 18 other drugs for his Crohn's, Israel said. He wishes safeguards had been in place to prevent his son's addiction from getting out of control.
"What's wrong with seeing the doctor once a month?" Israel asked. "You're taking dangerous medications."
Now, Israel and his wife travel the country speaking out in favor of legislation similar to New York's I-STOP program.
"The elephant in the room is addiction," Israel said. "We can't sweep it under the rug anymore."
***
by Rebecca Bratek for Gotham Gazette