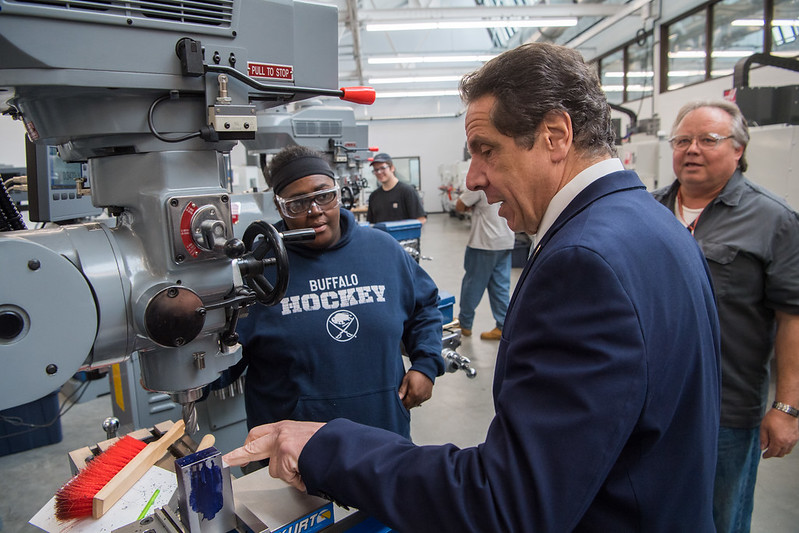 Governor Cuomo at a factory (photo: governor's office)
---
To The Editor:
As Gotham Gazette recently reported, "Cuomo Focuses on Economic Revival in Second 2021 State of the State Speech," Governor Cuomo presented a seven-point agenda for economic recovery in New York, including a new "commission on the future of the New York economy" led by the NYU Wagner School of Public Service. The commission will be given the crucial task of creating "a roadmap to find opportunities for New Yorkers to get back to work in jobs that pay well," while taking into account the systemic issues of inequity and structural racism. As such, it is essential that this body considers the wellbeing of all New Yorkers, including those with arrest and conviction records, who come disproportionately from low-income Black and brown communities.
All too often people with past records are sidelined and ignored in important conversations such as these, causing great harm to them, their families, and communities across New York. This is no small matter, and it is a statewide issue: 2.3 million New Yorkers have criminal records, and due to pervasive stigma and discrimination, these individuals are often shut out of jobs, homes, and educational opportunities – all of which are integral to economic stability.
The Clean Slate New York campaign is working to change that by supporting the passage of legislation to achieve automatic expungement of conviction records, enabling people to move ahead with their lives and fully participate in our shared communities.
This legislation is particularly crucial right now: while COVID-19 has impacted all our lives, it is individuals who were already struggling in a pre-covid world who have been hit the hardest. To ensure a sustainable and equitable New York now and after the pandemic ends, we cannot leave them out. If we fail to address employment barriers for individuals with conviction records, we will only risk prolonging the pandemic and the associated economic crisis.
It is imperative that the state's recovery efforts include provisions for all New Yorkers, so that we can avoid perpetuating and replicating both pre-existing and covid-caused inequities. The proposed development of this commission by Governor Cuomo represents a unique opportunity to forge a better path forward that includes Clean Slate policies and ensures no New Yorker is left behind.
Sincerely,
Tracie Gardner, Vice President of Policy Advocacy at the Legal Action Center, and Judith Whiting, General Counsel at the Community Service Society of New York
***
Have an op-ed idea or submission for Gotham Gazette? Email This email address is being protected from spambots. You need JavaScript enabled to view it.